PAGLIACCI & L'ENFANT ET LES SORTILEGES | OPERA NORTH, GRAND THEATRE, LEEDS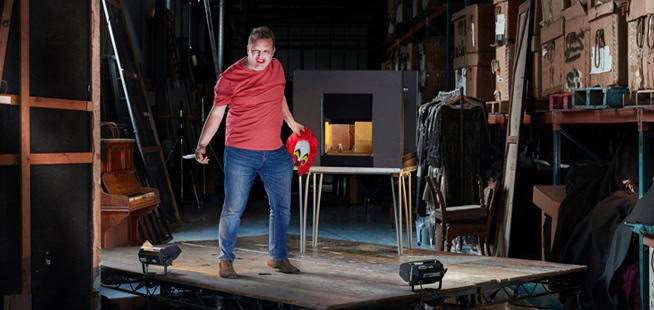 The Little Greats – two short operas presented in one evening, in various ingenious combinations – are a longstanding tradition of Opera North's programme.  Sometimes the two works complement or echo each other; sometimes, as in the season opening of Leoncavallo's Pagliacci and Ravel's L'Enfant et les sortilèges (The Child and the Magic Spells), they offer striking contrasts.
Pagliacci is, as the Prologue tells us, a 'bleeding slice of life,' playing with ideas of reality and performance. This is particularly so in the second act, where two of the performers abandon their scripts to play out a deadly, real life drama of jealousy and revenge until 'La commedia è finita!'.
It is an intense spectacle, bringing to mind Il tabarro (part of last year's Little Greats season), and performed with intensity and passion by the leads.
Peter Auty's Canio is on the edge of fury from the opening scene. Though there is a desperate sadness within him, he allows himself to be consumed. He is assisted in this descent into darkness by Richard Burkhard's malicious Iago-esque Tonio.
The two are alike in one respect: neither can contemplate the woman they desire being free to be with someone else. Tonio's abrupt shift from desire to destructive rage lacks Canio's humanity, most movingly expressed here in the famous aria, 'Vesti la giubba'.
Elin Pritchard's wonderfully expressive Nedda – not only in terms of her vocal performance, but in her physical acting – gives us the full range of her character: bored and restless, pitilessly (and fatally) mocking, sensual, and increasingly uneasy and afraid.
As the final act builds to its inexorable and tragic conclusion, everyone – the main protagonists, the chorus, the audience – is constantly evaluating what is performance and what is 'real' – until that reality is bloodily evident.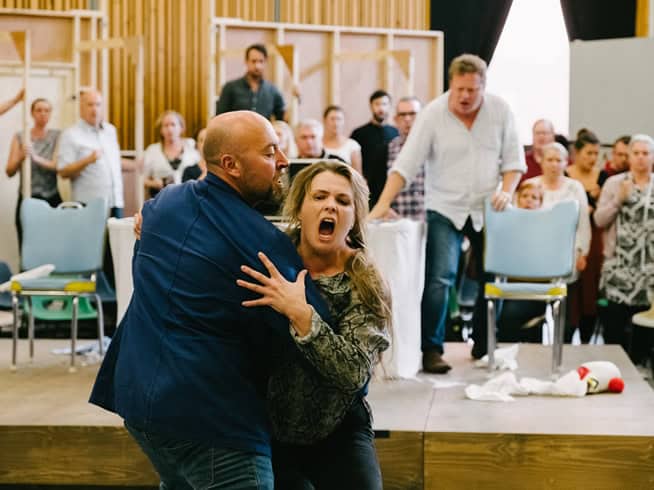 There could hardly be a greater contrast to the gritty melodrama of Pagliacci than in Ravel's L'Enfant et les sortilèges (libretto by Colette). Premiered only 30 years later, we are in a different sound world with Ravel's eclectic impressionism.
Set in a child's bedroom, its central character is a naughty child. Banished there as a punishment, he gleefully trashes his room in revenge, until the various toys, books and pieces of furniture on which his tantrum has been visited come to life to reproach him.
The mood of the piece shifts in subtle ways. From the broad humour of the teapot and cup's duet (no cosy Disneyisms here, the shape and positioning of the teapot's spout the first indication of a sexual undercurrent running through the work), we go to darker places with the decidedly threatening Arithmetic, and darker places still as the action moves out of doors and the child is  brought face to face with the consequences of his past cruelty to living creatures.
And then, as he begins to feel an awakening of empathy and compassion, his accusers join him in calling out 'the magic word', Maman.  It is a wonderfully poignant and moving conclusion, as the squirrel whose injury he has tended winds the bandage from her paw to his wounded hand, and Maman returns to make everything alright.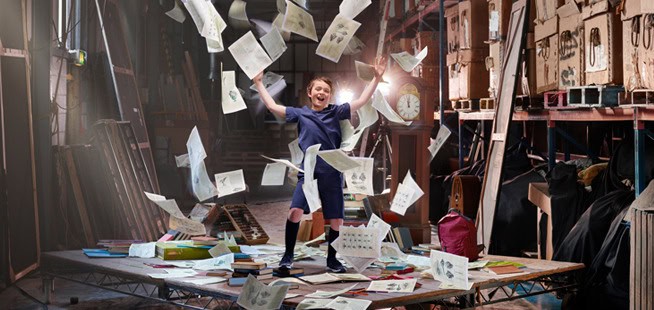 The performances are brilliantly agile, both musically and physically. Wallis Giunta holds the whole thing together beautifully as The Child.  Ravel's music draws on a diverse range of influences and styles: from the oriental influences of the teapot and cup duet, through ragtime and foxtrot, the armchair and chaise longue perform a sarabande and the dragonfly sings a waltz.
From frantic agitation, as the child takes out his frustration on his playthings and as Arithmetic torments the boy with meaningless sums, to the feline sensuality of the cat duet, to the poignant simplicity of the child's lament for the princess he has lost by destroying his book of fairytales.
All of these threads are brought together in the tender final moments, as the child's erstwhile accusers praise him as good and wise.
Perhaps the juxtaposition with Pagliacci brings out the darker, more adult elements in L'Enfant.  Certainly it makes it more difficult to experience it as it is sometimes described, a 'sweet children's tale.'
There are none of the overt links or echoes of some Little Greats pairings in the past (for example, 2013's double bill of Poulenc's La Voix humaine and Purcell's Dido & Aeneas, both tales of wronged women).  This does not detract in any way from an extraordinary evening of music and drama – perhaps even intensifying it.
Perhaps too, it is good to go out into the night having seen a child and his mother reunited – a moment of redemption – rather than images of the betrayal of love and trust.
Opera North – The Little Greats is at Leeds Grand Theatre until Saturday 28th October, then on tour around the UK. For more information, including tickets click here.
Cath Annabel is a blogger, feminist and humanist.  Follow her on Twitter.