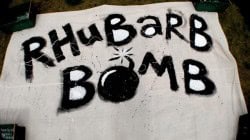 Guest post from Penny Brazier (@tokaipenny):
Print fanzine Rhubarb Bomb is not only the mouthpiece for Wakefield's thriving music scene, it's also responsible for Long Division, the triumphant inner-city festival that took everybody by surprise last summer. April sees the collective commemorating their fifth birthday with a triple-pronged celebration involving a Rhubarb Bomb CD (nice), a Rhubarb Bomb gig (obviously) and…..hang on….a Rhubarb Bomb book? We speak to editor Dean Freeman about the need to document a music scene that continues to go from strength to strength.
Dean joined Rhubarb Bomb fully in 2009, and and now runs the zine following the departure of founding members Rob Dee and Captain Benno. Dean's enthusiasm for the city scene is contagious as he talks about his favourite local bands, including the Spills (lo-fi college rock), St Gregory Orange (head-in-the-clouds electronica) and old favourites Pylon (indie pop). It's a broad range of genres, and mostly impervious to current trends outside the city. Dean likens the scene to the island of Madagascar, "there are all these species that have evolved completely free from outside influence….I guess there is less to do than some bigger cities, so the music is pushed to the foreground . Because of our isolation it heads off in some bizarre directions. And is happiest when it does."
There's no doubt this sort of creative hothouse couldn't exist without the networks that support it, of which Rhubarb Bomb (along with Philophobia Music, Greenmount Studios and live venue The Hop) is a central part. The print zine is free and distributed around record shops and venues, mostly in Wakefield and Leeds, but also over the rest of West Yorkshire, London and even Glasgow. Five years on and still powering on in spite of the domination of the internet – how do you go about making that work? "For me a print zine is a bit of a statement nowadays. I'd rather have a smaller audience that is actually engaged with what I'm doing," says Dean, "a blog has so much competition and because of that it becomes throwaway. A zine is stuff that is timeless, so in a couple of years it still makes sense and is still interesting."
And that leads us on to the commemorative Rhubarb Bomb book. How, and why? It all began with trying to come up with an original way to package the CD, and a trawl through the Rhubarb Bomb archives for inspiration… "I went back and looked through the old issues," Dean explains, "Some I'd not seen for years as I wasn't the original editor. And I started to get a feeling of all these through-lines of all the bands, seeing them grow and get better and doing all these cool things… and then I looked at the price of short runs of books and was pleasantly surprised. It's spiralled out of control from there!"
The book promises to be a mash-up of the best Rhubarb Bomb articles, and chapters on Wakefield's musical heritage, as well as a broader look at DIY indie/punk/zine culture as a whole and how the city fits within it. The book is being funded via a Pledge Campaign, where the public can contribute by buying a basic album download for £8 (including a bonus album and extra chapter), or for a mere £10 you can get all that, plus the book and the physical CD. The campaign runs until April 17th.
It's quite an achievement, how does Rhubarb Bomb intend to top it over the next five years? For starters we hope there will be plenty more to see from Long Division festival, which this year has The Vaselines, Art Brut and Aidan Moffat coming to Wakefield among others. But what else? "Things have to keep moving forwards," says Dean, "otherwise there's no point in it for me. The quality of music (in Wakefield) now is exceptional – and not just one or two bands. Maybe ten bands are hitting the top of their game now, ready to move things on to the next level. And the support network means that if that opportunity comes along, we'll all be here to help….When your city doesn't have a university, an awful lot of smart young people leave, often never to be seen again. We need to support these bands when they are 15/16 and instil a sense of pride in their city too." From where we're standing up the road, it looks like there's a whole lot to be proud of.
Go to the Pledge campaign here to reserve your copy of The City Consumes Us book and CD (featuring tracks by The Cribs, The Research, Pylon, The Old House, Piskies Sits, The Spills, St Gregory Orange, Mi Mye, Runaround Kids, Tiny Planets, Protectors and many more). Then jump on a train to Wakefield -seriously, it's cheaper than the bus these days – and head to the launch night at the stunning 18th century Orangery on April 21st .