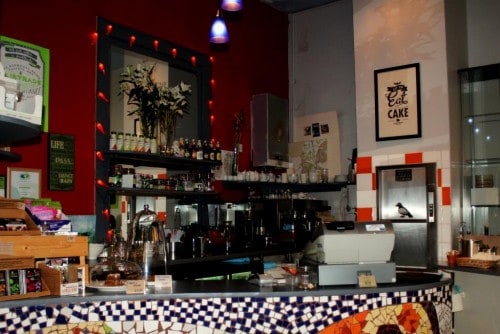 Roots'n'Fruits has been a vegetarian café in Leeds for over 20 years and whilst neither myself or photographer Holly Spanner (aka Buddy Snapper) are vegan or vegetarian we are constantly on the lookout for food that is as healthy and organic as it is tasty and satisfying. The menu has changed quite considerably since I last dined here, becoming more predominantly plant based and some seasonal changes too (it was in the winter when I was last here).
"If you are what you eat Roots'n'Fruits help you to become full of integrity, honesty and loving kindness."
One of the main appeals of the venue for us is the proximity to Leeds Grand Theatre which means our pre-theatre nibbles can be right up to deadline for ticket collection from the lovely Faye Dawson at the Grand's Yorkshire Post bar. And with me being teetotal it is preferable to being at a beery bar like the Wrens as that does not really help with your recovery.
And my strongest stimulant these days is coffee so it's lovely to have a cup of Kay's delicious Fairtrade, Rainforest Alliance and organic produce. Plus, for just 50p, she will make up a fresh iced tea to cool you down on these balmy summer evenings.
Nothing new, Holly is running late so phones ahead with an order for a freshly cut sandwich, that is a real treat with its subtly spicy harissa blended into freshly made hummus, layered with baby spinach, red peppers and marinated articokes and olives. I was so envious I came back the following week for one!
But I fancy a bit of sun, sea and piracy so take a trip to the Caribbean with the sweet and spicy jackfruit and hard food (Yam, plantain, sweet potato etc) served with tortillas, fresh mango salsa, a vegan cheesy sauce and coconut sour cream for a truly tropical experience. It is so satisfying to be truly indulgent but know that the food is lean and healthy too.
Rich regular readers will have no work cut out guessing which dessert I opted for – the sticky toffee pudding hunt continues, as I scour the eateries of Leeds to the pud to really take pride of place. The verdict is still open but Roots'n'Fruits defo win in terms of watching the wasteline (though the custard probably piles on the cals, doh!)
And desserts rarely run as indulgent as Kay's chocolate cheesecake with a coconut macaroon base, drizzled with pomegranate syrup. Even Holly speeds up the snapping to be able to tuck in. One added benefit is you can take either food or drink to go, and there is a licence for alcohol for a small corkage fee.
If you are what you eat Roots'n'Fruits help you to become full of integrity, honesty and loving kindness.
Vegetarian Society members always get 15% off their bill when they show their membership card.
Roots'n'Fruits vegetarian café. Grand Arcade. Leeds. LS1 6PG
Review: Rich Jevons
Photography: Holly Spanner (aka Buddy Snapper)