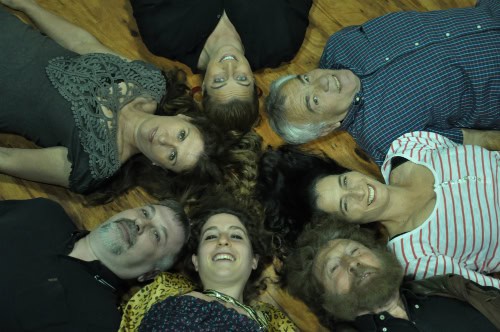 Mark Whittle (@markvsmedia) goes on his first writing assignment to see some experimental theatre at The Heart Enterprise and Art centre in Headingley …
Answering the question "Do you like experimental theatre?" can be a bit tricky to respond to. It's easy to summon up negative stereotypes (and raise your eyebrows) on instinct, to believe that's it's the preserve of eccentric art students or those whose interest in theatre goes beyond the occasional trip to see a well-established piece. You could think that the meanings behind the performance will be inaccessible to anyone but the most erudite and cultured or worse still that it'll simply be a case of all style and no substance (to my shame I've thought all this at one point or another). With this in mind it was with much enjoyment that during my visit to the HEART Art and Enterprise Centre in Headingly to watch SHE: To Be His Daughter that not a single thought along these lines entered my head.
SHE: To Be His Daughter represents the premiere of the SHE Festival in Leeds. Initially conceived in 2006 by Israeli director Dorit Nitai Neman and co-developed for UK audiences by director Alexa Christopher-Daniels the project examines the voices of women from both Britain and Israel via a number of themes that span both generation and culture. In SHE: To Be His Daughter the issue we are invited to examine is that of the father-daughter relationship and how it has shaped the performers lives, both positively and negatively.
This guardian-child relationship is something that on some level we can all relate to and is reflected in the diverse audience present. After being introduced to the concept of the SHE Festival we are split into two groups and embark on a journey around the building, stopping off on the way to view 6 short performances and a photography exhibition. Each destination, whilst continuing the theme, presents its own interpretation – in the same way that no two father-daughter relationships can ever truly be the same.
In Beyond Dreams of Aberystwyth, which takes place in a setting which resembles a shrine to their relationship, Emma Decent tells the history of her father, examines how his experiences growing up shaped the man she came to know and how the discovery of a secret can fundamentally changed your perception of someone you thought you knew. During Silence is Golden Naomi Ben-asa flits between her childhood and adult self whilst an imposing sculpture of her father presents a wonderfully silent contrast to her life-filled performance. It's at this point that I realised just how much is packed into this short pieces. Despite each piece lasting around 10 minutes I found my thoughts on the father-daughter relationships changing multiple times throughout. Such relationships are never as cut and dry as they seem and the actors do a great job of presenting this complexity.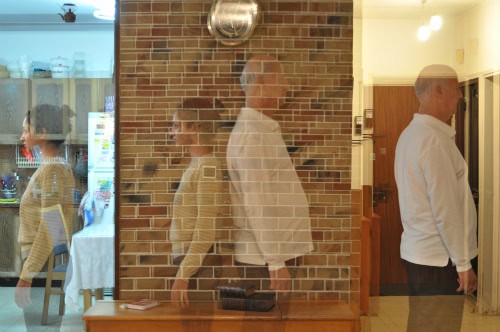 Perhaps more than any other piece the gut-wrenching honesty of Jo Willoughby in Dressing the Closet: My Space Within ensured that this night will stay with me for a long time. Her tale of a father who wanted a son only to be 'disappointed' with daughters coupled with her own journey of gender-identity made for a difficult but powerful experience. Set in a confined, stark space the father figure in this instance was represented by an empty and the scent from a can of deodorant, a chilling visual representation of how cold their relationship had become. Following this we moved on to a photography exhibition by Erika Linor Kutzuk entitled To Be A Daughter Of… Once again a different relationship is examined fuelled this time by Erika's status as an adopted child. This provided a fascinating alternative depiction to the other performances and it seemed that while looking at the exhibits you could feel a sense of both the closeness and distance that existed between father and daughter.
Throughout the night there was a distinct blurring of reality and fiction. We'd be asked to leave performances whilst they seemed to still be taking place and the actors would routinely address the audience directly. This gave a feeling that we were just passersby and that once we left each room the relationship we were no longer privy to would continue to exist and evolve. In no more performance was this present than in Like Father Unlike Daughter which began with Alexa Christopher-Daniels interrupting and berating her real-life father Brian Daniels during a talk he was giving us on the nature of the night. What followed was exciting display of a seemingly perfect relationship which slowly became more uncomfortable to watch as the cracks began to appear and ultimately finished with Pazit Yaron Minkowski actually stealing Brian away to play her father in the next part, Making A Meal Of It. The writing and interaction between Pazit and Brian made this segment particularly entertaining and the depiction of the overbearing, all-knowing father figure and exasperated daughter seemed to strike a chord with the majority of the audience judging by the laughter.
The final performance, Anatagony, was again completely different as Dorit Nitai Neeman and her father Nico Nitai recreated a Greek tragedy which had me mesmerised before they changed the mood once more by suddenly reverting to their real-life relationship in a sudden and unexpected change of pace. The night ended with a Q & A session with all those involved which refreshingly consisted of the performers asking as many questions of us as we did of them, this inevitably led to us examining my own relationship and soon the room was alive with debate about the nature of parenthood and our own experiences.
When experimental theatre is this honest, passionate and impactful it turns out that question isn't actually that tricky to answer at all. I do like experimental theatre, I like it a lot and I've little doubt that you will to.
SHE: To Be His Daughter runs until Saturday 18 May at The Heart Enterprise and Arts Centre.
Tickets available online or call 0113 275 4548