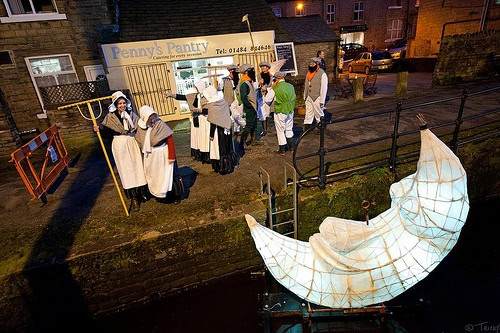 It's been a busy weekend for fun public events in Kirklees – friday night saw "Spirit" in Dewsbury (see my photo-blog post here), and on Saturday was the Slaithwaite Moon-raking Festival – set in a village on the very northern edge of the Peak District National Park, a short distance from Huddersfield.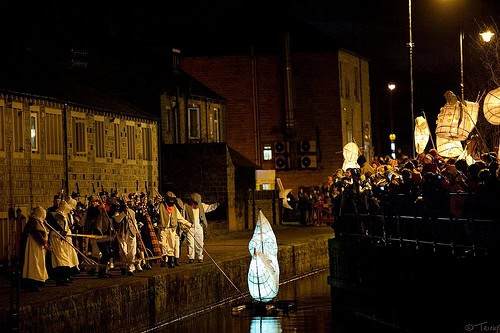 The event is a community celebration of folk-lore from the village history, dating back hundreds of years to where smuggling of alcohol was common-place. There's a great article on the history of the story here by Impossible-arts ,  but the executive summary is that a smuggler transferring booze along the canal in Slaithwaite had to hide some of his cargo in the reeds, and when being recovered later soldiers happened upon the scene of locals prodding around in the canal with rakes. When asked what the locals were up to, they played dumb and claimed they were trying to rake the moon out of the canal (the reflection of which was on the water).
In more recent times, the community have started to celebrate this silly act of raking the moon from the canal, and the story is now the basis of a week of community events, culminating is the ceremonial raking of the moon from the canal – where a large paper lantern moon is floated along the canal by "rakers", before being hoisted onto land and carried around the town at the front of a procession of locals with their own home-made paper lanterns (usually in the shapes of a theme – this year, wool).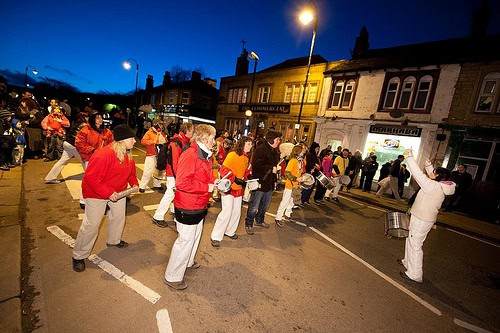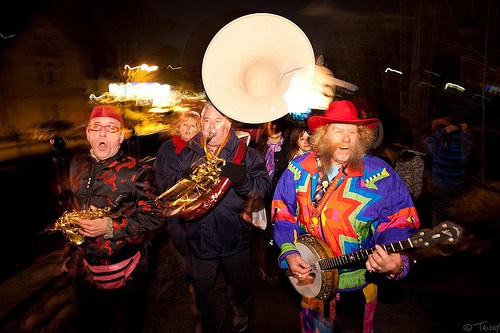 A carnival atmosphere abounds, with a large selection of bands interspersed within the procession to keep people entertained as they make their way around the village.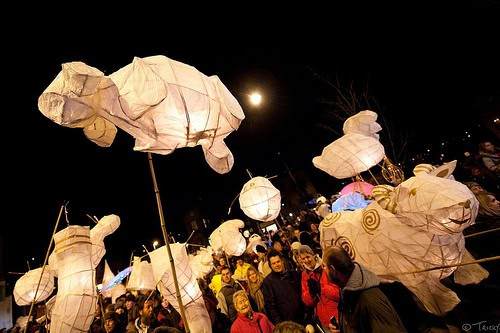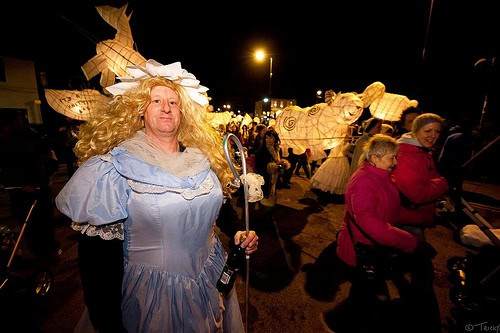 At the end of the procession, people congregate around the canal again, where a selection of wool-related symbols are set alight (similar in style to the pagan symbols lit as part of the imbolc festival in Marsden, Slaithwaites' neighhour), before the moon is finally hoisted into the sky by a crane to a firework display.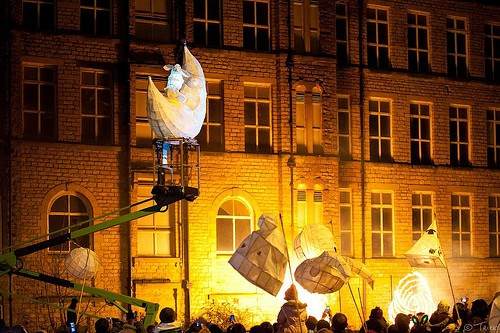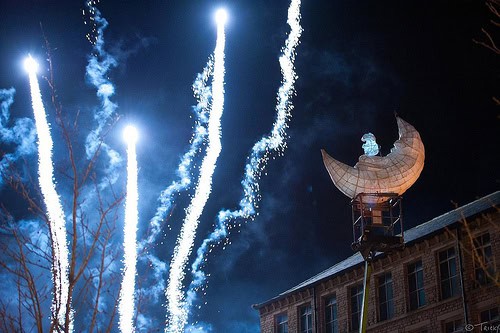 All in all a great (and quirky!) evening's entertainment for all the family, tho I'm never entirely sure how much I should publicise the fact – it is first and foremost a community-funded free event for the locals, so a good idea to give generously to the people collecting donations – it's become so popular they've now had to start running the event ever 2 years instead of yearly due the the expense and organising.
If they did want to take the event beyond being just community only, there's certainly a lot they could be doing – certainly I would have been quite happy to have paid for parking if there was a suitable area clearly marked, and while the local chippie and pubs do roaring trades, I'm a little suprised there's not impromptu locally-run drinks and food stalls to capitalize on the visiting masses.
If you'd like to see a couple more photos, they can be found on my flickr stream here
---
Rick Harrison takes his Martini shaken – not stirred. He's part web-developer, part Freelance Photographer – producing commercial, marketing and architectural photography for a number of clients around Leeds. You can find his (far too out-of-date) photography portfolio here, his (much more up to date) flickr stream here, and can be found on Twitter under the moniker @sovietuk