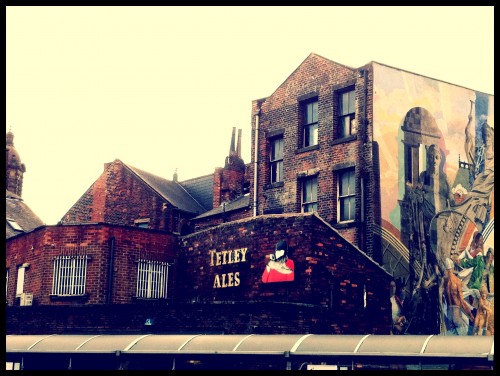 So, it's finally happened. After what seems like an age, the axe has finally fallen on the Tetley's Brewery.  And you know what? The more I think about it, the more I roll the situation around in my head, the more one phrase keeps popping up.
What A Shame.
I know that's a light term to use – and please, I'm not being jokey – but I really will miss the place. Not the beer; the place. Them. Sure, Tetley's Beer hasn't really been Tetley's Beer for a long time now, as many of the people who drunk it in it's heyday will attest to. But that's almost by the by; at the end of the day, I think that Tetley's is – well, was – a core of sorts to Leeds life.
Let me elaborate. I was born in Leeds in 1980, and have never lived anywhere else. Now I think back, Tetley's has, in many ways, informed key parts of my life. I distinctly remember Christmas Days at my Grandmother's house; with crates of beer for my Dad and Uncle stacked up in the cool cellar. Tetley's – and Stones Bitter (resplendent it its orange can) was the beer 'The Grown-Ups' drank, the beer my Dad drank, and the beer I wanted to drink. (As it turns out that when I came of age, I shunned Real Ale in all forms for chilled, sexy lager.  But hey, that's how it goes; now I'm older, I realise its how Marketing works).
In another rose-tinted episode, I recall how we used to go to Headingley to watch Leeds RL (as they were known then) play. I don't really care for Rugby, but it's what us Northerners like to do. That eponymous Tetley's sponsorship was plastered across the shirts, the perfect Leeds firm to represent the team. Rugby League, that most Northern of sports, provided the club with a sponsor that many, regardless of where the beer in their glass was being brewed, simply screamed Leeds. As I got older and switched allegiances to Football, I hoped Tetley's would sponsor both teams. Instead, Leeds United's most successful recent period was achieved advertising Strongbow. Poetic, really.  When I think of those gold and blue rugby shirts, I think of that Tetley's-emblazoned Rugby Ball.
My parents also both worked in a Tetley's pub before I was born; The Fforde Grene, in Harehills. Sitting at the bottom of Easterly Road, I don't really remember much about it; apart from its cavernous size and the relative darkness of the rooms. It seemed so big and forbidding, the stories that my parents would tell me about how great the landlords were to them (A couple named Terry and Ida) reinforced that it was, then of course, a good place to work. That changed rapidly when Terry and Ida left, but that's another story. Tetley's pubs litter Leeds; not as many as before, sure; but their Pubs remain blue-plaqued and resplendent – on the exterior, anyway. The Adelphi. The Rising Sun. The Cardigan Arms. All fine examples of Pub design, and again another missed opportunity. It's impossible to talk about the subject of Pubs in Leeds without mentioning a handful of Tetley's pubs.
Economically, that shame starts creeping in. People are losing their jobs, and many have been living with the threat of redundancy for some time. Some, I'm sure, will be second or maybe third – generation workers at the Brewery, and those lines will be broken.  The Beer? Well, I don't want to get into the quality of the beer here, but one has to wonder how much of the taste is simply 'By Association'.  There's something very subtle happening when you drink a pint of Tetley's, sitting in The Adelphi (my most regular ex-Tetley's haunt) on a lunchtime. It may not be the most glamorous beer on the bar, but choose it and you choose Leeds. Ok, Carlsberg may have owned the company, but it was still brewed in Leeds and with Leeds's water.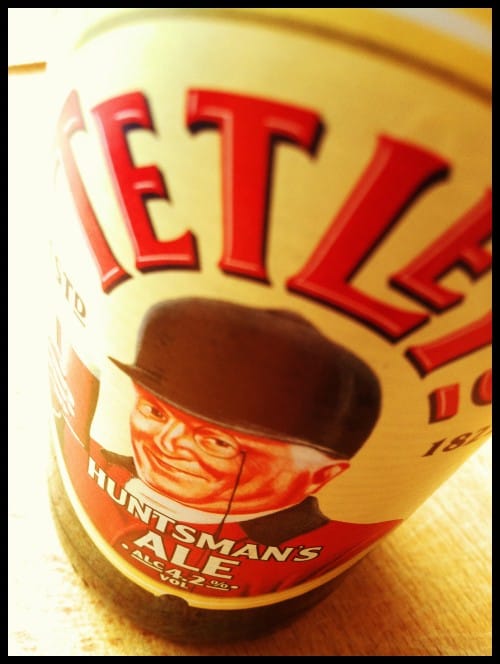 So, what am I going to miss about Tetley's? Well, just the simple things. That huge, strangely malevolent red neon sign, shrouded in a miasma of steam pouring out of the Brewery, a modern update on Blake's "Dark Satanic Mills".  The smell; my wife works in Clarence Dock and once a week whilst picking her up from work my nostrils fill with the biscuit-nut aroma of the boiling beer; slightly sweet, and pungent for those who don't know what it is. Personally, that's what I'll miss the most. Seeing the pump clip on the bar and knowing it's not quite the same anymore will take some getting used to.
Tom Goodhand, editor of Leeds Guide, agrees in part. 'While it's a shame to see Tetley's being moved out of Leeds – both in terms of potential job losses and the breaking of a long history of brewing – it's never been a beer I've felt much affection for, or have particularly enjoyed. It's not something I drank much before, and it's probably something I'll drink even less of now.' Tom states, echoing what drinkers of my generation have said to me in the last few weeks. 'The one thing I will miss though, is the amazing smells that the brewery pumped out wafting across the city. While I'm sure it turned some peoples' stomachs, it was a peculiarly homely, reassuring smell for me. On the plus side, the gap left by Tetley's might give some of Leeds' smaller and more interesting breweries – Leeds Brewery, Ridgeside, Kirkstall and the like – a chance to take more of a foothold in the city.'
It's important to remember that we do have other brewers in Leeds; the production of Beer in the city is certainly not at threat. But Tetley's – regardless of who owned them eventually – created a legacy; one of family, of trade and of empire.  The building itself, only bricks and mortar but standing proud nonetheless, will no longer stand.
Howard Rushfirth was a young man when he started designing posters and promotional material for various companies – including Tetley's. He designed and hand-painted the 'Welcome To Leeds – Home of Joshua Tetley' sign that used to sit on the side of the busiest section of lines coming from the west into Leeds City station. 'It was a pretty iconic thing' Howard recalls. 'I always remember as a child if we'd been to Blackpool on the train, we knew we were  nearly home whenever we saw it. Tourists, businesspeople and visiting football supporters always new 'they'd arrived' when the train pulled into Leeds station and they passed it.'  What will Howard miss?  '…That yet another great brand that spawned from Leeds will be disassociated with the city – like M&S.'
Mark Fletcher of Real Ale Reviews wonders what could happen with the site itself. 'Tetley's is an icon of Leeds, but the brewery is an imposing yet hidden feature of the south side of the Aire. If anything good comes of the move away it should be the rejuvenation of the land it sprawls across and that adjoining it between Clarence Dock. Why not include a Tetley's pub to remember Joshua & Co's influence on the city? The old Crown Hotel perhaps?'  I think that's a great idea, and one that I'm sure would work. When things like this happen, we get a strange nostalgia creeping in (hence this article); maybe that could work positively, to remind people what contribution to the tapestry that is Leeds life Tetley's contributed to.  It woldn't be a case of 'too little too late' in my opinion; actions like that can only take place once something is taken away.
My overriding thought when those gates close and production finally grinds to a halt is simply this: What a shame. And I'm sure you'll excuse me if I don't raise a pint of Tetley's in memory.
You can read more of Mark Fletcher's excellent Real Ale Reviews here, as well as Tom Goodhand's Blog, Reet Good  here. If you'd like to read up on how Tetley's shaped the lives of people in Leeds, The Yorkshire Evening Post have done an excellent round-up series during the last month. You can start out here and search within the site. Howard Rushfirth now owns Batley-based Rushfirth Creative.