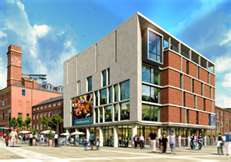 As part of the Emerge Leeds Festival 2011, June's Leeds Salon is looking at how the arts justify themselves and ensure quality in the face of budget cuts.
With the current economic crisis and widespread cuts in public spending budgets, things are even more financially precarious for the arts than usual; and many in the arts have been forced to reappraise how they argue the case for funding.
The Department for Culture Media and Sport (DCMS) is investigating techniques to assess the economic value of the arts, what it terms non-market goods, in terms of what people feel they would be willing to pay for things if they were not free.
And the February 2011 Royal Society for the Arts (RSA) pamphlet entitled Arts Funding, Austerity and the Big Society: Remaking the case for the arts states: "The Commission on 2020 Public Services at the RSA has called for more public investment to be evaluated in terms of a 'social productivity test': whether it builds individual and community engagement, resilience and reciprocity."
The pamphlet sets out to define a bold response to the challenge presented by the cuts in funding, but is there something wanting in the solutions offered?
This discussion aims to challenge the participation approach of chasing audiences, in favour of more compelling reasons why the arts should receive public funding, and ask some difficult questions such as: just how should we value the arts? Are the arts a luxury or a necessity? Do they have intrinsic value or are they best assessed in terms of outcome and impact? Does what the public think they want or like matter or should we fund the arts regardless? Do the arts even need or deserve public funding at all?
Our panel of speakers:
Angus Kennedy, head of external relations for the Institute of Ideas.
Moira Innes, Director Leeds Met Gallery & Studio Theatre.
Councillor Adam Ogilvie, Executive Board Member for Leisure on Leeds City Council.
Andy Abbott, artist with Leeds-based arts collective Black Dogs.
Our speakers will all be given around 5 minutes to deliver their opening remarks after which it will be opened up to debate.
Valuing the Arts in an Age of Austerity is taking place on Wednesday 22 June, in the Millennium Room, The Carriageworks, Millennium Square, Leeds, 5:45pm (for a 6pm start) to 7:45pm.
This is a public discussion open to all. The entrance fee of £5 waged/£3 unwaged will be charged on the door to the Millennium Room.
This is also a back-to-back event with Manchester Salon. So if you can't make 22 June join the discussion in Manchester on Tuesday 21 June.
The Emerge Leeds Festival 2011 is being held at the Carriageworks Theatre from the 19th to 26th June.
Paul Thomas is co-founder and organiser of Leeds Salon, and promoter of Leeds as 'A City of Debate'.