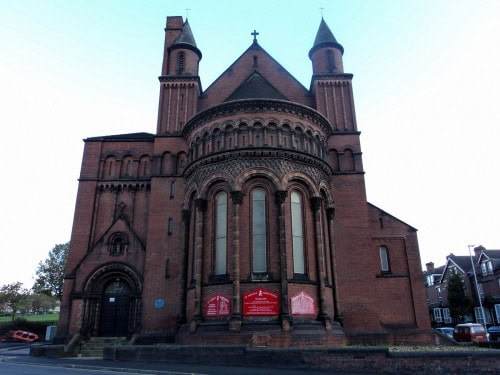 Post by guest bloger Jenny Handley:
St Aidans, standing in all its enormity on Roundhay Road in Harehills might not look from the outside like one of the more lovable buildings in Leeds. On the subject of 'Spaces and Places', however, it is most definitely a space in a place…
What has always struck me about this church is firstly its size – it was built at a time when this area was prosperous, middle class and serviced Britain's first electric tram route which ran from the city centre to Roundhay Park. The local people wanted a church of their own and it proved to be very popular, regularly filling its capacity. Secondly, it has an unusual style – it doesn't adhere to the norm in terms of churches from the Victorian era. Opened in 1894 after a surprisingly short 3-year build, it is constructed of red brick and built in the Romanesque style.
I had never been inside before but was fortunate to be given a well informed tour by Parish Communications Officer, Barrie Pepper. Having previously lived in Harehills myself for a number of years, I know the area quite well. It certainly wouldn't be described as a peaceful kind of place. Amid the chaos of Roundhay Road – constant traffic, a densely populated area and busy with shops – I opened the South entrance door and stepped into immediate calm.
This is what I like about churches – it is like entering a timeless zone where outside no longer matters. The space, the smell of stone and wood, the light – all contained in a world of their own. St Aidans satisfies all of these qualities beautifully. Although it contains some very intricate and highly impressive pieces of work, overall the interior  is quite plain. Unusually, it has a timber parquet floor rather than stone. And on this floor stand small wooden chairs which have been there since the day the church was opened. It was decided by the clergy that chairs were preferable to pews as pews could often be 'assigned' to people of certain class. However, people would often queue to acquire a chair near to the main isle… which benefited from the central heating!
Large stone columns line the Nave, each having an individual capital, some credited to their artists at the bottom of the columns with small brass plates. In the Piers stand some interesting pieces of furniture such as the Confessional carved by Robert Thompson of Kilburn, with his sweet signature mouse on the left foot. Looking up, the roof is an impressive timber structure in itself but the Rood, which was transformed from a simple timber beam into a delicately carved memorial to Revd Samuel Mumford Taylor in 1898, was at that time the church's most striking feature.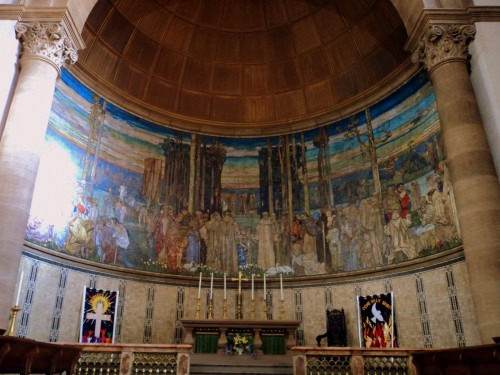 There is little stained glass, which makes the most impressive quality of this church all the more spectacular – the 1000sqft Brangwyn Mosaic, one of Britain's most famous mosaics, completed in 1916. It really has to be seen to be appreciated as it is done with the loveliest attention to detail and the more time you have to stare at it, the more you begin to see. I especially liked the sky and clouds which are full of colour and swirls. Leading up to the mosaic you pass some smaller mosaic panels of seemingly random stars, except for the last two panels which delightfully spell out the artist's initials – F.B
This Grade II listed church is full of delights and I thoroughly enjoyed taking the time to look around it. More information about the history of the church and the other works it contains can be found at http://staidan-leeds.org.uk/ and more of Jenny's photos here
If you would like to write a post for Culture Vulture on your favorite building or place please contact james Butterworth at jamesbutterworth@studio-j.co.uk