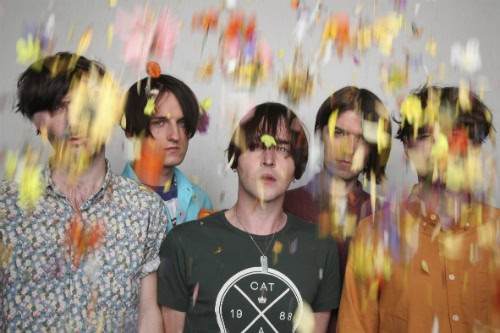 Sulk at The Cockpit, reviewed by Amelia Fox …
One of the great things about The Cockpit is that it's actually two venues rolled into one. Unfortunately for me, when I arrived to see a line-up of The Watchmakers, Sulk and Exit Calm last Saturday, perhaps because I was on the guest list as a reviewer (hurrah hurrah), the doorman didn't think to direct me to where those bands were playing but just sent me through the door.
To be fair to everyone else, it took me far too long listening to the girl called Rae Morris with very long curly hair singing widemouthed song after (very similar sounding) song, channelling Kate Bush and Tori Amos to the painful hilt to suddenly realise that I had to be in the wrong bit of the venue. To my disappointment I completely missed Watchmakers and came in after Sulk had started.
There's a lot of hype around this band – mostly proclaiming them to be the next … (fill the gap here with: Stone Roses, Ride, Pulp, etc…) and sure, it is absolutely undeniable that they are pretty 90s influenced – from their music to their floppy hair. Plus, if you listen to their various singles (all on YouTube), in particular their newest single 'Flowers', there is an element of downright homage to the shoegazing era, (and a truly catchy tune to boot).
It's when you catch SULK live that you hear other stuff. Other stuff that suggests a sound that's evolving, original and actually really good. These are the songs where they get a bit more chancy, a bit more risky, exploring their psychedelic side and there's actually a whiff of Pink Floyd about them.
So it all ends up as a sort of: what do you get if you cross Ride, The Stone Roses and Pulp with Pink Floyd? SULK. No, not really, what I mean here is that they have their own sound, a sound that has evolved since all those labels were thrown around. What I mean is that they sound like SULK. Which is a good thing.
Sheffield band Exit Calm had that comparison thing going on in the early days – they apparently sounded like early The Verve. Well there's none of that now. Like Sulk they do channel the 90s, but in a bit more of a badboy way somehow. They're leaner, meaner, louder. Where Sulk have a lovely, uplifting sing-along quality and happy songs that stay in your head for days, Exit Calm bombard you with a wall of psychedelic sound in epic guitar laden tunes such as The Rapture.
In all, an excellent gig – just wish I'd seen The Watchmakers …