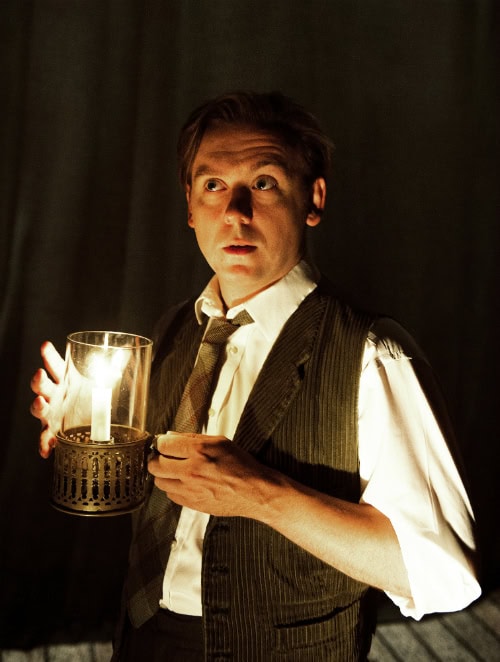 Celebrating its 25th anniversary, The Woman In Black is on tour again and recently stopped at Bradford's Alhambra where Leo Owen (@LeoGirlOwen) caught the show …
From its humble beginnings at the Stephen Joseph Theatre in Scarborough, The Woman In Black has been a West End hit for the past 22 years. Stephen Mallatratt's adaptation of Susan Hill's novella was first commissioned by its current director Robin Herford. Back in 1987, Herford needed an economical production, resulting in the success of Mallatratt's play relying on audience imagination, rather than big casts and elaborate sets.
Twenty-five years on and the play's still going strong, Hollywood has recently reinvented Hill's story for the big screen and the novella now forms part of the GCSE syllabus. The fizz of freshly-opened drinks bottles and rustle of wrappers combines with the sound of bemused whispering teens, the nervous laughter of anticipation and jumpy audience members as the lights dim.
We're met with an elderly gentleman apologetically excusing the mumbled reading he's giving: "Forgive me – I'm not an actor." Another cast member is planted in the audience and acts as director, trying to get "Arthur" to project his voice but repeatedly failing, resulting in a repetitive and surprisingly comical opening.
With a nod to Shakespearean prologues, Mallatratt begins with the Director estimating how long Arthur's manuscript will take to read. In keeping with Hill's original, once it's established our lead character is telling a story from his past, the audience are transported to Eel Marsh House in Crythin Gifford. The Director (Antony Eden) takes on the role of the younger Arthur while Arthur (Julian Forsyth) becomes all other central characters in his story.
As the play is presented as a work in progress, the performance stops and starts, almost in keeping with Hill's original chapter breaks. The set is minimal (a trunk, a chair, a book stand, dusty sheets…), relying on Hill's description for narration, "recorded sounds" and limited props to signify location shifts. Julian Forsyth's many character parts are represented by simple costume changes such as the addition of a coat while a third uncredited actor makes the odd silent appearance as the titular, Woman In Black. A female voice-over is used for readings of extracts from the Woman In Black's letters. Additions of a music box and torch to light a blackened stage add to the eeriness.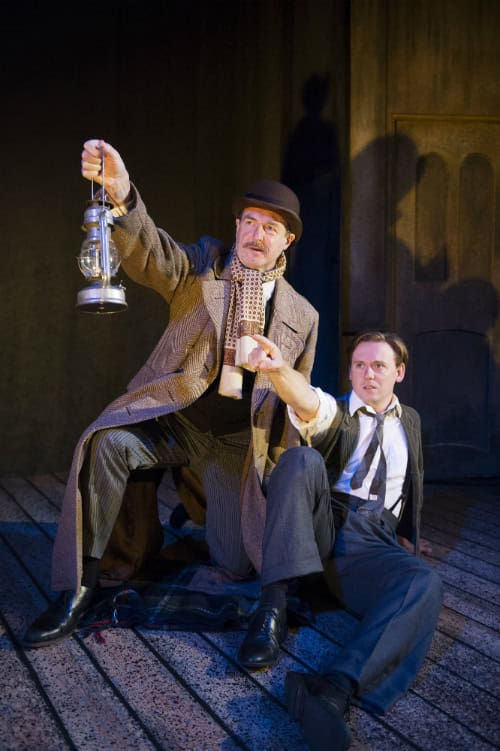 Like the recent Daniel Radcliffe film version, Mallatratt's Woman In Black reinvents Hill's original but unlike Jane Goldman's screenplay, it is stripped down, rather than sexed-up. Relying more on traditional story-telling methods common in the Victorian era, the play makes good use of dual narration, remaining fairly faithful to its slow-burning source material. It's more direct than the novella and as a result less suspenseful, although as it's a live performance moments the rollercoaster finally drops are more obviously marked.
With its own twist ending and surprisingly comical tone, the stage version of The Woman In Black is unlikely to satisfy fans of Hill's original but it will undoubtedly aid the understanding of many a school theatre group. Drama students will also undoubtedly be impressed by two fantastic lead performances from Forsyth and Eden.
Showing March 4-9 2013 at Bradford Alhambra before continuing on tour, for dates please visit: