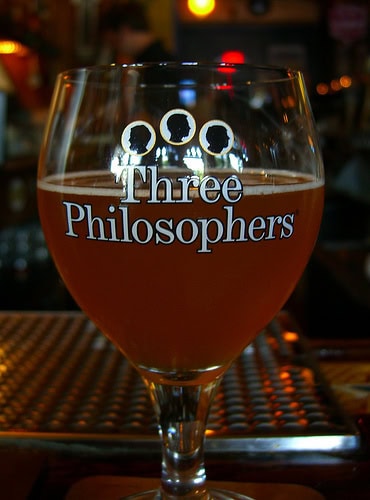 Talking Allowed in Leeds
Proving itself the most dynamic city outside London for public debate, Leeds has yet another new discussion group Talking Allowed in Leeds, part of the Philosophy in Pubs initiative. Paul Thomas from Leeds Salon talked to Paul Doran, one of its organisers, about the initiative.
1.  What is PiPs about?
It's about creating safe places in public space where people can come together to think freely and independently, and explore life's big questions.
2. How did you get involved in PiPs?
I was teaching in further education – teaching an introduction to philosophy evening class – whilst having end-of-course drink with group one of the students (Rob Lewis) said:  why don't you do it in the pub? Myself, Rob and another chap Michael Naidoo got together and did just that. Nine years later we have twelve PIP groups/venues operating on Merseyside, two in Manchester, two in London, and others in Brighton, Leicester, Newcastle, Havant, with people contacting us on a more regular basis about starting a group in their area.
3.  How does PiPs differ from other debating fora such as the Cafes and Salons?
Rather than bring in experts (once a month) as speakers and leave a shorter time for discussion (which works well, very instructive and enlightening. But PIPs is about groups of people from the local areas coming up with their own thoughts and ideas, questioning and challenging each other, learning from each other in a community of enquiry – the topics and schedule comes from group members – the idea being that it's organic and becomes part of the local culture.
4. Don't you ever invite speakers to address the group?
We do – just not on a regular basis. Our community groups meet weekly, fortnightly and monthly – we have, on average, 300 meetings a year on Merseyside alone. The idea of inviting experts is a bit different for PIPs as it might be for other types of groups who may have twelve meetings a year to organise.
5. How do you maintain the quality of their discussion without expertise?
It depends what you mean by quality of discussion, but I think I know what you mean. We use something called a Community of Enquiry method. It's a method that makes sure everyone gets the opportunity to speak, but also works in such a way as to keep discussion focussed, and moving in a critical and creative direction – teasing out that which is philosophic or essential – towards a wider and richer understanding of the subject of enquiry. The idea of expertise in philosophy generally means academic expertise, which is good/rigorous, and something we endeavour to adhere to. However, community philosophy allows a bit more leeway, to allow for the experiential character of ordinary individuals to connect to the abstract notions of academic philosophy.
6.  What topics do you hope to cover?
Everything, nothing is taboo:  What is Truth? Justice? Art? Education? Work? Meaning?.etc, etc, it's whatever the particular group have scheduled to discuss.
7.  Why Leeds?
It's a large important city, a history, culture – it should have a community philosophy group! The idea is to have local community forums like these in many cities as the norm – a thinking society!
8. What do you think of the potential in Leeds for PiPs to succeed?
I think it has a brilliant potential – as a great northern metropolis, with a genuine working class tradition of didactic learning, moving as it is into the modern stages of its development, philosophic thinking will be and should be a part of that.
TAiL's first meeting is this Friday 12 November, 2:30 – 4:30pm in Veritas, 43 Great George Street (at the back of Leeds Town Hall), where they will be discuss the approach generally by Philosophy in Pubs, and 'Do we get the politicians we deserve?', and possible future topics for discussion.
Thanks also to Jospeh Boeghey and Pauline Nugent.
Paul Thomas is co-organiser of Leeds Salon debating forum, and has written previously on Culture Vulture on Is Leeds a City of Debate?