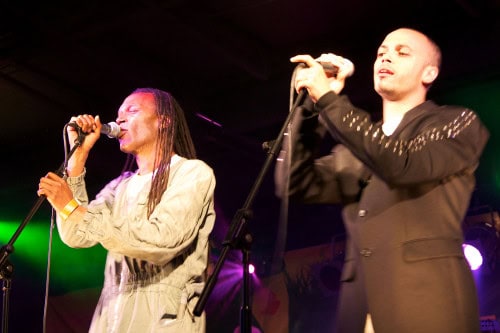 New reviewer Matthew Hebditch looks forward to seeing The Beat open Grassington Festival tomorrow (and he's got an interview with Ranking Roger coming up!) …
The 33rd Grassington Festival gets underway this weekend with a performance from Birmingham-based 2-Tone legends, The Beat.
The band work hard on stage to project themselves as purveyors of positive party-time pop, invariably causing even the most reluctant pairs of shoes to succumb and shuffle along.
Sometimes unfairly labelled simply as a ska band, their catalogue is littered with a litany of buoyant, feelgood gems laced with giddy energy, fluid dubby bass and languid sax, each song resonating with sweetly harmonic vocals and nimble guitar rhythms that usually eschew ska's usual 'cha-kang' style for a more considered sound that's uniquely, unmistakably theirs.
Even when they charted with cover versions; Smokey Robinson's Motown classic, 'Tears Of A Clown' (their debut single) & 'Can't Get Used To Losing You' by cheesy listening crooner Andy Williams, they rubber-stamped their own signature sound upon them, totally owning both songs.
An accomplished live act who beam out a succession of familiar hits in a ray of sanguine ska-pop sunshine that's difficult to resist dancing to.
The Beat kickstart a varied programme of events over 15 days with a gig at Grassington Town Hall on friday night, supported by jazzy neo-soul septet, Dragon Tattoo. The place will be rammed with rocksteady revellers but there are a limited number of tickets still on sale on the Grassington Festival website.