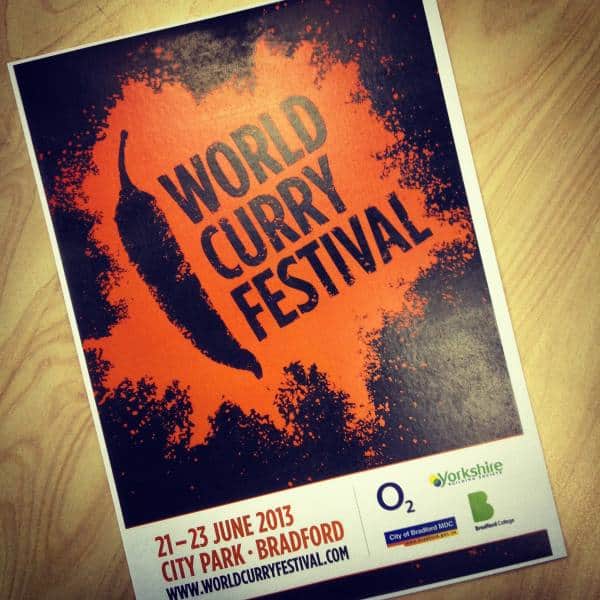 The World Curry Festival returns to Bradford between the 21st and 23rd June, taking over the wonderful City Park for a weekend dedicated to the unofficial taste of the city.
The Festival covers curry in all its incarnations, from the rich and spice-laden dishes of the subcontinent, right through to the fiery mystery of the Far East.
We citizens of Bradford know a thing or two about curry.
We're largely obsessed with it, and we're blessed with some of the best Asian restaurants in the region, if not the entire country … Akbars, Mumtaz, Aagrah, along with the countless small canteen-style places that serve consistently good food at ridiculously cheap prices (my tip – The International's Channa Murgh is a thing of great beauty). Yes, it still smarts a little that Prashad moved (some would say 'defected') just over the border into Leeds, but we're still claiming that as one of ours, and it remains a wonderful place.
This city is a rich hunting ground for those favouring their food with a little, well, shall we say punch?
The festival programme is packed with events, from a market street through to a gala dinner. The Extremely Good Curry Show provides a showcase for some of the best curry chefs in the world to demonstrate their talents, and includes sessions from Mohammed Aslam, owner of the Aagrah chain, "Grand Master Chef" Hermant Oberoi from Mumbai, the brilliant Stephanie Moon from the Rudding Park Hotel in Harrogate, and Malaysian chef Norman Musa, founder of the Ning restaurants in Manchester and York.
There's also – and this is the exciting part – the chance to learn how to master the mysterious art of curry-making yourself under the expert guidance of tutors from Bradford College. This is a superb opportunity to learn from the real experts – Bradford College runs many highly regarded courses across the food industry in general, but also has a booming reputation for training chefs in international cuisine.
Bradford makes sense from a culinary angle, and the City Park provides an exciting space for it … the City Park has been a huge success, and is worth a visit in its own right. An urban space designed with both fun and practicality in mind, it's turning out to be a versatile venue for everything from my morning run to work right up to Bollywood-styled TV spectaculars. If ever a bit of a risk on a seemingly expensive urban project paid off …
The World Curry Festival runs from the 21st to the 23rd June, in Bradford City Park, from 12 noon until 10pm on the Friday and Saturday, 7pm on the Sunday. There's plenty of information on the Festival website, Facebook page or twitter, or just ask a Bradfordian.
We're all going.