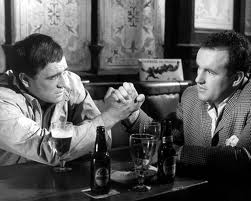 Cold, dark, brooding, but with an imposing majesty, beauty and intensity. This was the message; this was the medium; this was the setting. John Atkinson (@AtkiTeach) watches This Sporting Life in Bradford Cathedral …
Bradford City of Film and Cine Yorkshire are popping up in places you wouldn't expect to see a flick with their community cinema: pubs, town halls, the YMCA and more will host pop up screenings of the films that made cinema what it is today.
And it was this initiative that brought me to the soul of the city to see the heart of Yorkshire; what could be more emotive, more poignant, more perfect than "This Sporting Life" in Bradford Cathedral?
The answer, bringing a gulp of schoolboy nerves and a sheen of sweaty sporting adulation, was Brian Noble – a man I'd cheered on a hundred times from the terraces of Odsal, a Titan I'd willed into battle again and again, and a legend who makes my heart swell each time he says "Bratfud" on the telly.
The night was bitterly cold, a strong northern wind sweeping down from the arctic, promising an icy blast. The film promised no less. "This Sporting Life" (1963) tells the story of Frank Machin (Richard Harris (Oscar nominated and Cannes winner for this role)), a miner and tough guy who tries out for the "City" rugby league team and finds a place where he can make a difference, make his mark. It's also, though, the story of his troubled relationship with his landlady, the widowed Mrs Hammond (Rachael Roberts (also Oscar nominated for the film)). His rise on the field, where he is an enforcer, a hero, a warrior, is juxtaposed perfectly with his demise off it. No matter how many on the terraces and in the boardroom cheer his name, Mrs Hammond remains stubbornly resistant to his charms. In the end, it seems, both the city fans & Mrs Hammond want only his body, his muscle, his meat, and refuse to need him. In the end, he finds that a rugby league player can lose things more painful than just his front teeth.
The film ended; there was a collective sigh. Films in them days didn't pull any punches! Filmed in the industrial, fast becoming post-industrial, heartlands of West Yorkshire – and especially at Wakefield Trinity's Belle Vue ground – "This Sporting Life" takes a tour of places and scenes we know and love, but changed beyond recgnition, and is a must for those of us who glory in our history, our society and our architecture. From Wakefield and Leeds to Bolton Abbey and Halifax's Thrum Hall, the scenes, often bleak, always northern, hark back to bygone days we still see as we pass by derelict mills, tramlines unused but ever present, modern nightclubs squeezed into former music halls, and, most of all, as we shout and sing and cheer and weep on the terraces of Odsal and Headingley and Belle Vue, where, as Frank Machin puts it, "We don't have stars in this game – that's soccer". A hard, northern man in a hard, northern town playing the hard, northern game.
I nipped out for a cig. The heavens had opened, cocooning the cathedral in a blanket of pure white as if God himself felt it necessary to pour on yet more beautiful bleakness. 
Back inside, we took a collective breath and giggled nervously at our emotions, because in our sanitised modernity, films just don't have the gravitas, the all consuming pathos "This Sporting Life" forces upon our senses & sensibilities.
Chris Aldred, the Administrator at Bradford Cathedral, began to unpick the film with Brian Noble, who has played and coached both Bradford's team and Great Britain, saved Wigan and Celtic Crusaders, and is a regular pundit for the BBC. He talked about the realities of the game as he knew it, before the razzmatazz of Super League and summer rugby, when players traded blows on a Sunday then dug coal, like Frank, on a Monday – in his case, he walked the beat as a local bobby. He told us the truths of the game, like 'sending one through' from the back of the scrum, the communal baths, and being knocked out by a handbag-wielding woman at Hull Kingston Rovers; he spoke of always being the first on the list to deal with a gargantuan drunk because he was tough – he was a rugby league player – and being terrified every time; he regaled us with tales from behind the picket lines when being captain of Great Britain saved him from a dozen kickings from the angry miners of Featherstone and Castleford; he told us of the night he was signed, given a cheque for £250, a bundle of the finest Bradford wool, and the club's badge, boar's head resplendent, which he proudly took to town to have made into a club blazer. He spoke of a time almost forgotten, remembered in the hushed tones of halcyon days, when times were simpler and sporting heroes wandered our streets and drank in our pubs, all told in the hushed tones reserved for days gone by. He spoke with an amused passion of being signed on by the Northern for £250 the same night that Henderson Gill was signed on for £750, and Ellery Hanley, the Black Pearl and widely considered (including by Nobby) the greatest ever player, signed on for £10,000.
Noble went on to discuss rugby league in cinema, too, giving the audience an insight into the film at hand and one forthcoming. Noble will soon be immortalised on the silver screen in the biopic of Wales and Celtic Crusaders legend, Gareth Thomas. Noble has spoken at length to Micky Rourke, the driving passion behind the film and long time friend of Richard Harris. Indeed, Rourke considers "This Sporting Life" to be the finest of sporting films and Harris' finest hour, and it was Harris' dying wish for Rourke to make a film with the vigour of "This Sporting Life" and to pay a character with the dark depths of Machin, so proud was he of his Brando-esque performance. Noble's only dismay about the project: that it's Ray Winstone who'll play him in the film – "I'm being played by a fat cockney. I wanted a northerner," he grinned.
My memory of that night will be filled with emotion: the gritty desolation of Frank Machin's life, sporting and personal; the giddy, grinning reminiscing of a Bradford legend as he remembered his teenage starlet years; and, most of all, the moment when Brain Noble,  captain of our club and country, coach of Bradford Bulls and Great Britain, the man whose team held aloft every honour the domestic and international club game has to offer, looked me in the eye and said, "That's a good question." For a boy of 35, these are things of which dreams are made.
Bradford City of Film and Cine Yorkshire's pop up cinema can be seen around Bradford District. Please see here for details