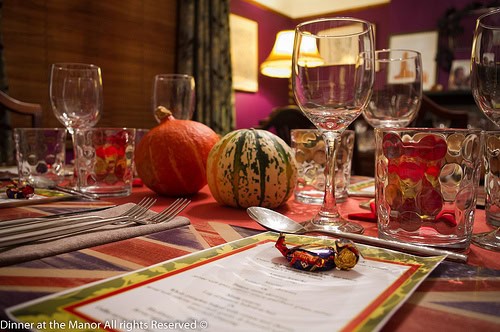 (Photos by Nick Barker)
We are more than a little chuffed to have a new regular blogger in the shape of our Rachel Jeffcoat
I'd met Dinner at the Manor hosts Dan and Suzie at the inaugural meeting of Leeds' very own cheese society, Homage 2 Fromage. A brief conversation and the mention of crispy pigs' ears had been enough to stir my interest, and a quick email later found me with a single ticket to November's Hugh Fearnley-Whittingstall themed supper club.
As the date drew nearer, I found myself getting really quite nervous at the prospect of turning up at the house of someone I'd met for five minutes over a cheeseboard, to a drinks and canapé reception and dinner with twenty people I'd never met. What to wear? What to talk about? How much booze to take? Fashionably late or eagerly early? I was suitably steeled, however, by a teaser picture posted on Twitter of the hotly anticipated pigs ears sitting porkily in a stock pot awaiting their crispy end.
Finally the day arrived and I set off for the secret address – further steeled, I must admit, with a little Dutch courage. Turning onto the street it was immediately obvious where I was heading to, with one house's extractor fan working overtime, sending out deliciously scented smoke signals to dinner attendees. I was first to arrive and my hosts immediately put me at ease, showing me to the beautiful library (yes, really!) where I was furnished with a lovely glass of elderflower fizz (Cava with a dash of homemade elderflower cordial).
Other guests quickly started arriving and we were indeed a motley crew. Some arrived in pairs and others alone, but as the canapés started appearing it didn't matter – we all had food in common and a glass of fizz in our hands, so everyone was chatting merrily in no time.
The canapés were a delight. The first to arrive was the "gravadmax" – Hugh F-W's take on the classic Scandinavian cured salmon dish using mackerel. This humble little British fish is making a big comeback at the moment, largely thanks to Hugh's "mack bap" movement and these unassuming little skewers of juicy, sweet-salty homecured fish with a sharp, creamy dressing were the perfect, moreish showcase for its unique flavour.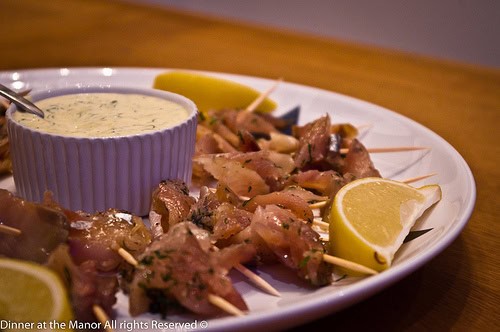 "Ray's liver pate toasts" were next up – a lovely, coarse pate doing what all good pates should and showcasing the deep flavours of its star ingredient, the pigs' liver. And finally, those hotly anticipated crispy pigs' ears, served with a beautiful tartare sauce. Falling somewhere between crackling and calamari in consistency and, bizarrely, flavour, these were less porky but every bit as delicious as anticipated.
Canapes devoured and cava quaffed, it was time to move to the dining room where a further three courses awaited us. After a tasty amuse-bouche of nettle soup shots, we started with rabbit satay skewers (for which our hosts had to brave the elements at the barbecue – one of the pitfalls of catering for twenty guests in a domestic kitchen!). These were the star of the evening for me, the rabbit was perfectly tender and gamey, the satay sauce deeply nutty, sharp and nicely spiced, and very elegantly presented. For mains, it was mutton baked in hay. Conversation over this course was largely focussed on what mystery ingredient was adding a subtle spicy hint to the meat – talking to Dan & Suzie later, I learned that it was in fact the hay lending a surprising peppery note as well as the earthy aromas and flavours one might expect. Finally, we were treated to a blackberry and apple crumble tart, a sophisticated take on a rustic staple with a top-notch pastry base and some truly delicious vanilla icecream.
We then sojourned to the garden – this being bonfire night – for the surprise treat of sparklers, a roaring fire and some "aaaah"-provoking Chinese lanterns. The evening continued with coffee, exceptional cupcakes from Iron Cupcake champ Suzie, and plenty more conversation.
So, predictably enough, those first-timer nerves proved utterly unfounded. Thanks to the attentive hosting of Suzie and Dan, the impeccable food which provided ample conversation-starting ammo whenever needed, and delightful company amongst a warm and open bunch of like-minded strangers, a lovely time was had by all. I might even skip the Dutch courage next time…