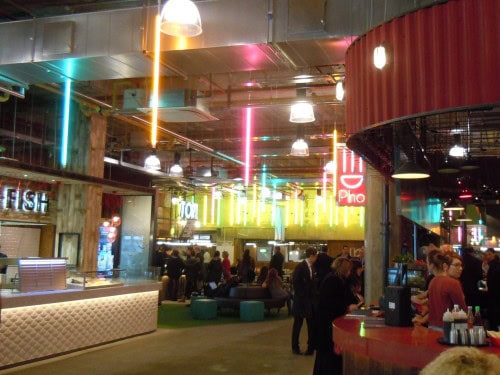 Not open to the public till Thursday, Ewan Mitchell went to an invite-only dry run for Trinity Kitchen …
Ask anybody who knows me in real life and they will tell you that I have an infuriating character trait. I choose to describe myself as being a sufferer of hype-aversion. My hype-aversion manifests itself whenever something is lauded by the masses as the next big thing. The thing I should care about, the book I should read, the film I should see, the band I should listen to or life will be meaningless and I'll be the one who's missed out.
Hype-aversion is the reason that I haven't read or seen any of the Harry Potter books. It is the reason that I almost ruined a holiday in Barcelona as a friend had booked tickets to see the Arctic Monkeys, a band who I still don't like, and I didn't want to go. It is also a contributing factor to my feelings towards the Street Food scene/movement that is sweeping the nation.
Along with the hype; "Have you had the x-burger with the special 'slaw yet? OMG it's amazeballs!" which is enough to put me off instantly, I just can't figure street food out, not in Britain anyway. To me British street food is, at best fish and chips, eaten from yesterday's newspaper or, at the other end of the scale, a greasy donner kebab on the way home from the pub.
I am aware of street food's credentials from around the globe. Lines of vendors specialising in mystery meat on a stick really appeals to my sense of adventure. The idea of browsing through colourful, ramshackle, jerry-built stalls on a balmy Summer's evening is my idea of heaven. The idea of having a kebab from one stall, a small pot of soup from the next and then tucking into three or four more tempting food stuffs is my kind of night out.
Dodging rain showers on Briggate to get a burrito the size of your head is less appealing. Not only does our lovely climate limit the opportunities for eating outside, but the portions tend to be so generous that after finishing your first choice, you couldn't eat from a second food stall if you wanted to. I'm not small of appetite, but more definitely seems to be more when it comes to British Street food. So much more that I often want a knife and fork, not to mention a table and chair to eat them from, and these are things that missing from Leeds' public realm.
And that is where Trinity Kitchen comes in. Based on the third floor of Trinity, the kitchen is a new take on the standard food court that we're used to in our shopping centres. Rather than the counters being around the outside of a large central, bland, noisy, messy seating area, the tenants in Trinity Kitchen are spaced individually so that they all have their own distinct feel about them. Alongside the seven permanent kitchens there is also a street market area that aims to bring the best of the UK Street Food scene indoors for the first time.
I was invited along to a dry run of Trinity Kitchen which I happily accepted. Lunch and the chance to have a nosey around before it opens on Thursday was too good an opportunity to pass up. My first impression of the space was that it was well laid out if a little warren like. The walls and pillars have been left unfinished and a lot of the fixtures are deliberately on display. In places I felt like I was on the set of Blade Runner only without the torrential rain, but I guess that's the point of being indoors.
Unfortunately the five Street Food vendors, two of whom are from Leeds, were not up and running, but I had a fresh and healthy tasting bowl of Vietnamese noodles from Pho, one of the seven permanent brands. Conceptually, Trinity Kitchen is bridging the gap between Street Food and more traditional restaurants. Now you can get your artisan pulled pork wrap, sit down to enjoy it in a dry and air-conditioned environment, wash your hands in the convenient and clean public toilets and go on about your business. There are even highchairs for those of us who take our families with us at meal times.
But, if you remove the street from Street Food, what you are left with is food. Given the names that I have seen as future Street Market vendors and the range of permanent restaurants, there is going to be some really tasty food served too. But to me the romance and excitement that Street Food promises will still be missing. Trinity Kitchen is shaping up to be a vibrant addition to the Leeds eating scene; in fact I have a feeling that it will soon become the next big thing, the thing that you absolutely have to do, the place you have to eat in. I'm glad I got to it before the hype got to me.