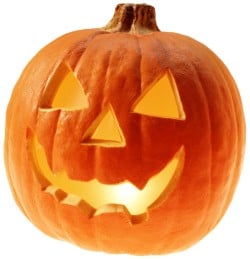 I never learn.
Every time I go to the cinema or visit a friend and I'm asked "what do you want to watch?" It's the same. "Got anything scary?" I respond cheerfully. My fate is sealed, my night ruined and the chance of a good night's sleep painfully slim.
Horror is, without a doubt, my favourite genre of film that I don't like watching. Yet I'm drawn back every time. I'll want to watch the scariest film on offer (this has nothing to do with shock or gore) and will instantly regret it almost as soon as it starts. I'm even a terrible person to watch them with; popcorn flies through the air, I shriek like a small child, and during my first viewing of The Exorcist I almost choked to death on a Werthers Original (they don't show you that in the adverts).
I don't quite know what it is, perhaps the opportunity to feel something real and raw? (fear is certainly both of these). So many films nowadays seem either emotionally empty (despite claims to the contrary) or purposely devoid of feeling altogether (because emotion is way uncool amirite?) Horror only works when emotion is at the fore, the more we feel and relate to the characters and situations they find themselves in the more powerful our fear becomes and the longer it stays with us. When done right the effect is unlike anything else found in cinema.
But enough of my film studies nonsense. It's October and that means Halloween is on the horizon and what better excuse do you need to indulge in some great horror movies. I've worked tirelessly (I googled a lot) to find out what's happening over October relating to horror films in Leeds and have put together a useful list below. Hopefully I'll see some of you at them (I'll be the one crying in the corner).
I'm pretty sure there're some more happening, so if you know of any or are putting one on yourself just get in touch and I'll happily add it to the list!
What: Sneaky Experience presents The Haunted House of Horrors
When: Saturday 26 October, 7pm-1pm
Where: Secret!
Why go: Sneaky Experience takes film screening to next level by offering a setting and entertainment based on chosen film's themes and story and for Halloween they're going all out. While the venue and film are currently a heavily guarded secret (which can be discovered by putting together the cryptic clues released via social media) the organisers promise 3 floors of film, artists, performers, DJs, bars and food areas, fancy dress isn't compulsory but don't be surprised if you're surrounded by various creatures of the night.. I've been meaning to make a return visit to Sneaky for a while now (the last one I went to was the most fun I've had watching a film in a long time) and I'm fascinated to see what they got up their sleeves this time.
Find out more: www.facebook.com/SneakyExp
What: 5 Reel Film presents The Descent
When: Sunday 27 October: doors open 4.30pm film starts 5pm
Where: The Adelphi
Why go: 5 Reel film is a great event put on by lovers of film and film art and they're planning a special Halloween-themed event for this month. Each event sees the upstairs of The Adelphi pub magically transformed into an intimate cinema, complete with free popcorn and a wonderfully friendly atmosphere. Because of their love of film posters screenings includes the opportunity to purchase some specially commissioned poster art based on the chosen film and for Halloween they've gone for The Descent. I cannot describe how much this film terrified me the first time I saw it and I count it as a personal insult/challenge that they've chosen it for Halloween. The artwork for each screening so far has been uniformly amazing and I'll be looking forward (slightly warily) to see what's next.
Find out more: www.5reelfilm.com
What: Sneaky Ciné  Halloween Special – Shaun of the Dead and Night of the Living Dead
When: Wednesday 30 October: Shaun of the Dead, 6pm, Night of the Living Dead, 8pm
Where: White Cloth Gallery
Why go: The younger sibling of Sneaky Experience, Sneaky Cine offers a similar style of screening (entertainment based on the film) but on a smaller scale. For Halloween they're offering zombie double bill. On top of two horror classics they'll also be a zombie make-up boutique, zombie photo-booth and the opportunity to book your very own zombie for half an hour to do with as you wish (within reason I assume).  Personally I'm get mine to grammar check my writing, do what you want with yours. Fancy dress isn't compulsory but heartily recommended.
Find out more: www.facebook.com/sneakycine  and www.whiteclothgalery.com
What: Secret Cinema Halloween Special – The Evil Dead (1981)
When: Thursday 31 October, 7.30pm
Where: Crowd of Favours
Why go: Two of my favourite things combined here, great horror and great gin. Well, actually great horror and just gin for me really. My palate is so uncultured that you could probably pour de-icer into a glass, chuck some tonic and lime in it and it'd meet with my approval (surely I'm not only the one who judges the quality of a drink by the severity of the subsequent hangover?). At any rate I'm sagely informed by my betters that the drinks on offer here are of a far higher standard than anything used to clear a frosted windscreen – put that together with a spooky cellar venue, one of the greatest horror films ever produced and you've got a perfect way to spend All Hallows.
Find out more: www.crowdoffavours.co.uk
What: Halloween Film Night at the Espresso Bar – Edward Scissorhands
When: Thursday 31 October
Where: Harvey Nichols Espresso Bar, 7pm
Why go: …I've never been to Harvey Nichols, I'm not too sure what they sell or where it is but they've got a Halloween screening so they make the list. Ticket price includes the film (don't tell anyone but I don't really like Edward Scissorhands), welcome drink and a three course dinner (!).  They'll also be decorating the Espresso Bar in a "scary yet stylish" manner so that'll be only the most tasteful of pentagrams then.  Possibly a little refined for my tastes but it should be interesting.
Find out more: http://www.harveynichols.com/hnedit/2013/09/19/halloween-film-night-at-the-espresso-bar/