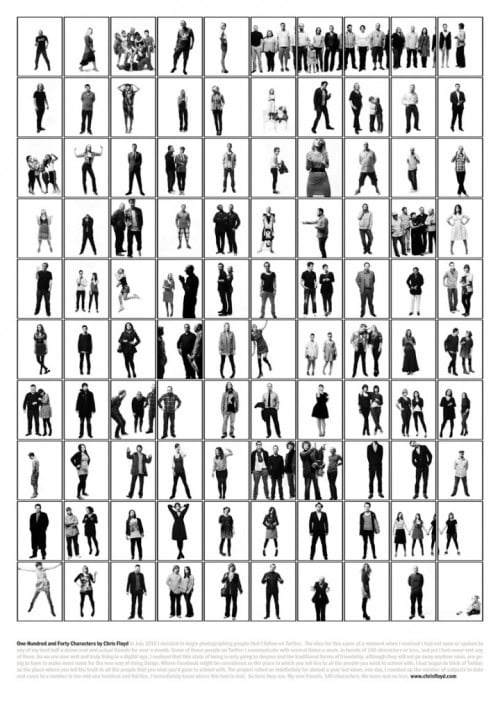 Third post in a week makes us think Liane Langdon is on her way to becoming a regular contributor for us…
The White Cloth Gallery on Aire Street are tiny, but they clearly have big plans. I happened to pick up a flyer for their launch pad show back in the Spring when Chris Floyd spent two days in a pop up studio in the gallery/cinema space at the rear of the gallery shooting black and white portraits of anyone prepared to sit and wait. This accompanied his '140 characters' exhibit of portraits of Leeds people he met on Twitter, alongside some of his more celebrated subjects like Lily Allen, Paul Weller and many many others.
Now, I hate to be photographed, and the "everyone barefoot in jeans and a white t-shirt artfully draped over each other on the floor" type photo makes me want to run for the hills. However, a man whose flyer has an example photo where the Dad is holding a child upside down by the ankle whilst the Mum is doubled up with laughter felt a lot more my style and also more fitting for the three boys in my life who are always in some permutation grubby/stubbly/pulling faces/insisting on wearing batman outfits/covered in temporary tattoos etc. I figured that if this man could get one photo of the four of us together that I was prepared to put in a frame that this would be £60 well spent.
In the space of 10-15 mins Chris Floyd took about 40 photos of my family, about 35 of them were good and, had finances allowed, I would have bought at least 10. There were even two with me in that I liked, which I count as a minor miracle. It is a rare opportunity to be photographed by a portrait artist who wants to capture you, rather than a portrait photographer trying to fit you in to a template, and one few of us could, in usual circumstances, afford, even if we knew where to go to get it.
As I have already booked my slot I am prepared to tell you that Chris Floyd is returning to the White Cloth Gallery 23-25 November in case you too can't smile naturally on demand, don't own a white t-shirt, or are just curious whether you too could look as effortlessly delicious as Lily….  My two tips are that a 10″x12″ of your face is really close up – get out the exfoliating scrub and moisturiser beforehand, and make sure you see the exhibit too.
Liane describes herself as … A working mum, mourning the passing of her dancing days (though hoping they may be on the horizon again – hope springs eternal) and forever fighting the urge to stay in bed until noon with a packet of biscuits in order to address the dual needs of a bit of cultural interaction and meeting the requirements of small boys.
I have a twitter account, but I've never got active in the twitter world. I'm @cipfawitch