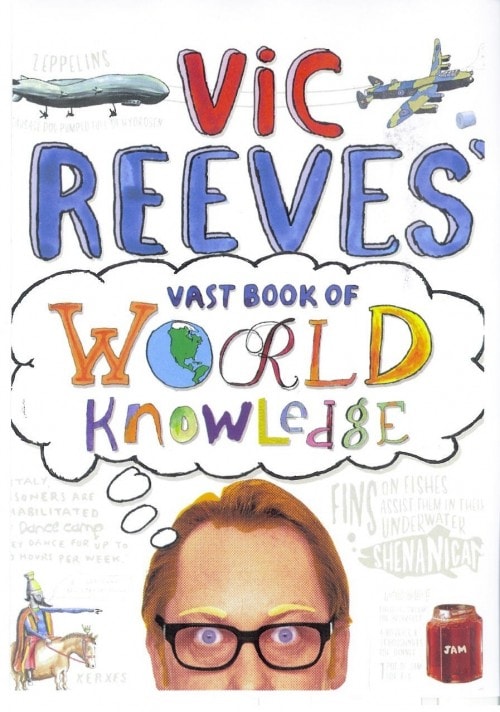 Did you know that Vic Reeves originally hailed from Leeds and was  christened Jim Roderick Moir? He also happens to be a bit artistic! In his new book he challenges the reader to see the world through his rather eccentric squinty eyes. Think you know your Vanilla Ice from your Leonardo da Vinci? Think you can tell the X-Factor from the X-Men?
Think again. At last, one of Britain's most remarkable and idiosyncratic minds presents an illustrated guide to all you really need to know about everything. Vic Reeves' Vast Book of World Knowledge takes us on an irresistible visual romp through his world – from exploding jellyfish to revolving toupées. It's an education – with pictures! – a revelation, a celebration, a pontification, and an entirely magnificent aberration. (Okay we have not peeked inside yet, this is the official press release, but we do really really want to get our mitts on it!)
So you will be glad to know we too will be queuing at Paul Smith in the Victoria Quarter (you know that designer chap) in Leeds where Vic will be signing his 'Vast Book of World Knowledge' between 5.30pm – 6.30pm, Tuesday 6th October 2009.
What's more for nothing more complicated than putting a Vic Reeves inspired  catchphrase in the comments box below you could get your hands one personally signed hefty copy.
NB: Please be sure to read our terms and conditions which you are deemed to have accepted by entering! Winners will be picked by random. Closing date: 16th October 2009
'Vast Book of World Knowledge' will be available from Paul Smith shops and www.paulsmith.co.uk from 6th October 2009. Limited edition prints will also be available exclusively at Paul Smith shops.
Winner is Cara Baker, as picked by random.org. Keep an eye out for an email winging its way to you…