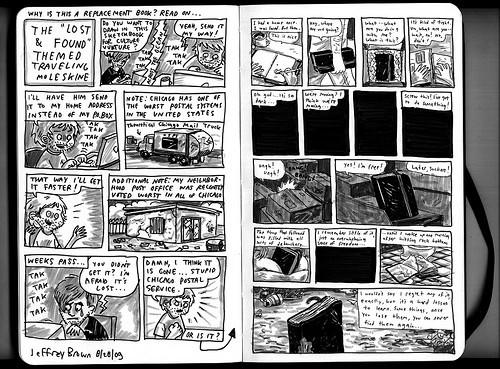 We were a wee bit nervous when we started the travelling Moleskine project that it may not take off! How wrong we were! It has been a fantastic ride for us to hear all the stories of the 80 odd moleskines and their adventures.  Some we know not where they are, and whether we will ever glimpse them again, others are being kept in shoe boxes, their owners so fearful of their loss they cannot let them out of their sight. We know of some which have gone to Peru, LA, Thailand, Belgium and even to Putney!
What we do know is that we will be hosting a party (evening) as part of the national initiative The Big Draw on October 22nd at Temple Works, Leeds. It is a fundraiser, and that's where the fun starts. We have a whole host of Moleskine contributors lined up to entertain you, get you drawing, gasping, laughing, remembering first true loves, whispering Chinese style, micro collaborating, feeding your brain, and a whole lot more, there will even be dancing by jove!
If you would like to join us, and because we have limited capacity, we ask that you click here to rsvp. Expect further instructions of a mysterious nature before the event!
Check out some of the genius on Flickr visit our Holy Moley Profiles and our Mole Call of a fraction of the participants
We thank Matt Saunders for this image taken from his prized moleskine themed 'Lost and Found' – a very interesting story indeed!