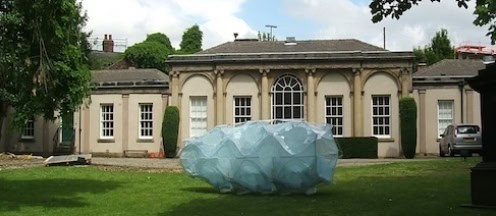 Jo Throup returns to Wakefield … and this time it's gone all literary …
A long time ago I was a creative writing student at Bretton Hall, and I lived in Wakefield. With no money and no responsibilities, life was a concoction of sleeping in every day, drinking questionably cheap alcopops and heading down to Mustang Sally's every Monday night to dance to cheesy pop hits of the 80s and 90s. Life was pretty sweet back then. Then Bretton Hall closed its doors and the Bretton students left Wakefield.
"Wakefield is going to suffer," we said, "It will lose a lot of money with the students gone." Of course, we had no idea what we were talking about, this was all just sadness that our beloved campus at the Yorkshire Sculpture Park was closing. We left Wakefield and very few of us ever went back.
So when I heard that Wakefield was having a Literature Festival, I was pretty surprised. This didn't sound like the Wakefield I knew and loved. As it turns out Wakefield has been going through a bit of transformation recently. One of my ex-housemates noticed this too when she visited recently, and asked me if they had built 'a new Wakefield, behind Wakefield?'
It seems that way. Perhaps, the locals were waiting for the Bretton students to leave so that the city could embark on its regeneration project. And it really has been regenerated; it's a thriving 'arty' place. During my visits to Wakefield over the past week, I discovered so many places I never knew existed, such as The Orangery – where most of the lit fest events were taking place.
I headed over there last Monday to assist with the For Books' Sake literary pub quiz. It was pouring with rain, which meant that the trains had gone bonkers and when I finally arrived in Wakefield I had no idea where The Orangery was. Then I found it, tucked away behind Westgate train station in what appeared to be the new Wakefield (behind Wakefield). It's a beautiful building – home to the fantastic people at Beam – who organised the festival.
I walk in, harassed, mildly dishevelled and frantically trying to turn off the sat nav on my phone. There's a warm reception inside (made even warmer by the fact someone immediately offers me a cup of tea) and groups of people waiting around for the quiz to start.
As more people pile into The Orangery and begin flexing their literary muscles, I'm already getting a great wordsmithy-buzz. And I quite like it. I'm on quiz-marking duty, so I lurk around at the back with the For Books' Sake features editor, feeling a lot more important than I actually am. Between marking the various quiz sheets that come our way, we take a look at some of the #wakestory tweets, that are projected on the wall behind us. Throughout the festival, people have been tweeting their 140 character stories or memories of Wakefield using the #wakestory hashtag. I'm told that at the end of the festival, writer in residence James Nash will be using these stories to create a new poem.
I return on Wednesday, and it decides to chuck it down moments after I leave the house. True to form, all the trains go haywire, which in turn makes all public transport users become generally frantic and angry. Between the cancellations and the delays I catch a train and somehow it all works out and I get to The Orangery on time. This evening I'm here for cake, book swapping and art.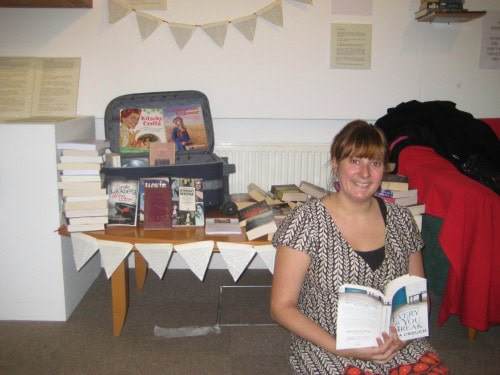 Jess Haigh, is setting up her travelling suitcase library when I arrive; once again, dishevelled, harassed and wet (someone brings me a cup of tea again). I offer Jess some help setting up the books and as I lean over, water seems to pour from me all over the table of books. Jess points out that my hood has filled up with rainwater and my supposedly waterproof coat has in fact absorbed water like a sponge. I step outside for a moment to drain.
Back inside, I nurse a cup of tea and check out some more of the #wakestory feed (my personal favourite: "Dancing on stage @ mustang sally's, £7 all you can drink. No coat. £10 taxi home to Bretton. Good times."). My Artwalk comrade arrives as does Claudine (of Claudine's Cakes) to set up her literary themed cupcakes. We go to check them out and take lots of pictures. They are fabulous.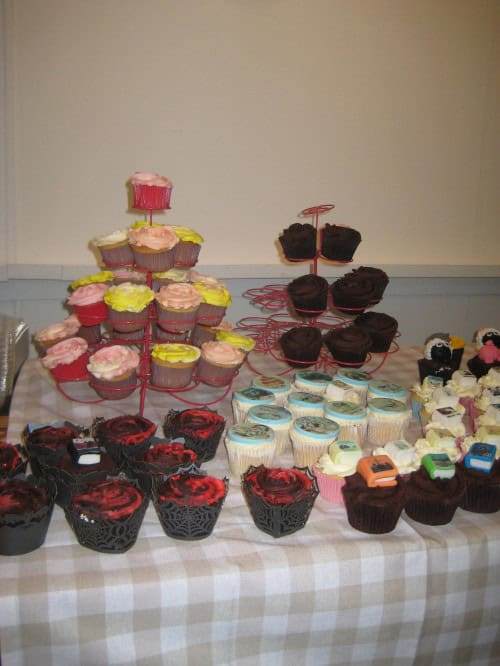 After an hour or so we begin to wonder when the Artwalk will kick off. As it turns out, the Artwalk is just a free public event that runs every two months in Wakefield where various arty venues across the city are open to the public, but we had the impression everything would start at the Orangery (I had visions of a group tour around Wakefield). We chat to Katie from Beam about the Artwalk and she makes some suggestions of where to go. We both have 40 minutes to kill before we catch our train home – so we grab a map and head out to some venues fairly close by.
Our first stop was The Art House. Working with visual artists, the art house supports development of professional practice for both disabled and non-disabled artists. Admittedly, there isn't a great deal to see as we wander around, save for a few sculptures dotted here and there, so we grab a few sneaky peaks into some of the studio spaces.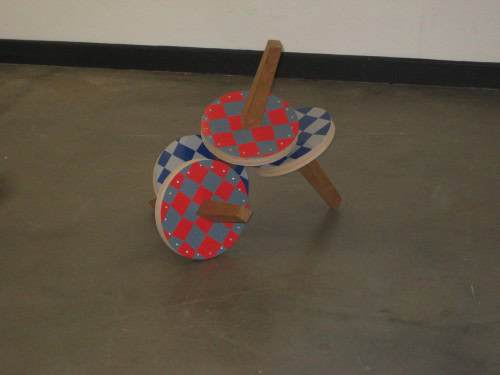 Next, we head to the café at the Wakefield Theatre Royal which is hosting an exhibition of photography on the theme "A Lifetime of Memories" (to reflect the theme of forthcoming production Happy Jack by John Godber). The photography, by students of Crofton Academy, is pretty impressive (sadly, there's no one around to tell us anything further about the exhibition).
Finally, we head down to Neon Workshops on George Street. We wander through the workshop to the exhibition space and discover a wall-mounted neon poem entitled 'What am I?' Apparently there are three of these poems which "celebrate the 100th year anniversary of the first neon sign installed in a Parisian barbers in 1912." I won't pretend to know much (or anything) about neon lighting (or art) but there's something strangely enjoyable and almost hypnotic about neon writing. It doesn't take long for my eyes to hurt though (it's incredibly bright) and after a quick chat with artist Richard Wheater we make our exit.
Saturday rolls around and I head to Wakefield on an unusually dry and sunny day to check out the premiere of I AM THE FERRYMAN – a meditative film and collaborative project of Adam Strickson (poet and librettist) and Lucy Bergman (artist and film maker). The Orangery looks particularly beautiful in the sunshine and I feel a little sad that this will be my final trip here for the lit fest.
A small group of people collect in The Orangery to see the half hour film, inspired by Benjamin Britten's work. From the blurb the film is "both a response to the evocative landscape of Suffolk that inspired Britten and a reflection on the composition of Curlew River, his haunting 1964 opera based on a play from the ancient Japanese Noh theatre with words by William Plomer."
The film is enjoyable enough – a collaboration of visual media, poetry and music –but the highlight for me was the live performances after the film. Simon Prince of Our Liberated Winter plays an improvisational piece on the flute and another on the tenor saxophone and Adam Strickson performs his poetry. I'd somehow missed the live-performance bit in the programme, so it was quite a pleasant surprise and a great ending for my festival experience.
In an interview on Ridings FM, Beam's Creative Director Robert Powell said: "Wakefield was ready to pull itself together in terms of all the activity going on and to celebrate it."
"This is the start of something that we hope will develop into something bigger and better and even more inclusive in future years."
While I didn't get a chance to go down to any of the workshops, there was still a real enthusiasm for the festival and a great atmosphere at the quiz, book swap and film premiere – a real mix of events, which drew a real mix of people. I left with the feeling that this really is the start of something that will develop into something much bigger. There was something very inclusive about all the festival – that encouraged people to get involved, and most importantly, share their stories. I hope the festival inspires people to reconnect with reading and writing, and also with the city of Wakefield. For me, personally, I gained a new fondness for my old home, outside of cheap drinks and Mustang Sally's.