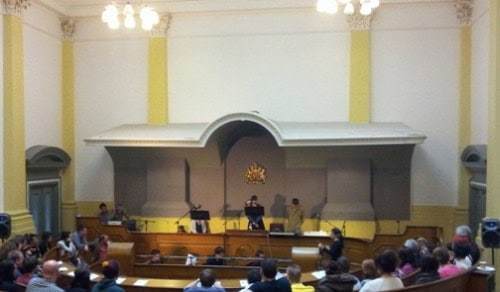 There's something wonderfully snuggly about radio dramas, isn't there? Those slightly overwrought accents and larger than life sound effects evoke the comfy chairs and crackling fires of sitting rooms gone by, cups of tea and warming stew on the stove.
It was with a little intrigue, then, that I set out for Slung Low and I Love West Leeds' collaborative effort, Fifteen Minutes Live. This second outing of the format took place in the unlikely setting of the old courtrooms at Leeds Town Hall, and I feared the bright lights would tinge the charm of the genre.
Happily, this fear proves unfounded. The plays themselves are, on the whole, excellent. The actors and foley artists take the "stage" to perform fifteen minute scripts (it's all in the name!) by five different writers. Each work was commissioned especially, and all bar one take their cues directly from the immediate surroundings of the Town Hall and courtroom.
Emma Adams' A Fresh Start begins proceedings. Adams quickly transports us from the humdrummeries of the town hall's cleaning office to the far reaches of outer space, via the unexpected plot device of a trail of mysteriously materializing dog biscuits. It's laugh out loud funny (lucky as we're also providing the laugh track) and oddly touching, as the bigoted Big Mary is lured towards redemption in an increasingly surreal set of twists.
While A Fresh Start takes us from the mundane to the surreal, the direction of travel in Lolita Chakrabarti's Soft Cell is quite the opposite. When a trio of teen girls find themselves locked in a dark Leeds Town Hall, all is a little less spooky and perhaps a little more sinister than it seems. The real intrigue in this piece, for me, is in watching the actors and foley artists creating the atmosphere onstage. Actors physically move around the microphones to create the effects of a large, echoing space. The foley artist uses two different pairs of shoes on a raised board to mimic two different people's footsteps. It makes for entertaining watching, and somehow even with the logistical bones of the recording process laid bare, dramatic suspense is maintained.
Matthew David Scott's Tail Lights is much simpler in execution, requiring just one actor, a little music and a rustling piece of paper. Opening with the familiar ringtone and "…is it working? Oh, there you are!" of a Skype conversation, it's told by an English ex-pat. We begin with his recounting his surfing the streets of his childhood on Google Earth and finding an image of himself as an adult. This shaggy dog tale illustrates the ways in which we construct future nostalgia by "living our lives as memories": choosing which photos to put in the album, choosing which tales we tell of ourselves and which records we leave. All of which is rendered futile by a chance digital fingerprint, which supersedes the tale our protagonist intended to tell. Clever, effective and excellently scripted stuff from the Slung Low founder member.
Pack Your Bags is the penultimate offering from singer-storywriter Dom Coyote. The Kneehigh Theatre associate is returning to Leeds this weekend with Raun Tree, "an apocalyptic fairytale told through song" – and this description gives a good flavour of his offering for Fifteen Minutes. It's all a little heavy in slightly saccharine fairytale symbolism for my own tastes, though generally well received. No doubt Coyote is a good storyteller with a piercingly good singing voice to boot – but this work felt at odds with the other four, Town Hall-centric, theatrical pieces.
The final work of the day, Never Mind the Bolero, came from Mark Catley and hits the right note once more. It's a tale of two hitmen – one novice charged with taking out a member of the orchestra onstage at the Hall, and his more experienced boss overseeing proceedings remotely from an upstairs room at the lapdancing joint across the road, despite the best efforts of stripper Katya to distract him from his work. With just the right touch of social commentary, Catley keeps things light and comical whilst accomplishing the day's most effective use of the Town Hall setting. Great stuff.
Complete with breaktime curry, cuppas and cakes to keep us replete and cosy, this might just have been the perfect way to spend a rainy Sunday afternoon.
The five plays will be available online from www.slunglow.org soon, and on mp3 players to borrow in and around the Town Hall from November onwards, after their initial installation for Light Night this Friday.