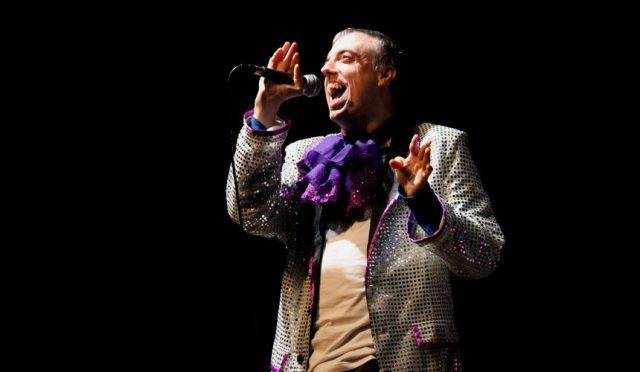 Imagine your mum and dad having sex. Now imagine they both have a learning disability. Immediately we're at the heart of "Mia", the latest production from Bradford-based Mind the Gap theatre, the only learning disability theatre company to be performing at the Edinburgh Fringe this year.
It's a fast-moving ensemble piece featuring four actors. The hard-hitting central message is that parents with learning disabilities face an uphill struggle against a well intentioned but sometimes inflexible system to win the right to have and keep their children.
Official stats show 40 percent of parents with such disabilities have their children removed by social services. However, campaigners from the advocacy group Change claim the true figure is closer to 90 percent.
Be ready for some polemic. We're bombarded with lots more numbers, always illustrated in inventive ways, and the audience is tested on what we've learned in a surreal game show "Don't Drop The Baby" which is as hilarious as it's grotesque.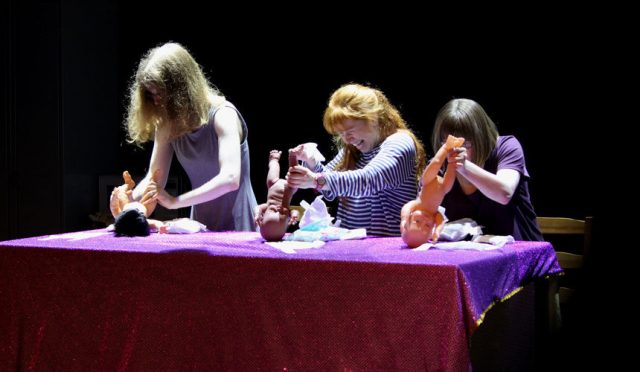 Mind the Gap veteran Alan Clay is outstanding as a perfect parody of the cheesy TV host as the three Mias – Alison Colborne, Anna Gray and JoAnne Haines – battle it out in an increasingly frenetic scramble to be the perfect mum.
Mia is memorable for its creative and seamless integration of video.
A live camera on stage scrutinises JoAnne in intimate close-up detail as she answers the seemingly endless questionnaire designed to assess her fitness as a mother. A baby's journey around the living room floor is brilliantly created in real time.
The tinsel and sparkle of the faux game show credits gives way to a documentary interview featuring a real mother with a baby telling her story – before the fourth wall shatters, and the cast chat to each other about their real-life hopes and fears about parenthood.
Director Joyce Nga Yu Lee uses dance and movement to great effect. Anna, JoAnne,and Alison deliver accomplished and graceful physical performances – from the opening sequence where teenage hormones come alive, gyrating to a montage of raunchy club dance numbers, to a haunting scene where a daughter traces her mother's shadow projected onto a curtain, these are the elements of staging that work best. Putting the lights up for audience participation can, in contrast, break the spell.
West Yorkshire has seen some great theatre featuring actors with disabilities recently, with Tommy at the West Yorkshire Playhouse and more to come in their new season just announced.
Showcasing such talent is flavour of the month – but Mind the Gap has been at the forefront of it for almost 30 years, and will continue to be funded through the Arts Council England's National Portfolio from 2018 – 2022 enabling it to continue developing the talents of artists with learning disabilities and to deliver bold, world-class work.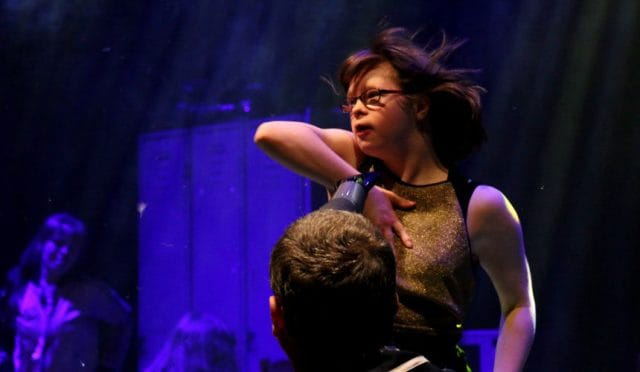 Mia has previously toured studio venues with the same cast, and is being staged at Edinburgh's Summerhall Old Lab from Tuesday 8th to Sunday 27th August, with performances at 2.45pm from Tuesday to Sunday inclusive.
Tickets are available from www.summerhall.co.uk 
The show will return to Yorkshire in autumn 2017 and spring 2018 with performances confirmed at Hull Truck Theatre and the Square Chapel Arts Centre in Halifax.
For more information on Mind the Gap visit www.mind-the-gap.org.uk
Production photos: Maria Spadafora