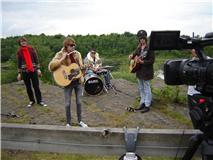 We met Laura and Albert the people behind the exciting initiative YorkshireTelly.com at our last Cultural Conversations event, and were massively struck by their humour, passion and desire to do something fresh and engaging! So we stalked them ahead of their website launch to find out all about their plans
What's the story behind Yorkshire Telly then?
Laura: Basically, YT is a labour of love. We have no funding. Albert Ross and I run Equal Voices, a not for profit arts company who work on a project to project basis. Through our film commissions, we were able to buy a broadcast quality camera and all the kit.
I also work as a freelance film and theatre director, and teach at drama schools/unis and seeing the new graduates leaving with little idea of how to get their work seen worried me. I play in a band, Albert Ross and the Otters, and on the music circuit have lots of friends in bands with no way of reaching a wider audience…
So with all these thoughts in our heads, and the camera staring at us from the corner of the room, we decided to attempt to do something about it and create www.yorkshiretelly.com
Where do you hope Yorkshire Telly will be in two years time?
We are hoping for many great things in the future. It's in the nature of so many artists to want to get their work out to as wide an audience as possible. Artists involved will naturally want to promote their work and therefore we will have a snowball effect with the number of viewers logging on to see what's new on the site. This will steer a really varied yet hopefully collective audience towards artists they may not have come across otherwise.This brings many benefits. As the number of performances increase and the audience becomes larger and more varied it will open up great chances for collaborations across artistic genres.
We will be putting artists in touch with each other and encouraging larger and more ambitious works.These will appear on the site as 'video projects'- more complex works – and we will also be putting on live events across the region to showcase these works.(We have already had enquiries from dancers looking for musicians and a visual artist interested in hooking up with local poets for an ongoing project……..all of this and before we've actually launched….very exciting!).
As with any online community there is also the potential to use the site to make announcements regarding arts events / issues that affect us all and there will be scope for linking up with other sites to share ideas, mutually network and get things happening around the county.
In the future our aim is that YorkshireTelly.com will be an essential reference point for anybody interested in the arts and the wonderful county of Yorkshire. Somewhere to come and be entertained, moved, excited and meet new people.
As we are starting out without any funding then we are also focussing on ways to make YorkshireTelly.com sustainable. All our snapshot videos are filmed at no cost to the artists except for any reasonable fuel contributions for travel. We are interested in how we might be able to move the site forward through skill sharing and we will see how this develops over time.
So far we have been lucky enough to be supported by like minded individuals such as 'Samuel Foxton Welles', a musician who has done a Yorkshire Telly shoot (on his allotment in Hyde Park!) and who has joined forces with us as the sound engineer for all our shoots and has become part of the Yorkshire Telly team. An artist to watch out for, he is also performing at Temple Works 'Twin Peaks' event. Another huge help in getting us launched has been filmmaker (with a sweettooth for web design) Will Simpson, who has designed and created our website and been on hand for around the clock technical support and advice.

What's your pet bugbear?
The thing that gets our goat the most are individuals who focus only on the glory they seek through their artistic efforts. Artists who want to be recognised for being associated with artistic enterprises rather than actually having a burning desire to create something they are passionate about. We love to find artists who are consumed with their work. Artists who live and breathe their dreams. Artists that do what they do because they simply have to, because they are convinced it is the only thing to do.