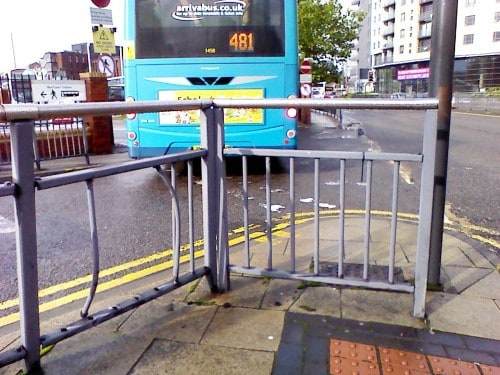 When anyone official trots out the phrase "barrier to something or other" they are generally trying to blame the rest of us for not doing what we ought to be doing, and threatening to unburden us of said obstacle for our own good. A "barrier to work" means "get off your arse you lazy tosser else we are taking your benefits away" and a "barrier to healthy eating" translates as "oi, lard arse, we are taxing those pies if you don't lose a few pounds you useless burden on the state!"
So, I'm naturally sceptical when there's talk about "barriers to walking". I expect to be accused of not making enough effort to skip across my recommended quota of zebra crossings, and live in fear of the authorities beating down my door in a 4am raid to confiscate any inappropriate footwear. What the heck could a "barrier to walking" possibly be anyhow?
There are plenty of literal barriers about. I hadn't really noticed how many of them there are in Leeds city centre until the other day when I was having a "barriers to walking" conversation with a friend in the pub.
"Why don't people walk more? What's stopping them?" I asked, swirling the dregs of wine and pondering the next bottle.
"What are the barriers to walking, you mean" she said.
I looked out of the window. "Like that?" I said, pointing to an expanse of rigid, grey, unappealing metal stretching down the edge of a pavement. "That looks like it could stop a herd of stampeding wildebeest."
"Those traffic barriers are there to keep pedestrians safe" she said. "Look at how fast the cars are going, you'd stand no chance if there was an accident …"
I've been thinking about this for a couple of days now. On the surface it does seem to make sense. And by the look of many of these barriers it's obvious that if a car can do that much damage to tempered steel then flesh and bone wouldn't stand much of a chance. So, yes, safety is always first, no one is going to challenge that idea.
But look at these photos. They were taken late afternoon in what is the new "Arts Quarter". BBC, West Yorkshire Playhouse, Northern Ballet, Munro House – you've only got to whisper "architect", "animator" or "actor" around here and there's a noisy rabble within seconds wanting to give you their elevator pitch. To use the Leeds marketing buzzword of the moment, the place is about as "vibrant" as it gets.
Behind the traffic barrier there is perfect safety. The pavements are wide and well made and pleasant enough. But they are safe because they are mostly empty (and when it comes to traffic planning the safest street is the one that nobody ever uses.)
So, I have a question. Do we actually need the barriers? Don't they just encourage drivers to speed, assuming if they have an accident the pedestrians will be protected by a shield of steel? And don't they simply discourage the rest of us from walking and occupying public space? Because they are so ugly, inhuman and nasty? Can't we imagine a shared solution where we could have an attractive street which would be good to walk along but still could be reasonably efficient for through traffic?
How could we redesign the street so it works for everyone?
Come along to our Walk on the Leeds side event about making walking in the city better for everyone, at The Belgrave Music Hall, November 6, 5.30-8