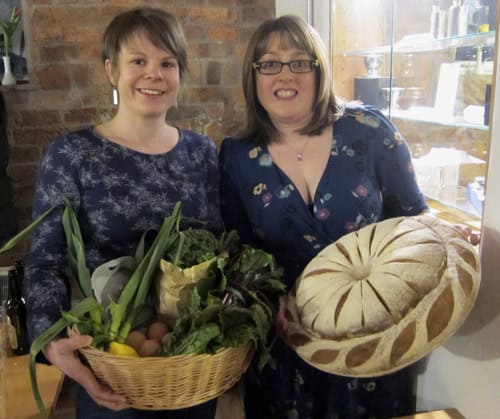 Sheffield has never been known as a foodie destination, no big name chefs like Leed's Anthony Flinn and only one Michelin star within the city boundaries but it's still a smorgasbord of tasty treats if you know where to look… Two women who undoubtedly know where to look are Clare Tollick and Ros Arksey, the pair of part-time gourmands behind Appetite, a new website covering all that is edible in Steel City from the lowliest chippy to the most elegant eatery. It's not just restaurants they're interested in, the site also celebrates the finest producers in the Sheffield area including local heros such as Just Preserves and Our Cow Molly. Appetite doesn't simply offer online food fanaticism but also runs events to get Sheffield mouths watering in real life.
A keen (or should that be greedy) foodie myself I was delighted to meet Ros and Clare over a tasting of The Wick at Both Ends spring menu to talk about their new venture. Amid rounds of succulent small plates – read Clare's review of them here – I asked how they met, 'by the power of Twitter!' said Clare, who you can follow @feastandglory and Ros @nibbly_pig for tasty morsels of their culinary adventures. Drawn together by a mutual interest in food and a respect for each others' blogs they decided to meet up and a series of dinner dates ensued. Ros recalled feeling rather nervous about cooking for a fellow food blogger, worried that Clare would be tweeting her critique under the table. However, they soon discovered a shared passion and decided to release it on the world in the form of www.appetite-sheffield.co.uk
And they've been amazed by the response…. particularly for their first event held last month at local favourite Fusion Organic Café which brought together a selection of Sheffield chefs and producers to demonstrate their way through 'a day in the life of Sheffield Appetite' from morning cuppa to midnight feast. The event sold out well in advance and the lucky diners who attended got to nibble on some Moss Valley Fine Meats breakfast bacon, chow down on a Whirlow Hall Farm signature dish – soft boiled egg and kale salad, and round things off with a Tamper Coffee espresso amongst many other delights. The evening was such a success that they've been quick to schedule another event in June when Appetite will go al fresco. Details are still under wraps but you can expect a jubilee-style celebration of outdoor eating in a scenic Sheffield location. To keep you going in the meantime there's a Cake Break on Saturday 5 May, with all the proceeds going to the M.S Society as part of the upcoming M.S. Awareness Week as Ros' mum has lived with the condition for over 25 years. Hosted at Tamper Coffee you'll be able to sample delicacies from local bakeries alongside WI -home bakes.
So as eating enthusiasts what are Ros and Clare's hot tips for the best of Sheffield scran? 'Castle market' Clare is quick to answer and you can find our why by reading her recent blog post on the, perhaps underrated, food stalls here. Ros name-checked the Seven Hills Bakery that stays open late for commuters and has been responsible for Moscow-style bread queues on Sharrow Vale Road. She also recommends we make a date with Urban Pantry a new deli in Crookes filling a notable hole in the Sheffield food scene. Other recommendations include The Three Corners of China on Glossop Road – a regionally specific menu and helpful staff to help you navigate round it; East & West on London Road – beautifully cooked South Indian food in a relaxed canteen style setting; however they disagree about Nonnas – overrated according to Ros and a Sheffield staple if you listen to Clare. It's these passionate and sometimes differing tastes that should make Appetite a browser bookmark for anyone interested in Sheffield food.
Visit Appetite and learn about their up and coming events here.