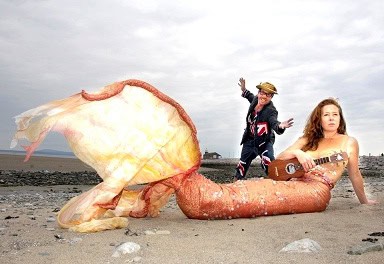 This quirky, back handed tribute to the underbelly of seaside life and the freaks you might find there is a culmination of Leeds performers Lisa Howard and John Barber's numerous collaborations over the years. 
An unnamed clown is the boss of a seedy, run down seaside freak show featuring his only attraction, the Morecambe Mermaid, and he is a demented Eric Morecambe figure with the drinking capacity of Shane McGowan. 
His story is told in act one as he tries to tell one of Charles Dickens' more obscure works Captain Murderer, battling hallucinations caused by his boozing, the off stage barbs of the Mermaid who hates him and the unhelpful filth spewing out of the mouth of his daughter Tanya. 
Tanya is actually a puppet, but this works well thanks to Lisa's skilful handling of the prop and comic timing.  I'm not always a fan of puppetry, but a lot of thought has gone into the puppets scattered throughout the show, creating the illusion of a larger cast and they work well in this two hander.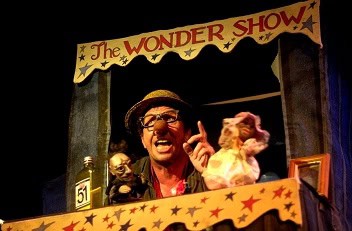 John Barber works hard as the freak show owner throwing himself in some amusing physical comedy, and some funny interplay with his potty mouthed offspring.  The Captain Murderer section is billed as an offbeat tribute to Dickens, but that jarred with the rest of the limited narrative. 
In Act Two the action is seen from the Mermaid's perspective trapped in her glass tank performing shows for gawping tourists and 'adult' shows where touching costs more. 
The Mermaid was snatched from her natural home in the Irish Sea on a raid to eat Morecambe Bay's famous shrimps, and her tale is one of exploitation by a succession of seedy seaside male freak show owners.  Lisa Howard does well given the limitations of her tailed costume, bringing a high degree of pathos to a mythical creature having to adjust to the depraved antics of human lowlife.  But for someone with such a great voice the songs felt a little underpowered. 
I have some concerns about how such an intimate show will work in a bigger theatre like Leeds Varieties, which it visits on this tour, but Lisa and John threw themselves wholeheartedly into a show they clearly believe in. 
In show packed with a seemingly endless array of theatrical tricks not everything works, but the strength of this show is we have all had a day out at the seaside which instantly puts the insanity into some of twisted context.
* Captain Murderer and the Morecambe Mermaid visits Leeds City Varieties on 13th April.  Tickets can be purchased at Leeds City Varieties. Box Office 0113 243 0808
cityvarieties.co.uk