This review should have gone up last week but was delayed due to technical issues.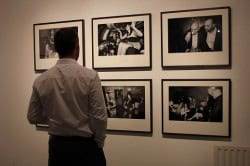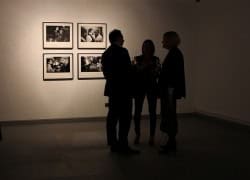 Photos courtesy of Anne Ward.
In the same way blogging has conned some untalented people into thinking that they are journalists then the rise of cheap digital cameras has convinced some people that they are photographers.
The show by documentary photographer Jocelyn Bain Hogg in the newly opened White Cloth Gallery proves that you still need the right subjects, time, talent and, above all, a keen eye for what makes a great photo.
The Family takes a painfully frank look at a slice of our nation that is hidden from most of us, focusing on the lives of Joey Pyle's family, whose father Joey senior featured in Jocelyn's earlier gangland book The Firm.
"It's a look at part of British culture, it's a real look at the London underworld and the lives of the people in that society, showing a side of Britain that people don't always see. They are a very British type of villain.
"I've done five major book projects, and I was there three years and they always take a long time so I can get their trust. The more time you spend, the better you understand what is going on and the better the pictures become, but trust is everything."
Make no mistake, While Cloth Gallery is a game changer for how Leeds shows visual arts that marries ambition to show outstanding work with clear professionalism, with the slick advertising light boxes in reception, two well appointed bars, a café and two large whitewashed rooms to show the work.
It is a very impressive gallery that already is as good as can be found across most of the UK, and with a range of courses coming up offers much to our city's photographic community.
Whilst putting on Bain Hogg's work is a bold statement of intent, what does he say to those who say he is merely glamorising this lifestyle?
"This is the same old argument that people use about war photography – that when it's put on a wall it's glamorous. It's unfortunate that we don't have the press we used to have. The Sunday Times would run stuff this every week when I grew up. When I grew up it was looking at Don McCullin and the most amazing stuff that taught me the nature of the world out there.
"It's the nature of things now that it is books and exhibitions like this that we have do as the work still needs to get out there."
It is work that doesn't come cheap as the limited runs of 20 prints of each photo start at £400. One punter said to Jocelyn '£400, I could get a telly for that', which makes you wonder why that dickhead bothered to turn up to insult an artist in this way. Maybe it was the free drink talking, or perhaps he was merely an idiot.
But immersing yourself in this dodgy world for three years surely can't have been with risk as these guys – and their partners – look pretty damn scary..
"You should never judge a book by its cover is the old phrase, but some of them are frightening when they want to be. The Firm came out in 2001 so the groundwork was done, but it's a different era coming in10 years on and it didn't feel frightening to me.
"I'm older and wiser than I was ten years ago. The key about photography is just be yourself, if you pretend to be something you are not then inevitably that will lead to trouble."
"I was doing this project in tandem with one on the upper classes at play and the modern season. I was at a fairy wedding in a castle in Dorset and then off at night with these guys at a party with a '70s porn star. My god, this is the same country which is what intrigues me."
And has there been any negative feedback from men who might use their fists as a critical response?
"So far so good. You have to respect people, you don't have to like them but you have to respect them, which I guess makes me an old fashioned photographer, but I'm proud of that. "
White Cloth is the brainchild of documentary photographer Peter Dench and his joint creative director Sharon Price, and Jocelyn was only to happy to show his latest work in their new venture.
"Peter is one of the good guys and a great photographer. We're old friends and he will bring something special to this place, it will be a British view which is needed because we don't have it anywhere.
"I think you're really lucky in Leeds to have this and I think it's an interesting space. There are only a few galleries anywhere in the UK supporting photography, or visual media at all, so you have got to hold on to it, treasure it and support it."
And that's the key message for people in Leeds, and particularly photographers. This is a space that needs our support because it is not only a gallery with a mission to show big hitters like Jocelyn, but also the very best of local talent.
So the challenge for all us is to pop in for a brew, a beer or a sandwich and make sure it finds it feet. It would be criminal if this venture didn't take off, but it needs a local buy in and they know it. So use it or lose it.
*White Cloth Gallery is located at Aireside House, Leeds, LS1 2BH next to Leeds City station. Like them on Facebook at White Cloth Gallery or follow them @WhiteClothG