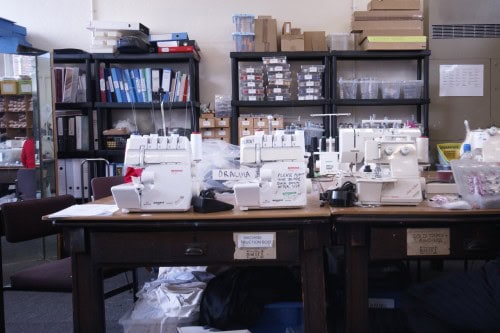 This month we took a photographer who spends most of his time shooting the decayed, industrial and down-right dirty places around the city of Leeds and wondered what could possibly be a bigger contrast to his regular work. Ladies and Gentlemen, we give you the Wardrobe Department at Northern Ballet Theatre! He did us proud, James Lester we salute you!
So we bet your 'office' is a treasure trove of glitz and glamour! Tell us a bit more about it
Wardrobe is a really busy office, usually we're busy preparing for a show so more than likely you'll hear the sewing machines going and we'll be putting finishing touches to costumes and preparing Pointe shoes for rehearsals and shows. The dancers are always in and out for fittings or trying Pointe shoes on. It really is a hive of activity!
How did you end up the Mistress of the Wardrobe?
I just fell into my job. I've always loved theatre and I was working as a dresser in a theatre and became familiar with NBT, saw the job, applied and the rest is history.
What's the most awful thing you have found stuffed inside the pockets of an outfit?
We sometimes find sweets in costumes, but the most common costume to find things in is the nurse costume from Romeo & Juliet we've found pants and socks stuffed in their before!
Are Ballet dancers really prima donna's?
All the dancers are really lovely to work with, they have a good understanding of how wardrobe needs to operate to keep a show running. For example in lots of the shows we have quick changes and the dancers are always really helpful and understand the pressure we have to work under. All the dancers work incredibly hard and doing my job you really get an insight into just how hard being a professional dancer really is. NBT is a really busy company, the dancers don't have time for ego's.
What's your favourite outfit?
My favourite outfit has to be the niece's costume from A Christmas Carol which is a two tone velvet dress, it looks magical on stage.
Anything you'd like to plug?
This year is our 40th Anniversary so we are reviving lots of really popular productions so it's really nice for us to get the costumes out again. We are performing Dracula at the West Yorkshire Playhouse from 10-19th September so we've been doing a lot of preparation for that recently and then we are back in Leeds in December with two fantastic productions, A Christmas Carol and Peter Pan at Leeds Grand Theatre. The costumes are amazing for both productions, we are really enjoying getting everything ready. For details and dates of all our touring productions please visit our website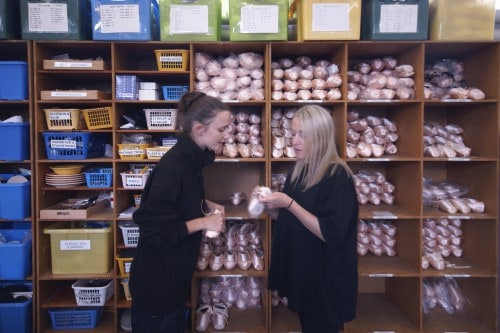 Image Credit: ©James Lester
About the photographer: James Lester is a young Leeds-born photographer who exhibits regularly and sells his work at events throughout the year. Find out more about James' work on his website