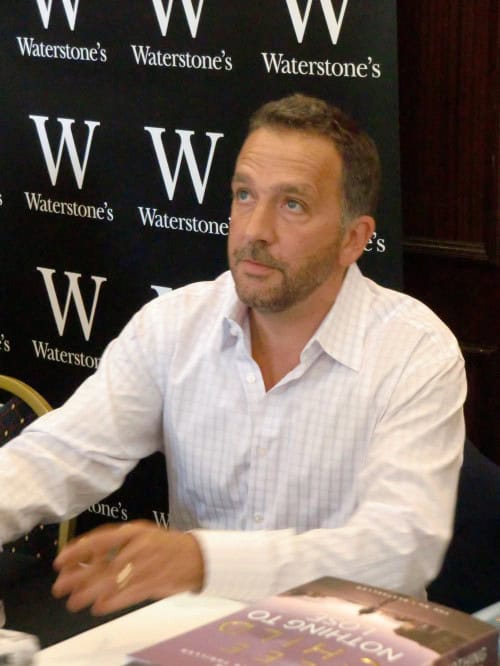 Thanks to this site, I won tickets for this year's Theakstons Old Peculier Harrogate Crime Writing Festival and was able to attend and see more events than originally planned. Now, Emma suggested some juicy gossip might be appropriate, so I will give you a taster of the weekend based on the events and the extensive social chatting that takes place. Sadly, the purely salacious and potentially libelous extremes will have to remain off this page.
One of the first people I bumped into outside the hotel was Sheila Quigley. She was announcing the fact that she is today's bionic woman. It turned out that she had been losing her sight and needed cataract operations on both eyes. She was at pains to let people know it is best not to be as scared as she was and simply get it done. Her sight loss had affected the writing of her novel The Road to Hell, but it was eventually re-worked and completed. Expect fireworks of another kind on November 5th when it is published by Tonto Books.
Sheila and Icelandic author Yrsa Sigurðardóttir have met before and share a sense of humour, so I often found myself in this group, having met Yrsa before and loving her humour too. Like Sheila, Yrsa is a straight forward, tell it as it is kind of girl. Yrsa also has a tendency towards whacky shoes. I spotted the soles when she was on stage for Sunday morning's Nursery Crimes session and simply had to get a closer pic at the book signing. Later at the book signing, Yrsa's hubby was buying one of her books on behalf of someone else. He turned to me and asked which one on the table was the latest. "You mean you don't know?" was my reply as I directed him to My Soul to Take. And his excuse? "Ah, but the titles are different here." OK, he's let off on that one.
Talking of couples, I came across a few. Faber's recent début author Adam Creed was there with his wife doing some marvellous informal PR on his behalf. What a pair! Now, I knew that Adam Creed was a pseudonym, but I discovered that his real name is Gareth Creer and that he had previous literary novels published in the late 90s and early noughties. Mr Creer said they are quite different, but Mrs Creer was quick to add that those novels too, had crimes in them. What a lovely, friendly couple they were. It all helps; Suffer the Children has just moved up my ever demanding to-be-read pile.
I recently heard a Jack Dee joke. He believes women make excellent soldiers because if they turn up in the same outfit, fighting will commence immediately. Evidence to the contrary in the case of male crime writers was present and documented in this pic. Just look at the camaraderie here; and all because of wearing the same shirt! It's back view only for the boys as, on the left, Kevin Wignall decided he didn't want to show his elegant and finely chiselled face. On the right, Leeds-based Steve Mosby didn't care one way or the other, as long as the pic was taken. The beaming smile in the middle comes from the charming Donna Moore of comic crime Go to Helena Handbasket fame. Personally, I was most impressed with the boys' choice of thread count for the shirt. Great quality and great ironing too. Rumour once had it that Wignall was formerly with MI5 or MI6 but he denied the suggestion strongly and consistently. For all his avid and welcome socialising at this annual weekend, he remains what he is: a complete mystery.
And talking of clothes, on Friday evening I was perplexed to see Laura Lippman leave the hotel in a green tartan-style dress with a very high neckline, but all became obvious later that night. We had a new event, a cabaret to raise money for charity, based on the premise of lying. Chair Mark Billingham posed a series of questions to the panel and the audience was asked to challenge the replies with a wager if we thought they were lying. At one point Lippman claimed that when she was young she wanted to impress her Marx Brothers fan father so much that she did extensive research and could list all of their films, amongst other things. A cynical British audience did not react until she upped the ante and promised to recite the list while doing push-ups on stage. Then the money came rolling in, because she was not lying and she impressively performed the deed, right in front of Mark Billingham. She spared her blushes on exposing cleavage to the audience by wearing that high-necked dress, but Billingham must have enjoyed the pine-end view just in front of his knees…
Not to be missed was Mark Lawson interviewing Reg Hill and John Banville. How comfortable would Banville – who now writes crime novels as Benjamin Black – be in the arena of crime aficionados? He seemed pretty comfortable and there was no booing or hissing from the friendly audience, but he did stick his foot in mouth when he said how long it takes him to write his literary novels and how quickly he can shunt out a crime novel. But not to worry, glee was at hand with Reg Hill's replying quip. He told us that when he gets up every morning he asks his wife if he should write a Booker Prize winning novel or a bestselling crime novel that day and they always pick the latter.
One exceedingly good thing to happen this year at Harrogate was to see a Welsh crime author on the stage. Robert Lewis, whose first novel The Last Llanelli Train was shortlisted for the P G Wodehouse Bollinger Prize for comic writing and second novel Swansea Terminal longlisted for the Wales Book of the Year was on the Men in Crisis panel. And oh, that humour came through. When Simon Kernick had finished regaling that fact that he doesn't write sex scenes in his books, just in case his mother reads them, which she doesn't, Lewis remarked "When they come out in large print, that's what you've got to worry about." Lewis proved to be a rather nice chap and made this middle-aged bird wish she was twenty years younger.
In the session on Emerald Noir, Brian McGilloway told us that he visited an Irish gold mine when researching for his latest novel Bleed a River Deep. He called to ask them if he could look around. "Why?" they asked. "I'm a writer." This met with an "Er." "I'm a crime writer" he continued. "Oh yes, surely, come. My brother is a crime writer." Writing crime fiction opens doors.
In Five Go Postal, the six authors including Chairman Simon Brett did not hold back when telling us what gets their goat. Laura Wilson described Scarpetta as revolting and nauseating, before repeating the rather sad narrative of "Scarpetta's voice moved at the speed of sound." Brett added that he hates the niece more. Noise from the audience indicated that this was a discerning crowd of good taste. Roger J Ellory said he hates to read an intense and pacey serial killer investigation with a brilliant detective, where the serial killer turns out to be the detective's younger partner or brother, etc. (This led me to ask him later what he thought of Child 44…) Ann Cleeves declared that there are an awful lot of bad English and American writers and serial killer novels. She thought that while they may be pacey, they lack the depth and soul of the Scandinavians. But not everyone agrees. Andrew Taylor announced his intention to be controversial and queried the success of Henning Mankell. On Stieg Larsson, Laura Wilson asked "What is that about?"
The Sex, Drugs and Ultra-Violence panel proved to be much better than I anticipated, but you can always rely on Denise Mina for some wonderful intellectual input. She had me thinking again. Mina said she believes that we all like violence and that's why we read crime novels. In a peaceful country in a peaceful time, she thinks it's our fight or flight response kicking in. Zoë Sharp recounted an experience at a crime convention in the States where there had been a panel discussion on whether it's OK to kill children and animals in crime fiction. Some time later that day she was in an elevator with US author Rhys Bowen and Bowen announced that she had worked it out, saying "It's OK at thirteen." Two people exited the elevator at the first opportunity.
At Sunday morning's Nursery Crimes – yes, I was up and alert! – it was Suzette A Hill who caught my attention for her dry humour. A child's imagination is a wonderful thing. Hill told us that when she was young she became convinced the two thirds of her grandmother's friends were German spies or former German spies. Jasper Fforde said that when he grew up, the books in his home were boring as his father was an economist and it was a "straight-laced literary family." He added that he was "forced to read grown up stuff a little early" and that Enid Blyton was not allowed in the house so he sneaked in his copies.
Later on Sunday, The Wire was a sell-out. (I didn't manage a ticket.) George Pelecanos, who had been Saturday night's special guest interview, joined David Simon and his wife, the ever glamorous push-ups star Laura Lippman to discuss the show. I spent the time chatting to other readers in the lobby.
Last, but certainly not least, the highlight of the weekend for me, for the fifth year running was the Quiz. This year I did not organise a team as I was invited onto one. It was all rather calm and professional as the determination to win was steely. Alas, we didn't win, but came in at a respectable third place. It was the round on animals in crime fiction that killed us. Someone asked "What's the prize?" I replied that it didn't matter because it was all about the kudos. Maybe one year, I will be on that winning team…
I hope that this has given you a flavour of the festival, especially if you've not been before. It's a very friendly and informal festival, efficiently run and growing faster than a child needs new shoes.
Picture of 'The Sexiest Man in Crime: George Pelacanos' by Tonny Klaassen of Ambo Anthos