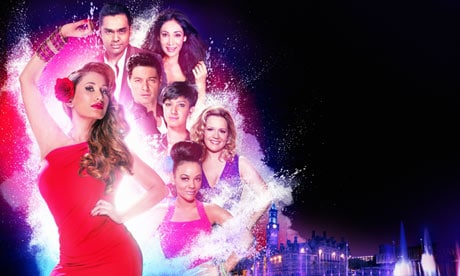 The BBC rolls into Bradford this weekend as Bollywood meets the opera Carmen. The musical spectacular will be broadcast live from Bradford's City Park this Sunday, 9th June. This is the latest in a series of large scale outside events staged by BBC Three in the north, following The Manchester Passion, Liverpool Nativity and Frankenstein's Wedding at Kirkstall Abbey in 2011.
Bradford, the world's first UNESCO City of Film, was an obvious contender when producers mooted the idea of fusing an opera with Bollywood, particularly in the centenary year of Indian cinema. Bradford and Bollywood go back a long way. Bradford became one of the earliest centres of Indian film screenings in the north, when during the 1950s and 60s, immigrant mill workers from as far away as Newcastle and Sheffield travelled to Bradford to catch an Indian film on their day off.
Bradford's association with Bollywood will strengthen even further this autumn, as the new Whistling Woods International Bradford College Film School officially opens. Students, some of whom are working on Bollywood Carmen behind-the-scenes, will have the opportunity to study at the Whistling Woods campus in Mumbai to experience the Indian film industry first hand.
Producers of Bollywood Carmen initially considered staging the show at the Bradford Mela in Peel Park last year. They also considered the Cow and Calf rocks in Ilkley as a potential location, but ultimately, made the decision to wait for the completion of the £24.4m City Park. It was footage of the opening ceremony, complete with dancing fountains, camera controlled lasers and fireworks, surrounding the grade 1 listed City Hall, which highlighted the park's potential and expanse and clinched the deal.
Carmen the opera has been reimagined in Bollywood terms, featuring many of the key ingredients Indian film fans have come to expect such as romance, intrigue, deception and drama. While the original Carmen was a Spanish seductress, she is now a Bradford belle (played by Eastenders actress Priya Kalidas) who works as a waitress and dreams of stardom. Will her luck change when a Bollywood star (played by actual Bollywood star, Abhay Deol) comes to town?
The original opera was written by French composer Georges Bizet in 1875. More than a century later, Carmen is the most popular opera ever written. I must admit that my knowledge of opera is negligible, but some of the music – the prelude in particular – is familiar even to me.
But Bollywood Carmen will be an entirely different affair, performed in front of an audience of 3,500, with lashings of singing and dancing on stage and amid the high-tech fountain displays of City Park. There will also be glittering costumes, many of which have been created by Strictly Come Dancing's dress designers.
The music has been adapted by Kuljit Bhamra, who worked with Andrew Lloyd Webber on his Bollywood inspired musical, Bombay Dreams. It features several iconic Bollywood tunes from the 1970s, especially re-recorded in English. These include Chura Liya, Kabhi Kabhie and a rock and roll version of the hippie inspired Dum Maro Dum. One of the musical highlights is likely to be the recent megahit, Chammak Challo, from Bollywood's most expensive film RA One, about a science-fiction super hero. The original song featured Hindi vocals by Senegalese American R&B and hip hop artist, Akon.
Bollywood Carmen also features bhangra as well as a number of recent English hits, including Rihanna's Diamonds and Alicia Keys' Girls on Fire, both especially re-recorded for the live extravaganza. But just like in a real Bollywood film, actors will lip synch to vocals performed by playback singers.
Britain's top Bollywood choreographer, Honey Kalaria, will be teaching the audience some dance moves before the live broadcast. As director, Indra Bhose explains: "The audience are stars in my film. I'm making them my collaborators. They all have to dance and laugh and clap at the right moments because they're playing the audience of a fictional Bollywood star's roadshow."
Bollywood Carmen Live takes place on 9th June 2013 at City Park in Bradford. The show will be televised live on BBC Three at 9pm.
Irna Qureshi blogs about being British, Pakistani, Muslim and female in Bradford, setting her stories against a backdrop of classic Indian films. She is also curator of the Bollywood Icons exhibition which runs at the National Media Museum until 16th June 2013. Irna tweets here.