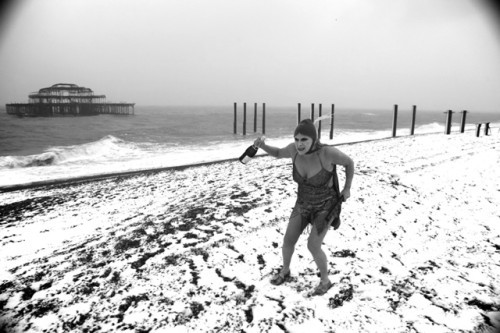 Do I please you? Or do I please myself?
Is a very good question posed by Liz Aggiss in her debut performance of 'The English Channel' at Yorkshire Dance.
To say that Liz is unafraid would be an understatement. The English Channel is an inspiring irreverent clever solo performance that looks at age, beauty and being seen and very definitely heard. Beyond that, it delves into that legacy we all share – death. That unspoken elephant in the room, unapologetically laid bare on a slab amongst brown paper bags, flapper beads and a very large truncheon.
If you have seen Liz's work before, you will not be disappointed by this latest effort. If you havn't, then you may be moved, horrified but definitely entertained with her flamboyance, defiance and charm. I predict you will laugh hard and enjoy her thoroughly. From incredible and sometimes dangerous things that appear from her knickers, to illusions and a deluge of double entendres, this work is surprising, inventive and a little gem in every girl's wardrobe.
What is fundamentally clear in this piece is a coherent structure, that moves swiftly from one invention to another. It demands our attention from start to finish. Yet the kind of attention and way it relates with us is constantly changing: spoken word, movement, illusion, film, soundscape, song. Although there are several themes woven into the narrative, there is nothing that is superfluous to the story, and the audience are always taken along for the ride. I like that. The process is disciplined and sticks meticulously to the style and the concepts of the work. Liz's comic timing is genius and the physicality is impressive as she works each idea well 'over the border'. Yet there is a sincere point in even the most ridiculous images presented.
The other very important thing is that she doesn't care what she looks like – she can look beautiful, grotesque or anything in between. The shining inspiration here is 'comfortableness' in her own skin. With that, what couldn't a woman do?
Does this account describe anything about this performance – not in the slightest but experiencing is the necessary 'screw' here. So if you want to know more, then go see this work for yourself. We were given our 'certificates of embarkation' at the finish of the show in a 'knees up' with artist and audience, and my favourite quote from that, which seems very apt:
"Little wonder she was desperate to do what she damn well pleased. What took her so long?"
Indeed – sticks fingers in the air and tucks dress in knickers.
PS This show was part of Yorkshire Dance's Friday Firsts (#FFirsts) – a regular night for new work at 7.30pm on the first friday of the month. www.yorkshiredance.com/professional/friday-firsts
The next, Show Reel, is on Friday 7 July – including 'Dad Dancing' a collaboration between Dads and dancers, and and screening of choreographer Gary Clarke's 'Just 30' – involving 30 non-dancers aged between 8-85 years. www.yorkshiredance.com/show-real