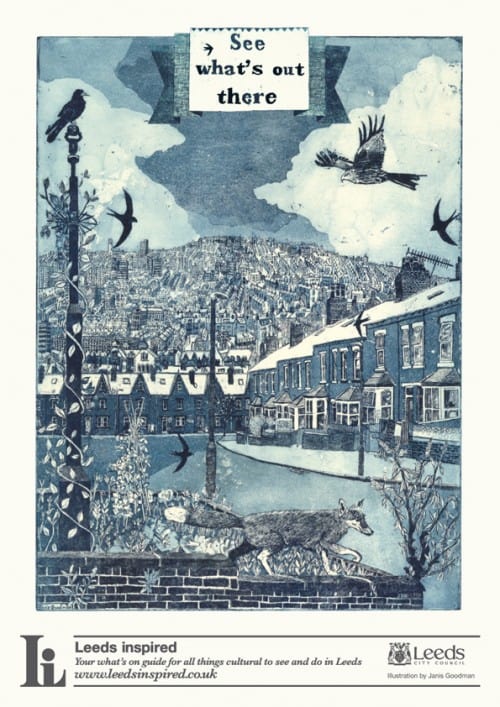 Janis Goodman is a Leeds based printmaker, specialising in etchings, who was recently commissioned by Leeds Inspired to create the stunning poster you see here and all over the city. Wendy Denman quizzes printmaker Janis Goodman over birds, buildings and going wild in the city. There are also 10 lovely posters to be won. *Sings mash-up* "Luck be a Foxy Lady tonight"
Can you tell us about the process of etching? Is it as complicated and expensive as it appears?
Let me refer you to my website , then look under printmaking for a full explanation, but yes, complicated and involving a fair bit of kit; copper plates, wax ground, paper, ink, giant mangle-like press and a range of sharp instruments.
This fantastic poster you've created for Leeds Inspired is called Wild in the City – what is the wildest thing you've ever done, or would like to do in a city?
In order to be sufficiently wild on paper I spend most of my time rather tamely- sitting at home, crouched over a drawing board and wearing a hat as a way of delaying turning my central heating on.
Did you find Leeds an inspiring place to study, and how do you feel about it now as an artist?
Was not a student here, but did learn how to etch at Leeds College of Art and Design's evening classes where we spent the first three weeks learning how to prepare an etching plate, and that still did not put me off!
Leeds is known for its owls but you've chosen to picture our beautiful red kites and a fox here. What made you want to place those particular creatures in the cityscape?
Living in Chapeltown I have seen foxes, red kites and swifts in, or flying over my garden but alas no sign of any owls, maybe they are just too posh to lurk round here.
As a trained architect, what's your favourite or least favourite building in or around Leeds, and what shall we do with the now empty Yorkshire Post building?
As a trained architect I am confining myself to modern buildings rather than waffling on about the joys of Leeds Town Hall, Leeds Market or that great mill building with yellow panels at the beginning of Sheepscar Road. I loathe and detest the random assemblage which is Bridgewater Place, and really admire the "rusty tower' of Broadcasting Place. In my fantasy world the Yorkshire Post building would be turned into a National Centre for Printmaking with loads of equipment and cheap well heated artist's studios.
What (apart from money) should we print lots of, which would improve people's lives greatly?
Think we need to save trees and print less….but am still rather attached to paper books.
Copper etching, cat stretching or a hairstyle that's fetching?
Working backwards – seeing as I work from home, wearing a hat, my hairstyle is more likely to deter than fetch. When I see a cat stretching in my garden it is usually about to crap on my plants or try and catch my tenderly nurtured birds, and gets shouted at; so it has to be copper etching!
Janis has a Facebook page and you can see more of her work at www.janisgoodman.co.uk
*****
For your chance to win one of ten of these stunning A3 posters, please answer the question about the picture in the comments box below.
Q: Where do you think the fantastic fox in this picture is going?
The closing date for entries is Wednesday 12 December at midday. Winners will be announced later that day on the website. Good luck!