Rich Jevons talks to leading Leeds publican Sophie Lassman about her preparations  at the Black Swan on Call Lane for a six course meal with six paired drinks all from local suppliers and breweries to celebrate Yorkshire Day on Thursday 30th July.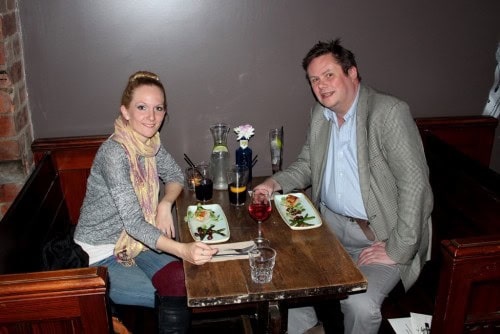 Rich Jevons: Could you tell us a bit about the history of the pub?
Sophie Lassman: "There used to be two pubs – one was the Three Legs of Ham and the other was the White Swan. They merged together to become the White Swan and it had the nickname of the Mucky Duck. So a lot of Yorkshire born and bred will probably remember the Mucky Duck on Call Lane. It has a bit of a saucy history: apparently, back in the day, the top floor was a brothel. The ladies would be downstairs and have their prices on the bottom of their shoes!"
And what were you doing prior to taking ownership of the Black Swan?
"My husband and I moved from South Australia last year and we'd spent two years over there in Sydney and as well as working we were eating our way around the city. I put on the famous Sydney stone! Over there everything is very fresh, the cost is higher but the quality is better.
"So it was formerly BRB before we took it over in partnership with Si Ord from the Sandanista group, and we're all really into drinks, coffees and cocktails, and we just wanted somewhere in Leeds where we could be experimental and replicate the kind of food we'd experienced in Austraila."
And who is your head chef?
"Oliver Edwards has worked with some fantastic restaurants like the Star Inn in Harome which had a Michelin star and also worked with Crafthouse which has got a good reputation in Leeds. He's got a fantastic ethos and is very experimental and loves trying new dishes and is very passionate about local seasonal produce. He's Yorkshire born and bred so he's really excited about putting together a special menu for Yorkshire Day."
Some of the dishes on the menu include Rabbit Loin with Sand Hutton asparagus. Scarborough Woof in 'Yorkshire Beer' batter served wrapped in a copy of the Yorkshire Post newspaper and a Rhubarb Triangle, three local Rhubarb treats for dessert paired with Ilkley Brewery's most successfully exported beer the Siberia; which utilises the sour nature of rhubarb to balance its flavour.
Having dined at the Black Swan last Thursday for the Save Red Ladder performance of Rabbitskin (see interview with Rod Dixon) when the starter was appropriately a poached rabbit balontine I can whole-heartedly recommend the venue for its cuisine, ambience and service.
For more information on forthcoming foodie events email bookings@blackswanleeds.co.uk or call 0113 8272349 or click here.
Photos by Holly Spanner (aka Buddy Snapper).
Yorkshire Pudding, Marmite Butter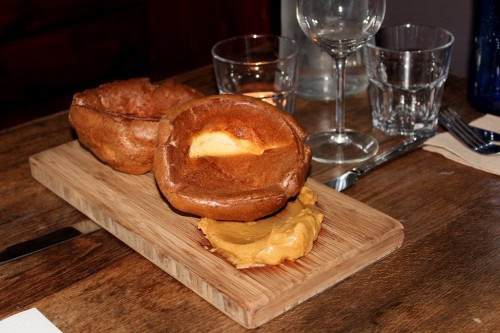 Rabbit Loin (Sykes House Farm, Wetherby), Sand Hutton Asparagus, Red Wine Onions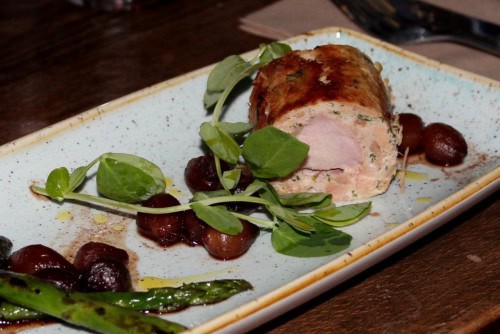 Scarborough Woof  in "Yorkshire Beer" Batter, Beef Dripping Chips, Mushy Peas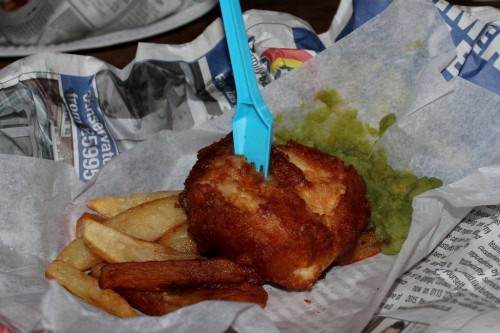 Pork Belly (Richard Setchfields, Leeds), Lishmans Black Pudding Scotch Egg, Salt Baked Sack "o" tatties, Green Beans, Braised Shallots, Gravy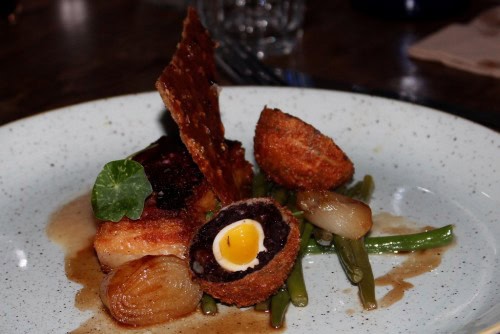 Rhubarb Triangle
Parkin & Rhubarb Trifle, White Chocolate and Rhubarb Tart, Rhubarb Yorkshire Mess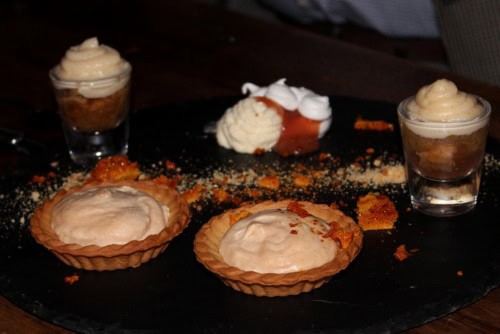 Yorkshire Cheese Board (Shepherds Purse Cheeses, Thirsk), Bread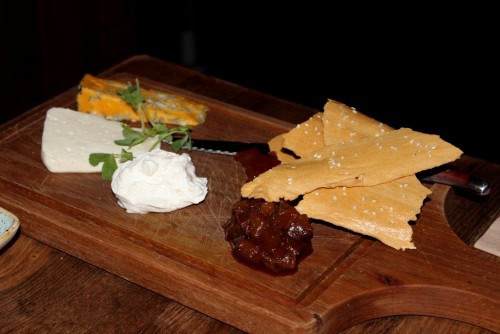 The food was as authentic as it gets – a real taste sensation, artfully displayed, diligently served, and nicely washed down with superb mocktails (though Holly had a Rioja!) We'll certainly be going back..