Until a few years ago yoga, and the yogis' world, was something the general public found much too high-brow and zen to approach and embrace as part of their daily lives. But this has changed, dramatically, predominantly due to younger and more engaged teachers branching out and starting their own classes, embracing busy lives and varying abilities, tailoring classes to different needs and different expectations.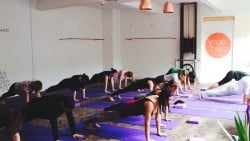 Yoga is all about finding what suits you; what suits your body, your breathing, your relaxation, your own flow. My body is definitely feeling the benefits of stretching and balancing every day, and Twitter and Instagram are going crazy for the likes of #YogaEveryDamnedDay and #GetYourOmBack activities, online campaigns which are again reaching out to more and more new yogis.
Part of this new era of yoga teachers is Leeds-based Holly Mcfee, founder of Yoga Hero, who has already worked with Primal Gym and the award-winning Veggie Runners to create accessible packages. "It's an exciting time for the city of Leeds and there's a lot happening here," she states, "but as many companies may demand longer hours and more output from tired employees, the people of Leeds are looking to increase fitness, and energy levels, to continue to work hard, but to play hard too."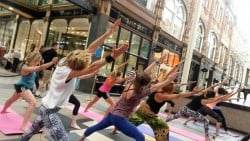 Yoga Hero was established in 2013 by Mcfee and offers yoga for all ages, fitness levels and stress levels. She was drawn to yoga as the antidote to a stressful office job, and is now on a mission to de-stress the people of Leeds from their own stressful office jobs, using yoga, meditation, relaxation, nutrition and much more.
As in other cities, there is a growing interest in wellbeing and holistic health in Leeds, and people are keen to learn more about how to live healthily and within their financial means. Because of this, Mcfee has curated the FIRST EVER yoga and wellness festival in the city – a whole weekend of health and well-being activities for the people of Leeds!
Held at Leeds Dock this weekend, the city's best independent fitness and holistic health practitioners are coming together to offer an exclusive event and make the city even healthier. Drop in, do a class, take in a talk on nutrition or stay for the whole weekend and try different types of yoga (there are many, believe me!). "The festival is bringing Leeds's independent fitness businesses together and showing people just what great opportunities are on their doorstep" says Mcfee, "it gives Leeds, and beyond, an opportunity to be immersed into yoga and wellness, including the anatomy of the body, the philosophy of the mind, meditation techniques, different types of yoga, nutritional information, and much more."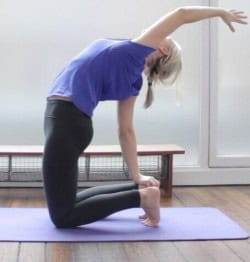 The line-up for the festival includes yoga instructors, healthy food retailers, workout clothing brands, nutritionists and massage therapists, with food provided by Café 164. There will be at least eight yoga classes taking place over the weekend, and more than 15 independent fitness and health businesses offering their expertise from 6:15pm on Friday until 5:30pm on Sunday.
The demand for yoga in Leeds is huge, and expanding rapidly, with an increasing amount of people seeing the benefits of yoga, both mental and physical. I can honestly say that after suffering a serious spinal injury, and taking to yoga for rehab purposes, my balance is better, my legs feel stronger and my general energy and mood has been on the up, eradicating the strain put on my body after sitting at a desk all week.
This amazing festival is a response to this growing demand – to show Leeds all the different types of health and fitness independents available, right on our doorstep, "we are looking forward to welcoming everyone along" concludes Mcfee. And I'm really looking forward to going!
Tickets for the whole weekend are priced at £120, which includes food for the three days and a goody bag!
Individual tickets for each of the three days of the festival can be booked via Eventbrite or by emailing holly@yogahero.co.uk .
For more about Yoga Hero, visit their website.