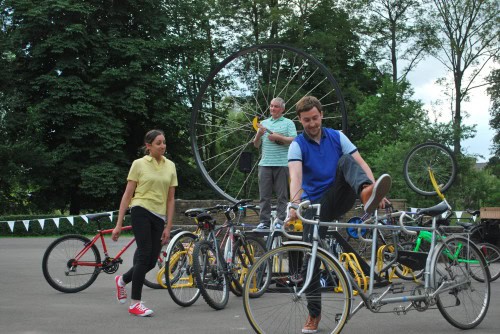 Friday evening saw the premiere of Bike Story in Rowntree Park, York. Bike Story is an outdoor show for everyone celebrating our love affair with life on two wheels commissioned by the Yorkshire Festival. It's scripted from bike stories that have been crowd-sourced and written by award winning playwright Mike Kenny (he's one of the Top Ten Living UK Playwrights according to the Independent on Sunday and he was the first ever recipient of The Children's Award for playwriting for children).
Aside from seeing the Bike Show on Friday, my eyes were opened to a wonderful park in York that is just a short walk from the train station. Nestled by terraced housing, Rowntree Park is unassuming as you approach it and then when you walk through the park gates you're met with a luscious green landscape, happy faces and the natural amphitheatre where Bike Story took place – it's one of those parks that you wish you'd grown up near (or maybe that's just me?) and that evokes memories of the excitement of visiting your nearby park as a child.
It's not just the setting that got me reminiscing, Bike Story left me recollecting my own bike memories – from my Dad arriving home from an auction with a red BMX, occasionally taking me along to choose my own bike to bid on and later in life, to receiving a brand new bike which is currently in my basement waiting for me to feel confident enough to ride in Leeds (and which also makes me feel like I've shrunk a little).
Bike Story uses the memories and nostalgia of others, intertwines it into a narrative and creates a crescendo featuring the bike story of Yorkshire's own Brian Robinson. You'll giggle at the interactions of some of the characters, be taken back to your own first go without stabilisers – 'keep pedalling, keep pedalling' – and you'll be left thinking about the effect a (generally) lightweight structure with two wheels can have on our lives – and quite possibly be astounded that you got to experience such a great show for free.
I took a selection of images from the show that give you a taster below:
Bike Story is only an hour long so it's great for taking all the family to. The remaining dates of the tour are:
Wednesday 25th June at 6pm – West Yorkshire Playhouse (this performance will be BSL interpreted)
Thursday 26th June at 6pm – CAST in Doncaster
Friday 27th June at 6pm – Robert's Park, Saltaire
Saturday 28th June at 7.30pm – The Lido, Ilkley
Sunday 29th June at 4pm – Calder Holmes Park, Hebden Brigde
Tuesday 1st July at 6pm – Queen Victoria Square, Hull
Wednesday 2nd July at 7pm – Orangery, Wakefield
Thursday 3rd July at 7.30pm – Valley Gardens, Harrogate
Friday 4th July at 7pm – Rowntree Park, York (this performance will be BSL interpreted)
Saturday 5th July at 2pm – Manor Heath Park, Halifax
Sunday 6th July at 12pm – Harewood House, Leeds
To sign up for your free tickets, visit the Bike Story website here.

Kay can usually be found writing about the things that make her smile over on cheerylittlething.com