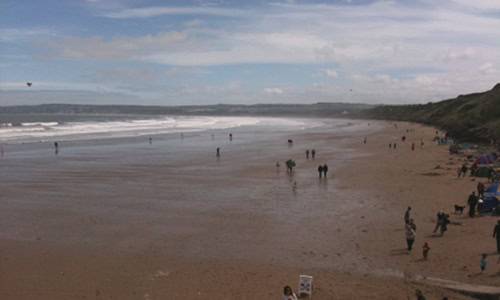 This fathers day we gave 'dad' aka Matt a choice about where he would like to do for the day. Matt thought it would be nice to head over to see his mum and dad who live near Bridlington for the weekend and on Sunday we headed off to Filey for the day.
We like Filey a lot, definitley one of our favourite places on the East Coast. You might be wondering why, well it's great for the kids. And as all parents know happy children=happy adults (most of the time anyway). We parked up near Filey Golf Course on West Ave (18 hole it said on the sign, not that I know anything about golf), we paid £3.50 to park for 3 hours. The Golf Course is adjacent to a park which has a really great children's playground, cafe, crazy golf, trampoline and pedal boat lake. We stopped for a quick game of football and then headed down to the beach.
It's a bit of a drop down via steps onto the beach but not too bad. My two little one's (3 and 5 years old) managed it just fine without help. There is also a step-less route more suitable for buggies and wheelchair users. Filey has a lovely sandy and accessible beach (by which I mean it's easy to walk to and you can get parked relatively nearby). It was a little windy for a day on the beach but that didn't stop little Dominic (3 years old) wanting a dip in the sea. He promptly stripped from the waist down and we went for a paddle. Each wave made him howl with laughter .. so simple and so priceless. Priya on the other hand decided that the icy sea water was just a bit too cold for her and went off to find pebbles instead.
As well a big stretch of sandy beach, Filey has a lovely seafront promenade free of arcades (yippee I hear all the parents say). We eventually bribed the kids off the beach with ice cream and went for a stroll along the front. The promenade is really well looked after; clean and tidy, manicured lawns, benches and some nice touches of detail like casts of shells in the path and coin operated telescopes, both of which the kids found fascinating. We've enjoyed plenty of leisurely strolls along the front. There are even some rentable beach huts which have an electric point for your kettle. What more could you ask for? A cup of tea by the sea – brilliant. In season there is also a small children's paddling pool for some sand free paddling. We soon reached another set of steps which led up back up to the park. The park and activities are a good way to 'encourage' the kids off the beach.
After more playground play, a go on the trampolines and some fun with bangers which we bought for 40p a box from the cafe/shop in the park we called it a day. By that time we'd been there all afternoon and the children were tired out. Filey is a great family day out as there's more than just a beach. Some of the activities cost money but you can pick and choose so it doesn't have to cost very much at all. You can even park for free in the residential streets around Filey if you want to save your pennies and don't mind walking a bit further.
We've been to Filey many times, in good and bad weather (I love walking along the front on a cold windy day) and the kids enjoy it everytime. Just check the tides before you go and don't forget your towels.
Suitable for absolutely any age and doesn't need to cost anything.