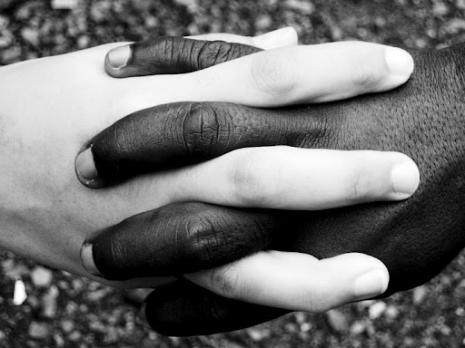 There seems to be an abundance of really exciting art and culture coming up in and around Bradford. That's why I thought I'd share my plans, at least for the rest of May and June, because there's stuff here that I wouldn't want anyone to miss out on. This isn't a preview of EVERYTHING that's on locally; it's more of a subjective look at what's in MY diary, the things I'm definitely planning to see.
Bradford's Gallery II launches its new exhibition Change Spaces on Thursday 24th May, featuring the work of live artist Sorrel Muggridge, who uses the processes involved in rope making as a metaphor for the experience of peace building and conflict transformation. The day after, I'm going on a curry crawl. I know it's not exactly an official 'event', so let me explain. You see, I was inspired by @Sewyou, who organised a night out for a bunch of people who kept bumping into each other at bettakultcha. So, I thought, why not do the same in Bradford, and better still, combine it with curry, especially since there's quite a few curry establishments still on my bucket list. So that's the idea – a bunch of Twitter friends, some that I've met and others that I haven't yet, have signed up for our first outing to Zouk's. Hopefully we'll get along and there will be more curry crawls – to the rustic golden oldies in the centre of Bradford as well as the posh newbies at the top of Leeds Road and Great Horton Road.
It's the return of Bradford Pride this weekend (Sat 26th May) in Centenary Square. My little one (aged six and three quarters) loves the event because it promises ice cream, glitter tattoos, and hopefully sunshine. It's taken me a year to convince her that Lady Zaza, who performed last year, was in fact a cheaper version of the original!
Unfortunately, there's a bit of a clash in my diary on Sunday 27th May. I really wanted to catch the Art Farmers Open Mic event at Kala Sangam, especially since I've heard they're planning to transform the space into something bohemian with rugs and cushions. There's live drawing by the lovely Lou Sumray, and you get to bring along a favourite piece of music and discuss it, over biscuits, with a "musicologist"! Alas, the event is on at exactly the same time as the film screening of Sholay at the National Media Museum. So that's where I'll be, introducing the film, since it's the first in the Bollywood for Beginners season. And in case you'd like to save the date, the second film in the season is the sumptuous Devdas, to be screened on Sunday 1st July.
Kala Sangam seem to be programming some really interesting stuff at the moment. I absolutely love classical Indian dance and I still can't believe I didn't hear about Akram Khan when he recently performed in Bradford. So I've got my eye on Ekalya and Kathakbox, a double bill of two vibrant dance styles by Sonia Sabri Company on Saturday 9th June, the same day as the Bradford Mela in Peel Park. Incidentally, you can see the photographic exhibition 'Coming of Age' which looks at the golden age of Bradford Mela and its contribution to Britain's cultural landscape, and pick up a copy of the accompanying book (written by me), at Kala Sangam until mid-August.
I've been hearing really good things about the collaboration between Indian dance choreographer Balbir Singh and former Olympic synchronised swimmer Heba Abdel Gawad which has resulted in a new genre, AquaKathak. I'd love to take my daughter to see Synchronised – an extravaganza which fuses kathak, synchronised swimming and live music. It sounds spectacular but I'm dismayed that there's only one performance on Thursday 14th June – probably too ambitious since it's on at Sheffield's Ponds Forge and it's a school night too. But what a shame, eh!
I've sensed a buzz in Bradford's Muslim community about the forthcoming one-night-only performance of The Taming of the Shrew on Wednesday 30th May, not because we're especially big on Shakespeare but because it will be performed in Urdu (with an English translation projection). I know a few British Muslim friends who are planning to take their mums to see this, although sadly, this doesn't happen often enough in a place like Bradford. The Taming of the Shrew is part of the Globe to Globe World Shakespeare Festival which sees 37 plays performed in 37 languages, and it's quite a coup for Kala Sangam to have brought this to Bradford. Continuing my immersion into Shakespeare, I'll be at the Otley Courthouse on Friday 22nd June to see The Tempest by Bradford's own Paper Zoo Theatre Company. I caught their performance of Much Ado About Nothing a few years ago in the lovely setting of the grounds of Bradford Cathedral.
Bettakultcha is also in my diary. Having presented three times last year, on themes as varied as Bollywood and biscuits, I'm now happier to watch from the floor. So, as a Bettakultcha old timer, I'd highly recommend the next Bradford event on Thursday 21st June. It's at Hand Made in Bradford, our latest art, exhibition and chill out space, where you can also buy arts and crafts hand made by local artists. I was also planning to go to Leeds Bettakultcha on Thursday 31st May but am now tempted instead to see Refugee Boy by Benjamin Zephaniah and adapted by Lemn Sissay, at West Yorkshire Playhouse, especially because it's only on for one night.
I'm happy that my daughter's first day off school for half term will coincide with Global Food Friday, a multicultural food carnival, on Friday 1st June in Centenary Square, right beside our lovely new City Park. I've now learnt to take a change of clothes for my little one every time we hit the city centre on a sunny day, because a sopping wet child is inevitable after a lap around the fountains!
Half term just isn't complete without a trip to the National Media Museum, even though it's usually heaving with families during the holidays! So that's where we'll be seeing Beauty and the Beast in 3D. I'm also itching to take my daughter to the newly launched Life Online gallery, especially to the Read Aloud installation by Ross Phillips, which invites the public to perform lines from a chosen book in a collective effort to read the entire work. Last time I went, the book was Alice's Adventures in Wonderful but at the moment it looks like The Hounds of The Baskervilles.
We've also got a trip to Bradford Industrial Museum earmarked for half term, particularly to see Precious Cargo: Golden Threads, which explores Bradford's rich collection of textiles from all over the world. The exhibition has been compiled by Young Curators, a Bradford Museums initiative for young people aged 14-24. They even designed a waistcoat for Seb Coe and the exhibition includes an elaborate dress worn by Mrs Titus Salt to a fancy dress party.
Saturday 2nd June promises to be a busy day. I really want to catch Noel Bowler's talk about his Making Space exhibition at the Impressions Gallery, which examines the reuse of spaces for the purpose of prayer by Muslim communities throughout Ireland. I've already got my tickets sorted for Leaner Faster Stronger at the Sheffield Crucible later that night (the final show). It tells the story of one man's pursuit to be the best, and was Pick of the Week in The Guardian, you know! I'll be stopping off en route in Barnsley for the launch of 154 Collective's exhibition at Cooper Art Gallery. Have you seen their Twitter Plus Fourteen project where you're invited to sketch something in 154 seconds or tell a story in 154 characters? We had fun doing ours and my daughter was delighted to see her work "actually on the internet"!
Every time I go to see something at the treasure that is Bradford's Theatre in the Mill, it sets me on a journey. And I don't think I'm alone because I've spotted fellow audience members dissecting the shows afterwards on Twitter. I'm really intrigued by A Muslamic Love Story which is on at the beginning of June, partly because it's theme of race, racism, hate and love in contemporary Britain is right up my street, but also because it's written by Nick Ahad, Yorkshire Post's arts critic and self-confessed cricket fanatic. It's thanks to Theatre in the Mill that I've become a fan of Chris Goode after recently seeing the very moving God/Head which, crudely put, presented the real life raw experience of the gay, atheist performer, having a God moment. And, this happened to him as he hauled his shopping back from the supermarket! Several people have since recommended Chris Goode's The Adventures of Wound Man and Shirley, so I have to see it. It's on at Harrogate Theatre Studios for one night only on Monday 11th June, and I've been assured it will make me laugh and it will make me cry.
Bradford's theatre makers seem to be doing some really appealing work at the moment. I recently interviewed Alan Dix about his forthcoming show, My Last Car which explores the life and death of the motor car in the 21st century. They've taken a car to pieces to create an exhibition and the show happens in and around the cogs, pistons and camshafts! It's on in the beautiful village of Bentham in the Dales, from Wednesday 30th May.
Yet to be published is my interview with Jez Colborne, a multi-talented composer, musician and performer who is obsessed with sirens, quarries and mining. If our conversation was anything to go by, then Irresistible, which explores his fascination with warning sirens and uses lots of them to create a symphony, will be nothing short of breath taking, not least because the show takes place at The Cow and Calf Rocks (21st to 23rd June).
I've also got my eye on Babur in London, an opera which comes to the Howard Assembly Rooms on Thursday 14th June. I'll admit I did shake my head in disbelief at the storyline – the ghost of Babur, the first Mughal Emperor, disturbs four young men and women who are preparing a terrorist act. But my mum and I are curious to see how the theme is tackled – sensitively or sensationally. Mum's a big fan of Julie Walters so we're also going to see Educating Rita which opens at Bradford Alhambra on Monday 18th June, although I'm not sure how mum will feel about Claire Sweeney and Matthew Kelly standing in for Julie Walters and Michael Caine!
I suppose this sounds like a packed schedule. But please don't let that stop you from shouting about anything else that I might be interested in, especially if it's something I could take my mum or my little one to. So please feel free to add your suggestions/recommendations in the comment box below.
Irna Qureshi blogs about being British, Pakistani, Muslim and female in Bradford, against a backdrop of classic Indian films.