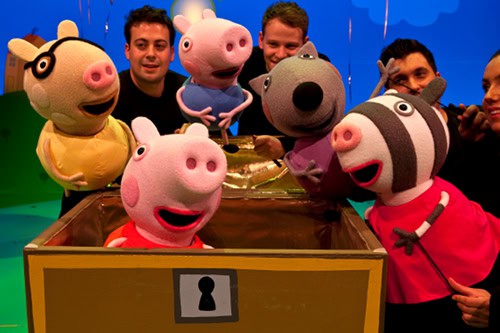 Monica's got four free tickets to give away to Peppa Pig's Treasure Hunt at the West Yorkshire Playhouse this half term.
If your family loves Peppa Pig as much as mine do you'll be pleased to hear that that Peppa and friends are coming to Leeds as part of their live stage tour. Peppa Pig's Treasure Hunt comes to Leeds at the West Yorkshire Playhouse on 7th June for four days.
And I'm really excited to have four tickets to Peppa Pig Live to give away – yes give away to one lucky winner. And as if that's not enough you'll also get the opportunity to meet Peppa and friends after the show.
The show is all about Peppa and her friends on Grandad Pig's Boat, with clues to follow and treasure to find there promises to be lots of adventure.
"Peppa Pig's Treasure Hunt features true-to-life puppets, perfect sing-along songs and a new story that will charm and delight all her fans."
You can find out more about the show (and buy tickets online) at www.peppapiglive.com.
What do you need to do to win?
Tell us your favourite episode or scene from Peppa Pig and why, in the comments below. Make sure you leave your name and a valid email address so we can contact you.
You must be able to go to the 4pm show on Thursday 7th June at the West Yorkshire Playhouse. You'll get to meet Peppa after the show.
You've got until midnight on Thursday 31st May to pen your best response and we'll pick a winner on Friday 1st June.