NEW LEEDS DEEP WATER IMMERSIVE EXHIBITION EXPLORING THE EFFECT OF CLIMATE CHANGE ON THE OCEANS
The Human Aquarium team will be taking over the Climate Action Leeds city hub for a week in late October to launch their Deep Water exhibition which considers the effect of single use plastics and climate change on the world's oceans. They have teamed up with Climate Action Leeds to turn a disused office on the top floor of City Exchange into an aquarium.
Following on from their 2019 exhibition it reflects on the important role of the world's oceans in the air we breathe, the water we drink and the ever increasing extremes in weather with pollution and climate change affecting people, animals and plant life across the world.
Where do we begin to make meaningful changes? How do we make a difference? The exhibition explores these topics and many of the exhibits themselves are made from found and recycled materials, such as plastic bottles and other discarded items.
Lighting, film and soundscapes are also used to create a deep water environment to take visitors on an underwater themed journey.
The exhibition curated by Leeds based artists Yorkshire Life Aquatic contains artworks, sound and visual installations and interactive activities developed by local and emerging Leeds Artists.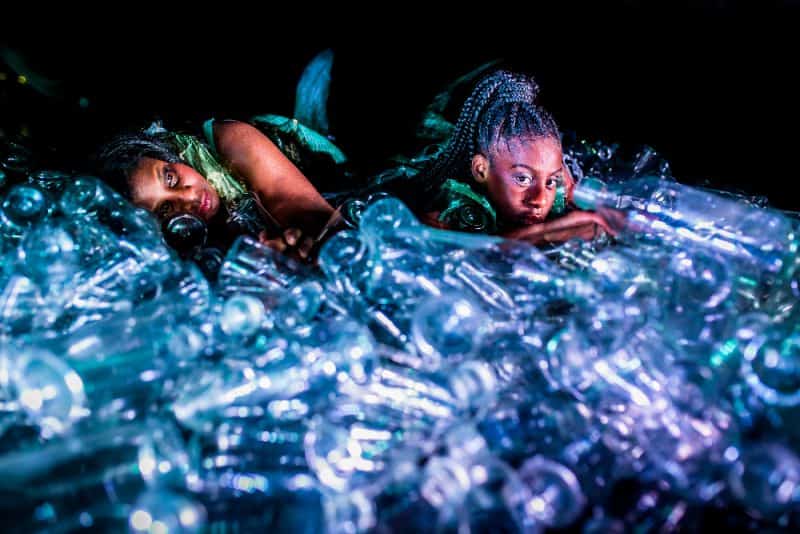 It runs as part of Arts & Climate week at Imagine Leeds: The Climate Hub. During the exhibition we will be creating a sculpture from single use plastics that the public are invited to come along and add their own part to with the help of local art collective Immortal Bloom.
Deep Water is a free, family friendly immersive exhibition. Volunteers will engage with visitors and discuss the issues raised, present sustainable alternatives and provide opportunities to learn about local climate projects in their area.
There will also be a variety of free workshops and events including:
Meet the Mermaid, PET shop Project – Sea Creature Special with Immortal Bloom
Apocalypse Remix (Art Workshop with Edek Thompson)
Leeds Creative Timebank – Members Social
Deep Water Experience
Find out and sign up to Human Aquarium activities here
The free exhibition runs from 27th Oct to 3rd Nov
Opening hours 11-5pm daily (closed on Sunday)
Location: Imagine Leeds:the climate action hub in Leeds City Centre
7th Floor of City Exchange, 11 Albion Street.
Imagine Leeds, the climate action hub, has been open since February and hosted events and meetings for more than 80 organisations. Approximately 1,800 visitors have been through the doors.
Arts & Climate Week has been produced in partnership with Climate Action Leeds and Immortal Bloom, with partner support from Sustainable Arts in Leeds, Leeds Arts University, Salford University's MediaCity and Leeds Creative Timebank.
Generously funded by Arts Council England through National Lottery Project Grants
X (Twitter) @HumanAquariumUK @ClimateActLeeds
Web: humanaquarium arts climate week at imagine leeds the climate hub
FB: HumanAquarium ClimateActLeeds