Arts organisations in Leeds tried to ban Jenni Murray from speaking at Leeds Lit Fest.
Censorship isn't good for the culture of a city like Leeds argues JONATHAN BEST.
Last week, five artistic organisations in Leeds attempted to censor the work of two other arts organisations in the city.

On March 1st, an open letter was published on Facebook demanding that Leeds Lit Fest and The Leeds Library cancel an event with BBC Woman's Hour broadcaster Jenni Murray on the grounds that she is 'an active transphobe' and guilty of 'hate speech'. The signatories included Trans Leeds, Non-Binary Leeds, Trans Pride and Yorkshire Mesmac (all of whom might be expected to sign such a letter) and five of Leeds' arts and culture organisations: Live Art Bistro, Leeds Queer Film Festival, Aire Place Studios, Oxygen Films and the artist collective Queerology.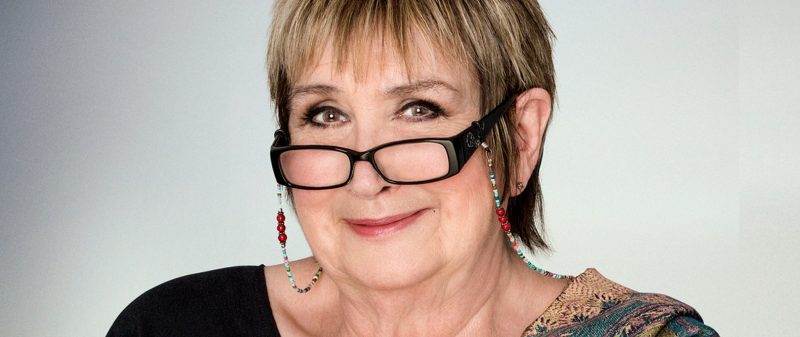 With four decades of experience as a BBC journalist, including more than thirty years presenting Radio 4's Woman's Hour, Murray is one of the UK's most popular and accessible feminist voices. She's interviewed hundreds of interesting women, from Hilary Clinton to Cher, from Shirley Williams to Bette Davis. And she's got a new book out too  -  A History of the World in 21 Women. To their credit, Leeds Lit Fest and The Leeds Library stood firm behind their programming decision and the sold-out event went ahead as planned.

For regular listeners to Woman's Hour, the claim that Jenni Murray is a foaming-mouthed bigot will seem implausible. It all began in 2017 when she wrote in The Sunday Times on the issue of trans women and feminism, arguing  - thoughtfully but firmly  -  that men who identify as women could not throw off fully their male socialisation nor claim to be 'real women'. Murray also took issue with transgender politics' reliance on sex stereotypes which generations of feminists have sought to neutralise. There's an article in The Guardian explaining the background.

This article earned Murray the opprobrium of trans activists and their allies across the UK. In 2018, Murray pulled out of a speaking engagement at Oxford University after protests, and Hull University's proposal to name a lecture theatre after her was denounced by its student union. Several literature festivals in the UK have experienced anti-Murray campaigns. So this most recent attempt to no-platform Murray did not arrive out of the blue.

Attempts to censor the arts punctuate our cultural history, illustrating the changing nature of offence-taking in the UK. Church leaders' pompous campaign against Monty Python's Life of Brian in 1979 seems quaint today, whereas the burning of The Satanic Verses on the streets of Bolton and Bradford twenty years later marked a shocking shift in modern censorship that still resonates. In 2014 the Barbican was forced to cancel Brett Bailey's slavery-themed Exhibit B after accusations of racism, and at the end of 2017, and in the midst of the #metoo debate, London's Royal Court Theatre attempted to censor its own presentation of Andrea Dunbar's play Rita, Sue and Bob Too after its director was accused of repeated 'inappropriate, sexualised behaviour' towards female colleagues at his theatre company, Out of Joint.

The attempt to censor Leeds Lit Fest is the latest of several cases across the UK in which artists and writers seek to silence other artists and writers. The battleground in all of these cases is the same  - sex and gender  -  and the censors are (obviously) no longer religious conservatives but people who see themselves as progressive. But these artists and writers who seek to censor other artists and writers are crossing an important line and risk losing sight of the responsibilities creative professionals have to each other and to their audiences.

Every artist makes use of the right to free expression. Many of them  -  including more than a few who work with Live Art Bistro and Leeds Queer Film Festival, I'm sure  –  make use of their right to produce work which offends some people. This right to offend is crucial and today's thriving culture of live art production in the UK could not have developed without it. The freedom to offend has been especially necessary to the development of LGBTQ artists –  as I know from my own work leading Queer Up North International Festival between 2005 and 2009.

So for Leeds' leading live art organisation to seek to censor another cultural organisation is not just the abandonment of an important principle, but potentially self-destructive too. The freedom Leeds Lit Fest has to programme Jenni Murray is the same freedom that Live Art Bistro has to produce work that some people will find offensive. This freedom is mutually enjoyed and vital – it is the very air all arts organisations breathe.

Ultimately, Jenni Murray's sin is to hold a belief;  that trans women are not women. This conflicts with a foundational principle of modern transgender ideology;  that trans women are women. To assert that a male human being who identifies as a woman is a woman is a metaphysical claim and, as such, we all have a right to examine it and choose to either accept or reject it.

However, within the context of today's LGBTQ politics, Murray's rejection of the belief that trans women are women is seen as illegitimate and amounts to a secular blasphemy. In fact, the signatories to the open letter have adopted a position not so different from the religious leaders who tried to censor Monty Python's Life of Brian in 1979. Many Christians were deeply hurt by that film, arguing that it failed to respect their sincerely held beliefs. Similarly, some transgender people are genuinely hurt when the beliefs they hold about womanhood are not respected by other women. But just as the Bishop of Leeds cannot compel me to believe in the Resurrection, so Live Art Bistro cannot compel Jenni Murray to believe that trans women are women.

I understand the impulse that led Live Art Bistro, Leeds Queer Film Festival and the rest of the artistic signatories to the open letter to demand cancellation of the Jenni Murray event. I accept that they believe Murray's views are profoundly wrong and potentially damaging. But their capitulation to the urge to censor was a grave mistake  and one which no artist or artistic organisation should ever make. Unable to respect Leeds Lit Fest's programming decision, they should instead have tolerated it – and respected the festival's right to present work which some will find offensive. If arts organisations in the same city cannot extend that respect to each other, everyone will, in time, find their space for free expression shrinking and our shared cultural life will be poorer for it.