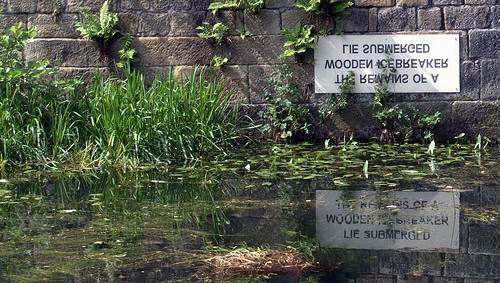 My (paper, stuck to the wall) calendar said "food fest", although I couldn't remember which one, or where it was. Realising that both York Food Festival and Saltaire Festival were on at the same time was a bit of a surprise, although I'm still not sure why; so many things happen at the same time in this part of the world. The York festival was just about food; Saltaire was food and art and music. Both were tempting, so the decision was made; York on Saturday, Saltaire on Sunday. And to ease the calorific guilt, I'd cycle to Saltaire.
York Food Festival is a big thing, now. It is so big there's a mini version in May alongside the enormous extravaganza that is the main event in September. It takes over the whole of Parliament Street in York, the wide pedestrian thoroughfare tented over and looking like marquee convention. But… everything seemed to point inwards. Even though it was in the outside, in one of York's busiest streets, the event felt like it was very introspective. Strategically located champagne and beer areas helped lift the atmosphere but inside the tents traffic flow was non-existent, and when one stall started handing out free samples the whole population would stutter to a standstill. Entering one area was near impossible as someone had set up a burger stall at the entrance and people didn't know whether they were in a queue for some venison in a bun, or just trying to make their way to a sloe gin stall.
There were plenty of demonstration sessions and workshops, and loads of things to try and sample and (hopefully) buy. As lunchtime approached the density around the prepared food stalls increased. The melange of Japanese, Malay, Turkish and construct-your-own-stir-fry offset by hog roasts and sausage-inna-bun, although nothing so gauche as a standard banger. The overall effect was interesting, seeing a family at a table in the beer tent with cartons and wraps and pork pies and tapas, although the enclosed feeling never went away. The number of stalls was huge, but they mostly seemed to be selling cupcakes or olives or pork pies or prepared food. I wanted inspiration, exotic veg, fish from nearby ports, cheese made down the road, bread made by flour milled locally; raw ingredients were not on the menu here, barring some mushrooms (which were exceptionally good), a little game (a lot of sausages) and a chap who filleted whole salmon in front of your very eyes to your specification.
Saying that, though; it was fun, and there was a buzz and vibrancy about the place which made it sing with a thousand – or two, or five – hungry souls. Everybody exhibiting there was into their food, their produce, their product. A chap with kippers smoking away allowed photos, in exchange for RNLI donations. A chocolate waterfall untainted with the vegetable oil usually found in shopping malls and at wedding receptions. People telling you what to order, what to try, what was truly great on their stall. All well and good, and it was worth going just to see the excitement (or not, in the cases of many stallholders glued to their phones) held by those who really enjoyed their work.
Something was missing, though; I hoped to find it in Saltaire. Cycling along the canal was fun (albeit muddy) and offset the guilt felt by scarfing a portion of churros drenched in warm nutella. The food bit of the Saltaire festival – which isn't just food, it's also art, and music, and beer – was a continental market; French-accented stallholders asking if the buyer would like their tartiflette to eat maintenant alongside Dutch cheesemongers also selling stroopwaffel and a Greek chap with pots of herbs and spices and bread and dolmades. Maybe what I needed to find was a sense of rough-and-tumble, of producers who had just filled their tents with whatever they had to hand, be that focaccia, jerk chicken in (what looked like) naan bread, or a big pile of macaroon mix and an oven.
This was all offset by plenty of street artists and artistes, and musicians belting out a storm, and YFA's views of old Yorkshire in the Pace canteen. Perhaps humanity cannot live by bread alone.
There was more in Roberts Park, too. I bought a litre of raspberry cider, forgetting I was on the bike and would have to carry it home. The park had more cupcakes, Polish food and services alongside curry and someone flogging photovoltaics and bio-magnetic pseudoscience. By this point I'd had enough, so I got back on my bike and headed home. And it was here, canalside, in the beautiful isolation provided by cycling along with the wind in your ears and the rain blatting down on your head that I realised what I wanted from a food festival. I was right on day one; it was a need for inspiration. I didn't want to buy pre-made pies or cupcakes, I wanted to be sold ingredients and warmth and ideas and excitement. I didn't care about "show special pricing" or being able to buy chutneys I could get at delis all over the region; I wanted the glow you get when a great idea comes along when peering at odd-shaped vegetables or seeing fresh hazelnuts (or cobnuts! Oh, for some fresh cobnuts!) in punnets.
Maybe I'm asking too much.
But that raspberry cider was bloody lovely when I'd dried off from the rain.