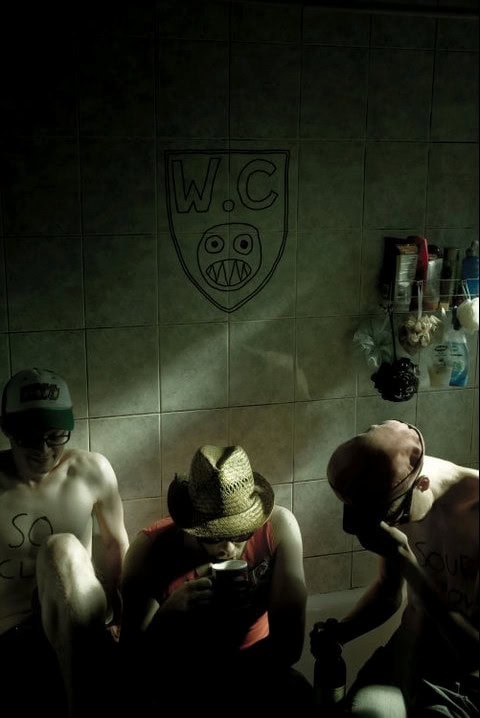 Ooh feels like summer! And yet it is most definitely September, a time of year typified by cosy jumpers, smoking bonfires, slabs of parkin and widespread antipathy towards students. So what is the reason for my seasonal dissonance?  The new Wednesday Club album of course!  Or more precisely, two albums: So Claw/Sour Crow. Sarah Records meets west coast America; British indie pop rubs up against 60s folk rock… but with added extra trumpets! Listening to the relentlessly sanguine 20 tracks I'm immediately thinking sun, sea, sand, sex (natch) but in Yorkshire. How do they do that? Let's see: I'm hearing close harmonies, big riffs, fanciful lyrics and jangley guitars. Grasping around for suitable comparisons (as is customary for the eternally facile music critic) I find Big Star, Mercury Rev, Steve Mason and the Mighty Boosh closest to hand/brain. This album is the forth/fifth from the Wednesday Club and marks a new phase in their development from Sandman-infuriating self-referential jokers to semi-serious lo-to-mid fi heroes. Illustratively you couldn't find a better coming of age comparison than the Beach Boys, specifically the moment they transformed from tedious surfing gynaecomaniacs to psychedelic goat-feeding geniuses*. From the promo shots I've seen, the Wednesday Club boys think nothing of posing in their pants for your pleasure – give them a waxed board and point them in the direction of the shore. Scarborough are you ready?!
* NB hallucinogenics and petting zoos were not discussed during this interview so I am unable to make this analogy based on any sort of evidence with regards WC's predispositions.
Anyway enough wittering, let's get on with the interview:
Hello! Please introduce the band and give us an idea of what they do.
John Perry: The band is Adam John Miller, E. Max Broady and myself. We all write and sing songs, either writing alone or together. Generally, when recording Adam tends to lay down the rhythm tracks (drums, bass and guitar), Max adds the stuff on top (lead guitar keyboards) and I sit reading the paper, eating crisps and occasionally giving suggestions like "we should add some kazoo there".
Max: But I suppose there's no set format to how we operate – we just do what we think will work best for the song in hand and try things out. And that spirit extends to the collaborations. We have some very talented friends who we're always happy to invite along to play the bits we're not able to.
I understand you got together when you shared a house and would spend your free Wednesdays practicing together. How has living in Leeds influenced your music – is finding like-minded folks to collaborate with easy in this city?
Adam: I don't think that Leeds the city has necessarily had a massive influence on our music, we would have most likely made the same records no matter where we were living.  That's certainly been the case with So Claw, Sour Crow as we have all been living in different cities whilst making it and most of it has been recorded in London.  Although, living within such close proximity to each other and the rest of the Leeds Music scene certainly made things easy when that was the case.
Me and John grew up in the same place, we'd been messing around with some ideas just before coming to Leeds and being students we suddenly found we had a lot of time to piss about.  We met Eddy Lines (Downdime) through the band society, he said he wanted to make cosmic American music, so did we.  We formed a band called Leo Trout.  It wasn't cosmic American music but we certainly made something.  One thing led to another and we didn't do Leo Trout anymore.  Instead we ran an open mic night at Baraka in Hyde Park for a couple of years every other Wednesday.  On the Wednesdays we didn't do that, me and John were living in the same house then, we'd try and record a song in an evening.  Eventually the first Wednesday Club record was born and I had moved into a house with Max and a bunch of other musicians.  Max naturally joined the 'Club and we realised we could feasibly make a band as Max was really good on the guitar.
John's friend Jack said he'd play drums for us, I don't think he'd played properly before but he was pretty good straight away and enjoyed the fact that we didn't take ourselves too seriously. I think he started to lose the faith around the time we decided to put on Oz Fest at the Packhorse, built a yellow brick road and an Emerald city and made him dress as the Tin Man with a funnel covered with foil stuck on his head.
There seems to be quite a few pics of you wearing costumes, face paint or posing topless on the website… is dressing up/down something that is part of your performance or is it a predilection you've satisfied alongside making music?
John: Definitely the latter, I don't think we consider our "image" too hard, just that we really like dressing up and messing around, especially me and Adam. One thing that we have tried to do is get a sense of inclusiveness with the band by doing things like having people collaborate with us as much as possible but mainly by being a bit ridiculous and making fun of ourselves… On the other hand there's a fine line between being fun and turning people off with you lame costumes and in-jokes!
The previous WC albums contain moments of 'juvenilia' and 'silliness' by your own admission. Does this album symbolise a coming of age of the band?
Max: I guess there's always been an 'anything goes' approach with the recording process which has been very enabling and we wouldn't want to sacrifice. But looking back, I'm sure there's bits we all wished had hit the cutting room floor. Nobody likes feeling on the outside of an in-joke, and I think the response to 'Soap' taught us that if we wanted more people to be receptive to our music we would have to rein in the more esoteric elements, which is what we did with 'Katapult'. Also, I think we've just got better at playing and recording which is reflected in the vaguely more professional sound. We like to think of it as graduating from lo-fi to mid-fi.
We're off to All Tomorrows Parties in December (yay!). If you were curating it who would you ask to come and play?
Max: I think a year ago Neutral Milk Hotel would've been the name we all put down first as I think we'd all resigned ourselves to never getting to see them. So it's great that we'll finally get the chance after being fans for so long. And we saw Pavement at last year's ATP, so we're slowly ticking names off the list. We're actually all bunking up at the Mangum ATP in December. The Mountain Goats, another long-time band favourite, are also playing, so we can't wait. We just need Guided By Voices to be added to the line up and we're all set… Well, we can hope.
Adam: Max has pretty much summed it up.  Personally I just want Elf Power to be added to the bill for ATP and then I think all my boxes are ticked.  I never thought I'd get to see Pavement, or NMH so that's amazing, And I would love to see the classic line up GBV but I just don't think I'd be able to take it seriously enough to enjoy it.  If I was curating ATP I think at the moment I'd just invite St Vincent.  She'd love the Wednesday Club.
John: I figure as this is a hypothetical question I'm going to assume I can pick bands form any where in time or space, so to Max and Adam's list I'll add The Beatles, Fleetwood Mac (Tusk era), Throbbing Gristle, The Wu Tang Clan (with ODB), Aphex Twin, Blind Willie McTell.
All of the members have been involved in other bands – Ian Cockburn (The Seven Inches) referred to the WC as a 'super-group' – if you were the Traveling Wilburys who would each of you be and why?
John: Great question. It reminds me of a moment in The Simpsons when Homer tries to bond with Lisa by asking "who's your favourite Travelling Wilbury? Is It Jeff Lynne?" So for that reason, Jeff Lynne – plus I have a beard (and also Mr Blue Skies is awesome).
Max: I'd be George Harrison, who I suppose was the least objectionable Beatle and 'the quiet one'. I like to think of myself as the least objectionable Wednesday Club member. Or maybe just the quiet one. I also see myself as Derek Smalls from Spinal Tap – the lukewarm water.
Adam: I'd be Roy Orbison as I enjoy wearing sunglasses and also have a 4 octave vocal range.
The albums So Claw/Sour Crow are now available to download free on the Wednesday Club website.