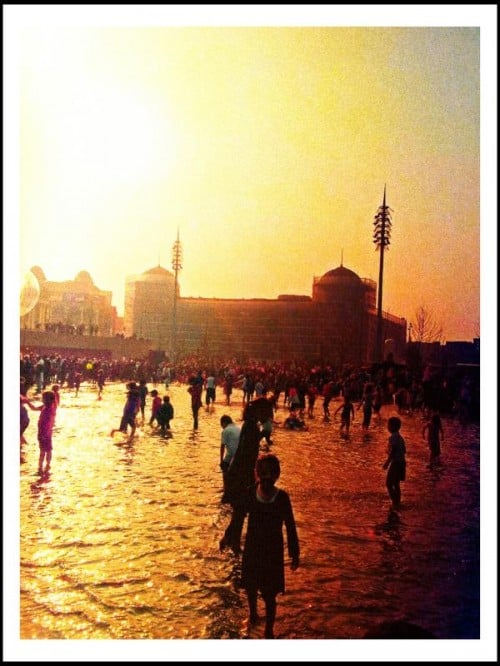 Guest blog by Iain Bloomfield
The funny thing about puddles is that kids love em and they won't be told by those of us who know better that they are not 'A GOOD THING'……….
Which is lucky, really, as Bradford opened its 'puddle', its £24 million – or £30 mill depending on how 'cross/informed/ill informed/willing to look into detail/split hairs about who paid for what' you are – "waste of council money" that we were confidently told by those 'who-know-these-things-on-our-behalf' was not 'A GOOD THING', a thing that Bradford did not want and did not need.
Errrrrrrrrrmmmm……..  A certain amount of 'egg-on-face' for the Grinch's as things turned out.
People turned out in their thousands to have as good a time as I can ever remember seeing people have in the city centre. A heady, happy, sardine-packed throng of thousands, made a mock of the very idea of segregation in relation to this place. Pretty much every kind of person you can imagine was there and they'd brought the kids (and in lots of cases Nan) along too. Someone on Twitter, and Twitter exploded with this, spoke of "feeling like we'd got our city back" and that spoke to me to the point of tears as I watched kids screaming like Beatles fans as they chased a balloon floating aerialist through the 'puddle'.  It was beautiful and that has been a while.
Bradford has spent a long while waiting: A long while for the sun to come out, to have a chance to play.  A long while since we've had anything other than a grim struggle with an ill conceived, ill fitting, big business retail-led economic strategy that left us with a hole in the heart. A long while watching the 'puddle' take shape.  The long while we've been told we are both economically and socially doomed.  A long while since 'The In Plaice' off Centenary Square sold so many chips.
The time it takes to make Grinch's of good people.
We were given lobsters, parkour, human fountains, Mind the Gap's lovely Chicken Coup show, beautiful balloons above the mirror pool, lasers, fireworks, fountains.  Awe inspiring stuff that we haven't had since the high days of the old Bradford Festival, and by goodness how we have missed that level of fun and adventure and the sheer blinking pleasure of watching brilliant people do their stuff and do it big.
The opening also gave us the packed out opening of Hand Made in Bradford (a place for artists and artisans to show and sell work slap bang in the city centre) and a brilliantly well attended 'zine fair in the same. HMIB is a Fabric initiative, part funded by the Council, another hopeful sign that maybe, just maybe, the counter-intuitive is being grasped, that economic recovery is a complex and multi-faceted thing that demands a range of approaches beyond the Shopping Mall as be all and end all.
We also a protest over the farrago that has been the Odeon story over the last few years, it was quirky, witty, good humoured, well organised and about something important, in an odd way it actually summed the day up for me.
So yesterday was a beginning not an end, a day that maybe helped us understand that we are at our most adult when we cease to worry that playing is childlike and just do it.
It was a day a day that spoke of many things:  that we are not what we are told we are, that culture is a mixture of high art, chips and cake, that people are hungry to be collective and share experience, that when the voices of doom speak 'it ain't necessarily so'.
But mostly that kids have got it right:  puddles ARE brilliant.
Take a look at the wonderful set of pictures in the Impressions Gallery Flickr Pool...go on whet your feet and appetite