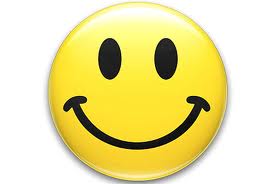 Charles Darwin once questioned an almost four year old child what she thought happiness was; "it is laughing, talking and kissing," she replied. Obviously Victorian infants were much more philosophically savvy than our modern day kids, who seem much more familiar with Iggle Piggle than Plato. Still, as Darwin says, "it would be difficult to give a truer and more practical definition."
What's fascinating is that the kid doesn't hang around waiting to be made happy, like she's entitled to expect to be spoonfed good spirits. She's totally involved in the merriment and an active, equal partner in the production of her own, and no doubt her parents, happiness. This is a very appealing view. It's playful and dynamic, immediate and this-worldly, completely the opposite of the mealy-mouthed New Age mysticism which sees happiness as some kind of eternal repose on pink and fluffy candy floss clouds, or the dreary self-help moralism that shifts happiness to the far horizon as the reward for the trudge through the daily treacle.
If she was like most four year olds she knew that you don't always get your own way – smiling gets you further than stropping, and the people who have a major impact in your life are unreasonable, tyrannical, wrong, and often plain stupid – but that's not an excuse not to be happy. You can laugh with them (and sometimes at them, because let's face it other people are bloody hilarious.) They are fun to talk to too. And this is one very deep and striking insight. We can't imagine happiness without the constant interruption, argument, banter and commentary from the ones who have the most say in our lives. As that dreadful song has it, when "we don't talk any more," we know there's only resentments and bitterness and the coldest of shoulders left between people.
Kisses are easy to come by when you're four, but once the hormones kick in they become less dependable as a source of happiness. And when the hormones start to dwindle and deplete their absence can become positively upsetting.
Perhaps what's missing for me in the childish view of happiness is drinking (how could a kid appreciate the delights of intoxication!) partying (and I mean any grown up social encounter with art/culture/music/food) and the unmentionable thing that occasionally happens after the laughter, talk, alcohol, partying, and kisses, if you get lucky (and only a freaky Freudian four year old could contemplate that). Altogether these things don't seem too much to ask. So it leads me to wonder why it is that happiness is such a scarce commodity, eluding the majority of people ever since Adam and Eve decided to try something different for dessert. Presumably there's so much talking and theorizing because most of us, most of the time, have never possessed enough of it
I'm getting all deep and meaningful because of the Bring the Happy project that's setting up shop in Leeds from next week. They are asking us to divulge our happiest memory that took place anywhere in Leeds. This will then be mapped in the hope that it will be "the perfect antidote to the recession, the concept of broken Britain, and the idea that everything is closing down, including ourselves."
Without any doubt, hesitation or the slightest sliver of a quibble I can accurately locate my most happy memory in Leeds (anywhere in fact) to a small table in a pokey kitchen in a one-bedroomed flat on Kirkstall Avenue, at precisely 8:23pm, Saturday August 24, 2002. I was so happy I was indeed transported, elated, delirious with joy, in rapture . . . and my whole world changed because of it. I was absolutely and perfectly happy at that precise moment. Nothing could possibly compare. But the laughter didn't survive the year. And my drinking got worse. The talking never relented, becoming strictly in the imperative mood from her side (oh those 4am dissections of my various faults, foibles, failings and fuck-ups were such fun!) whilst I just whined and wheedled and wanted her to shut the fuck up.
The kissing . . . well, that was always good but steadily the sweetness turned to poison and in the end we just made each other sick. So for the next seven years we tried to make each other happy, and for seven long years only succeeded in tormenting, traumatising, aggravating, aggrieving, bullying and belittling, all because we were happy for that one brief ecstatic moment.
The point of this rather agonised personal revelation is this; falling for the idea that happiness is a momentary revelation of pure bliss has its problems.
Certainly there moments in life, whole episodes even, when it seems that the stabilisers have dropped off and we are simply flying along without even knowing what brakes are for, when the stale drabness of everyday reality falls away and life appears in all it's shimmering, newly minted, just dawned, dewy glory, when we feel positively tazered by the transcendent. These moments stretch us close to bursting and we never return to the same shape again, Normal pleasures feel flabby, limp, lacking somehow. Happiness becomes something we can only yearn for, strive to attain, a dimming memory or a distant goal. Happiness has spoiled us rotten.
So, my question is; Is happiness as an unquestioned good and an undeniably virtuous condition even relevant any more? And does remembering happy times actually make us any happier anyway? Actually, that's two questions, isn't it? See, happiness also corrodes the capacity to count! It's lethal stuff.