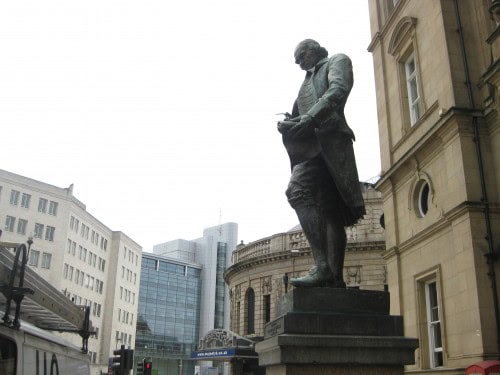 On a Sunday morning in February 1926, a delegation assembled around a cast iron obelisk in the yard of St. Matthew's Church, Holbeck. Led by John Arnott, the Lord Mayor of Leeds, the city's civil, mechanical and electrical engineering organisations were well represented, employers and trade unionists united in a common endeavour.
They were there to mark the centenary of the death of steam engine pioneer Matthew Murray, whose grateful workers had cast and erected the obelisk in his honour. It still stands today.
The incumbent Rev. R. J. Wood preached a sermon on a text from the Book of Proverbs ("Seest thou a man diligent in his business? He shall stand before kings; he shall not stand before mean men") and after the service there were talks on the life of Murray, including one by the Leeds engineer E. Kilburn Scott who was to edit a centenary biography.
Murray arrived in Leeds as an uneducated journeyman blacksmith in 1789, and went on to build the world's first integrated engineering works, the Round Foundry; to make the locomotive for the first commercially successful steam trains on the Middleton Railway; and to train many apprentices who took the city's engineering prowess to new heights. All this he did in spite of the bully-boy tactics of  one of the biggest names of the industrial revolution, Boulton, Watt and Sons. In particular the Sons ran a campaign of dirty tricks to stop Murray's start-up in its tracks.
In his talk Kilburn Scott listed Murray's many achievements in spinning, steam engines and boring machines (as in, machines for making holes in things). He gave a lurid account of Watt's campaign of persecution. But there was one final injustice that Kilburn Scott felt especially keenly.
In 1899 Leeds councillors had chosen statues to adorn their brand new City Square. As the centrepiece subject they picked Edward, the Black Prince, who despite having no personal connection with the city symbolised the virtues they hoped to uphold: democracy and chivalry. For supporting roles they chose three Leeds worthies: scientist Joseph Priestley, merchant John Harrison and clergyman Walter Hook. For the fourth plinth they picked a famous engineer: none other than Matthew Murray's nemesis James Watt.
Surely, said Kilburn Scott, this could not have been a deliberate rebuff of a favourite son? If the city fathers had known then of the story of Watt's subterfuge, it might be Murray, not Watt, gazing down on arriving passengers at the new City Station.
As a newspaper letter-writer, W.J. Barker, put it at the time: "Matthew Murray, who with exceptional skill and high reputation, founded the locomotive industry in Leeds, lies in a neglected and half-forgotten grave in Holbeck Churchyard, while the memory of the man who became so jealous of him that his firm bought land next to Murray's works with the object of preventing extensions, is commemorated in City Square."
But the victors write the history, and James Watt Senior still stands on his plinth today. While the other statues reinforce morality and genius as our Victorian predecessors intended, the presence of the Watt statue sends quite the wrong message about the nature of power. I don't want my children believing they can scheme and strong-arm their way to the top. Something must be done, and even after all these years it is not too late.
With the price of metal not now what it used to be, melting down James Watt would seem a wanton waste, so perhaps one of the places with which he's more associated – his birthplace of Greenock or adopted home of Birimingham – could be persuaded to give him a more fitting home? After all a weed is only a flower in the wrong place.
The righting of this century-old injustice would leave us with an empty spot in a prize City Square location, and I accept that in these straitened times  it may not be possible to do Matthew Murray full justice in bronze.
So what if Leeds were to take just one lead from London, where a Trafalgar Square plinth has become famous – the most famous of all plinths –  for it lack of a permanent occupant? What better place to give new work a platform? People of Leeds, what would you put there? Submit your proposals for City Square's fantasy fourth plinth in the comments below.
Matt Edgar will speak about the Makers of Leeds at TEDxLeeds2010 on Wednesday 10 November and about James Watt Junior's feud with Matthew Murray at Interesting North on Saturday 13 November. He blogs at matt.me63.com.