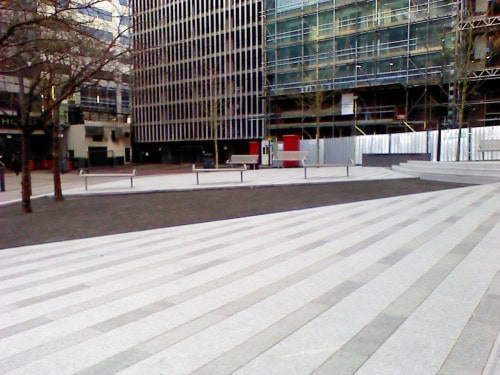 What makes some public spaces in the city centre inviting and attractive, places that encourage "civic pride" and conviviality, whilst other places make you want to turn up the volume on your iPod, pull your collar high and make a dash for the other side?
Take Bridgewater Place – and after today I imagine most people who came anywhere near there would say please, take Bridgewater Place, and dispose of it discretely but definitely, as far away as possible, deep under the sea. Feelings for the building range from dread and loathing to active antipathy. But then Bridgewater Place doesn't exactly care much for the rest of us either. Nobody wants to spend more time than is absolutely necessary in the vicinity of that "iconic" monstrosity.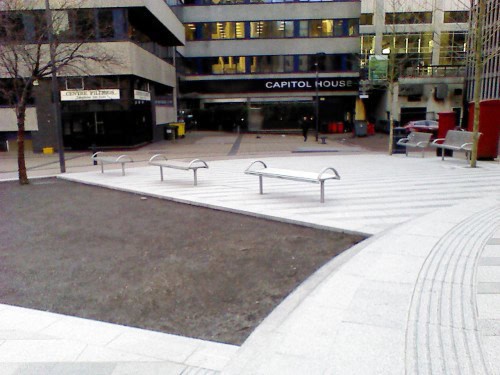 And Bond Court. There's never been anything special or "iconic" about Bond Court. As a place it's easily avoidable. And since the flashy, pointless refurbishment, people are increasingly avoiding the place. Bond Court has solved the problem of "undesirable" types hanging around by making the place entirely inhospitable to man or beast. I doubt even a microbe would see much point lingering around here – it has a post-neutron bomb aesthetic about it and the only life-forms that could possibly be adapted to the place would be the CyberMen from Dr Who.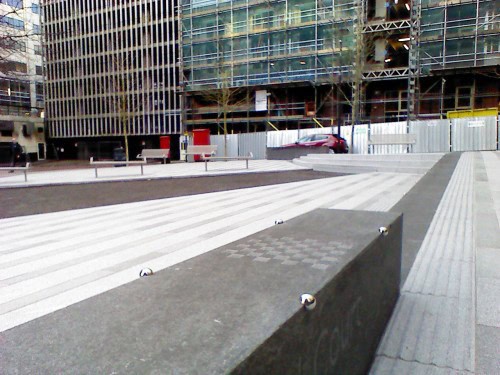 Around the corner there's City Square. Apart from the incarcerated Christmas tree – and judging by the strength of those bars that tree is doing serious time – there's these things …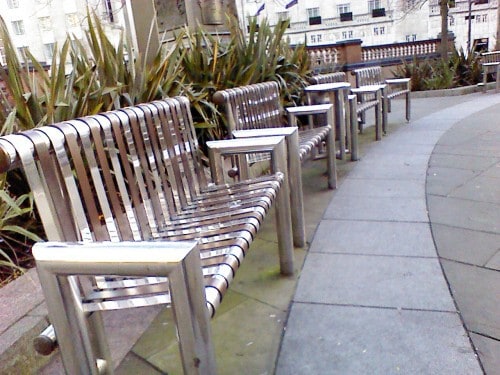 They purport to be public seating but they look like they have been salvaged from a dubious fetish club. Personally I daren't sit on these things for fear of getting handcuffed to the armrests and subjected to a severe bottom thrashing … surely I can't be the only person to read a sado-masochistic message into that design? They make my bum sting just looking at them.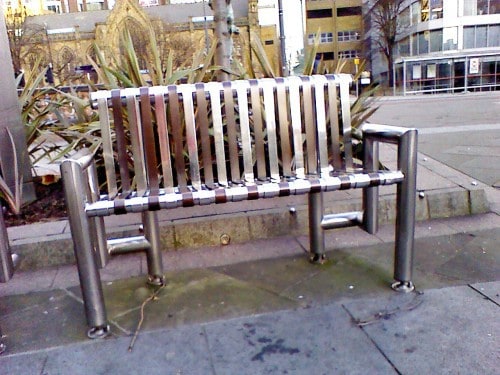 Then Albion Street/Place. Marble slabs. As far as I am aware the only life form that considers marble an appropriate material for furniture intended for lounging and relaxing are vampires (I'll have to check the population stats for the percentage of undead our city is home to.) Notice human beings prefer to lean against a nice brick wall to chat rather than subject themselves to the horror of these objects!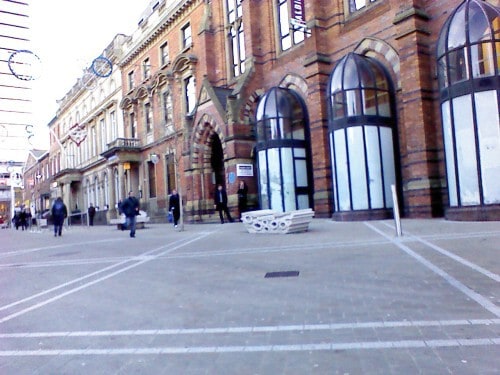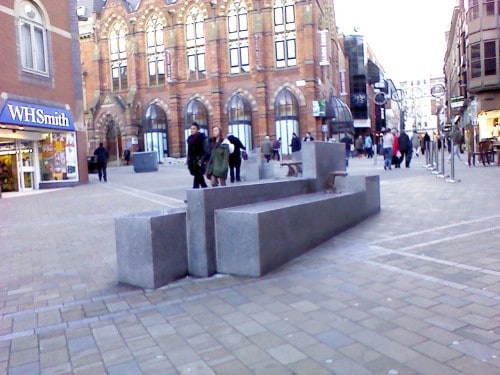 Same in Dortmund Square. Furniture made of steel rods doesn't attract your average human bottom. People choose to stand rather than rest their weary bones on these ridiculous objects – though those things could obviously withstand nuclear attack and will be perfect for that post-Dalek invasion street party.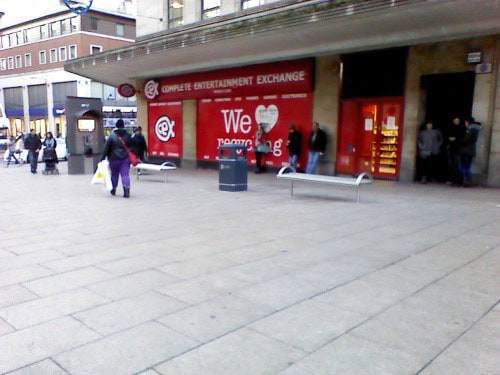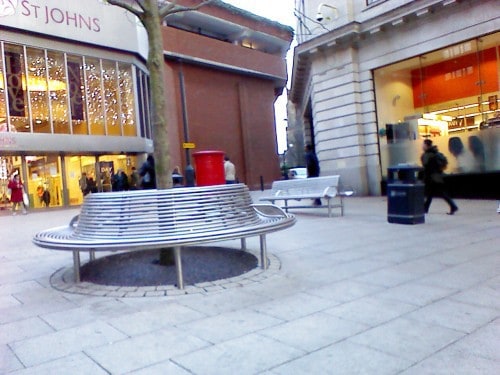 So, is there any place in Leeds city centre where there's been an effort made to accommodate human flesh and human frailty and the human desire to congregate in comfort?
Look at this in Leeds Trinity.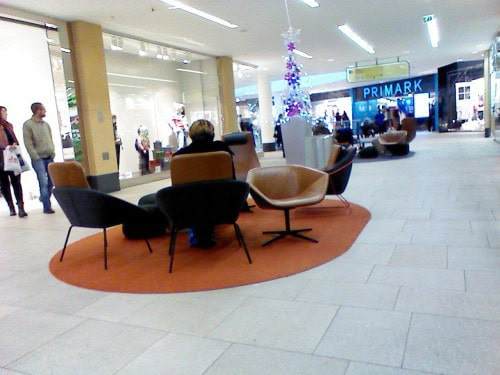 Technically this isn't public space, and it's a toss up whether it counts as "outside", but what Trinity have done is simply to treat the passer-by as an adult human being.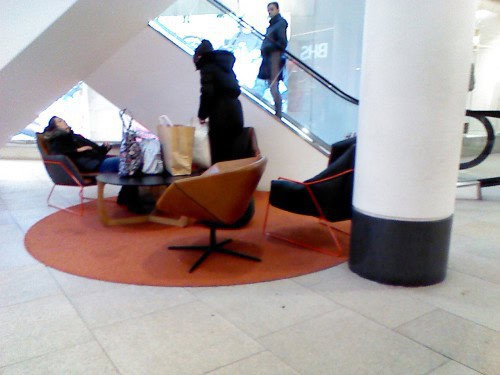 The seats are comfortable. They are made of organic materials. They are not bolted to the ground. You can move your chair closer to a friend or turn it away from a stranger if you don't feel like socialising. It's really rather beautiful … and, oh look, people are using them … wouldn't it be nice if we had more of this? I don't necessarily mean leather swivel chairs in Briggate but just a bit more thought about what constitutes a decent public space and what encourages people to linger and talk.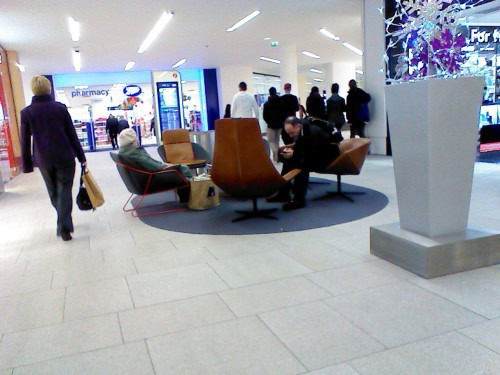 Good public space doesn't necessarily have to look good to the eye. But it does need arse-appeal.