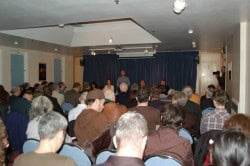 Last August, in response to Neil Owen's original report on Leeds cultural offerings, I argued that debating groups were an important cultural dynamic in the city that could be one aspect of its 'unique identity'. A year on, and again following Tim Ineaux's recent 'report', how does my claim that Leeds is a 'city of debate' stack up?
In my original article I listed 5 main public debating groups in Leeds:
Café Economique (since wound down)
In addition, I listed various other initiatives that promote public discussion such the Leeds Summat (which returns this November), Culture Vulture's own Cultural Conversations, and the Inter-Disciplinary Ethics Applied Centre.
I argued that Leeds seemed uniquely dynamic on the debating front compared with other cities. The reasons for which were perhaps a result of the early setting up and success of some groups, in particular Café Scientifique (founded in Leeds), which encouraged others to have a go, in turn creating a keen and growing audience for public debate. Whatever the reasons, the last year has seen the emergence of even more groups. Amongst those new debating fora, and one existing one I failed to mention last August, are:
Leeds Skeptics in the Pub was founded by Chris Worfolk in January 2009, and like many of the other fora mentioned is part of a growing national network of Skeptics (or Sceptics) groups. Skeptics meet the third Saturday afternoon of each month in Dr Foley's on The Headrow and discuss issues of science, reason and rational thinking. Like many of the groups this is usually led by an invited speaker.
Café Psychologique was founded in December 2010 by Chris Powell, as a space where people can talk about life over a drink from a psychological perspective. The Café takes place the fourth Tuesday every month in Seven Arts in Chapel Allerton. Chris is looking for other venues throughout the UK to set up Cafe Psychologiques.
Café Philosophique takes place in Richmond House School Sports Pavilion, Glen Road, Weetwood. It was founded on January 2011 by John Dickinson and is part of a Weetwood Residents Association community liaison initiative and aims to foster good community relations and 'some lively debate along the way'. After three successful Café's earlier this year they are returning in the autumn with a further six planned discussions.
A third Leeds Café Scientifique began in May this year which takes place the second Sunday morning of each month at Leeds City Museum. It was founded by museum curator Clare Brown who aims to provide another forum in the heart of the city 'by which people can feel comfortable understanding and talking about science'. Details for Café Scientifique Leeds City Museum can be found on the Café Scientifique Chapel Allerton website here.
Overall there are 9 independent forums dedicated to promoting public discussion in Leeds on all and every subject, and which regularly pull in audiences of 30 to 60+ per debate. We can also add to this various other organisations that promote occasional public debate in Leeds such as the British Science Association: West Yorkshire Branch. Leeds is also home to the public presentation forum and phenomenon that is Bettakultcha which is also spreading its wings beyond Leeds.
Not only does all this add up to a healthy culture of intellectual discussion in the city, but there has also developed a healthy sense of fraternity between many of the groups through the swapping of website links, joint events and the occasional promoting of each others' events which has helped, I believe, make the idea of Leeds as a city of debate a reality. However, if anyone thinks any other UK city (outside London) could rival Leeds as a city of debate tell us which and why.
Paul Thomas is co-founder of The Leeds Salon, proselytises about debate in Leeds, and writes regularly for Freedom in a Puritan Age and Culture Vulture. He will be giving a talk on how to set up a debating group at the Sunrise Conference 2011, which takes place on Saturday 3 September in The Cosmopolitan Hotel, 2 Lower Briggate, Leeds, and online.