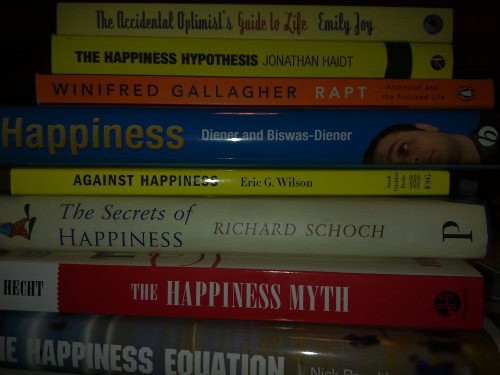 As I write this from the safety of my second floor window I'm watching three boys, nine or ten years old, dash out into rat run rush hour traffic and deposit milk bottles dexterously along the back groove of a speed bump. Whenever a car hurtles over a bump and sends a bottle skittering to the kerb undamaged the boys retrieve it casually and try again. When a tyre catches the bottle at just the right speed and at exactly the right angle there's a sound like mortar fire and shattered glass fans out across the road, startling drivers and putting pedestrians at risk of serious injury. There's a limited number of bottles to be robbed from neighbours gardens (who'd be a milkman these day!) and when there is no more the boys take to knocking over a bin and chucking the contents in the way of harassed and tired motorists. All the while the looks on the boys' faces is one of pure joy, perfectly villainous happiness.
Happiness, I want to argue, is not an unalloyed good, a condition we should all naturally wish to aim and aspire towards. No matter what all the self help books would like you to believe, happiness is not all it's cracked up to be. In fact, happy people are bad, boring and barmy.
Happy people are bad. Like the boys wreaking mayhem with milk bottles and domestic rubbish, bad things can make us happy. There is absolutely no guarantee that happiness leads to wholesome relationships, global peace and social harmony. I've only got to spend a few minutes chatting in the queue at my local Coop to understand that there's plenty of folk out there who would be happy to cleanse the world of people who come from far away, or believe in a different version of the supreme fiction, or enjoy non-regulation use of their reproductive organs. And you have only to inspect the contents of your own day dreams and illicit fantasies to realise that we are a criminal, venal, bestial lot really. The only reason we settle for a pipe and slippers and don't rip through life with a hard, gem-like unforgiving flame is simply because indulging in what would really make us happy would land us in jail. It's called growing up. Some people pretend that all that bad stuff doesn't "really" make anyone happy, it's just a glitch in moral development, a fault in parenting, a by product of bad circumstances. But the plain fact is, it's feels good to be bad. Forbidden pleasures are by far the best and it's only lack of courage or imagination that makes us behave ourselves.
But happy people are not just bad by commission. More often they are bad by omission, because they don't think, can't cope with criticism, and have no reason to act, because everything is just right as it is. Happy people are complacent clods. Scientific fact (Psychological Science, May 2004 issue if you're interested), the happier you are the more likely you are to make bigoted judgments – like deciding someone is guilty because of where they are from, or deserves mistreatment because they don't follow the rules. The reasoning is that happy people have an attitude that fundamentally "everything is fine" and so anyone who questions this worldview is difficult, asking for it, a trouble maker. Happy people reduce the world to stereotypes, often malevolent ones.
Happy people are insufferably dull. Yesterday someone retweeted a link to "10 Writers Who didn't die of Alcohol, Drugs, Or Suicide," . . . it can't be a coincidence that they were also the ten most pointless, tedious, turgid wastes of shelf space imaginable. Happy people don't bring anything new into the world. Art, politics, science etc, by definition exist because of frustration, discontent, the feeling that the world is not enough, has to change or has to be known better and deeper. The world as it is is just about right and sufficient for the happy people. Positive psychologists are fond of pointing out the argument from longevity. But who cares if happy people live longer? It's not as if they do much when they are around, they are just on the planet as ballast. "Better a Socrates discontented than a pig happy in the shit," as John Stuart Mill was fond of saying. And Mill wrote one of the insightful books on happiness ever and was most certainly never dull.
Happy people are barmy. They must be. How can they walk around with a smile on their face, whistling a merry tune, always merry and bright when all around them is what they blithely call, "conditions?" Oh, and did you know that "conditions" only counts for 8 – 15% of your happiness according to the Happiness Equation, H = S + C + V, where Happiness equals Set Range (genetics, about 50%) plus Conditions plus Voluntary control (attitude or attention, a whopping 40%! Meaning happiness is mostly in your bones or in your head.) Of course the people who come up with this sort of risible nonsense are tenured professors at Ivy League Universities; a pretty nice "condition" if you can swing it. Most of the rest of us have to struggle with rather less lucrative and salubrious circumstances. Happy people though love that kind of intellectual candy floss. If bad things do happen to them, if they get the sack, their partner dumps them, their dog has worms and sicks up on the new carpet, they pretend the universe has handed them a lucky bag and they can't wait to see what wonderful opportunity is contained within. Happy people fib to themselves but fool nobody else. Indeed, fooling themselves could be the first rank symptom of Happiness Disorder. As the psychologist Richard P. Bentall has observed, "There is consistent evidence that happy people overestimate their control over environmental events (often to the point of perceiving completely random events as subject to their will), give unrealistically positive evaluations of their own achievements, believe that others share their unrealistic opinions about themselves and show a general lack of evenhandedness when comparing themselves to others." And that's from a bona fide 'ologist of the psyche variety. Happy people are bonkers. And when they wake up to their true condition, chewing the cud in their field of dreams, they'll find it's nothing but a very small paddock. Next to a slaughterhouse.
I'm going to finish with a poem. Not one of those stultifyingly slack-jawed, saccharine, little ditties you find in the positive psychology tomes, this one has a bit of bite to it and makes a fairly important point about happiness. It rhymes too. It's called Richard Corey, by Edwin Arlington Robinson:
Whenever Richard Cory went down town,
We people on the pavement looked at him:
He was a gentleman from sole to crown,
Clean-favoured and imperially slim.
And he was always quietly arrayed,
And he was always human when he talked;
But still he fluttered pulses when he said,
"Good Morning!" and he glittered when he walked.
And he was rich, yes, richer than a king,
And admirably schooled in every grace:
In fine — we thought that he was everything
To make us wish that we were in his place.
So on we worked and waited for the light,
And went without the meat and cursed the bread,
And Richard Cory, one calm summer night,
Went home and put a bullet in his head.
Beware the happy people!