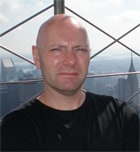 Paul Thomas co founder of the Leeds Salon got us thinking during a recent blog post by Neil from Test Space Leeds. Amongst the cacophony of responses Paul posited that Leeds was defined as a City of Debate (I'm almost terrified that none of you will comment at the end of this interesting post…please don't let me down dear reader!) So here is our guest post from Paul outlining why he made his claim
Leading Debate?
At the end of Helen Crawford's review of Café Scientifique in Chapel Allerton she asks 'Leeds does seem to be buzzing with debating, parlour and salon groups these days, are we entering a golden era intellectually?' Well, as co-founder of one such forum, I hope so. And what's more, could this be part of the much sort after 'unique identity for Leeds', as discussed recently on The Culture Vulture?
Debate in the City
You may not know it but Leeds is not short of opportunities for public debate, especially in comparison to most other British cities outside London. And while some debating groups have been around for over a half a decade, most have sprung up in just the last two or three years, these include:
Café Scientifique – Chapel Allerton
This was the first Café Scientifique in the UK, and was established in 1998 by Duncan Dallas a former YTV producer. The idea for the Café Scientifique was inspired by the Café Philosophique set up in Paris in the 1960s. Each café is autonomous but part of an established and growing network throughout the UK and internationally. The aim of the Café Scientifique is to bring science back into culture by opening scientific issues to a public audience, and hosting civilized and informed discussion as a tool for social change. Discussions are usually held monthly in Chapel Allerton. The venue may vary so check the website for details and to join the mailing list, or click here
Café Scientifique – Headingley
It seems there's so much demand for good debate on science in Leeds that it has not one but two Café Scientifiques pulling in large audiences. Headingley Café Scientifique was started in the early 2006 by Chris Hill, under the auspices of the Headingley Development Trust, and has continued since 2007 with Ann Clarke as organiser. The Café has thrived from its inception and aims to provide not only a welcoming place for public scientific debate but also to enhance the range of cultural opportunities in Headingley. Discussions are held monthly in The New Headingley Club 56 St Michael's Road. Visit the website to join the mailing list or e-mail ann.clark17@yahoo.co.uk
Taking Sounding began in 2007 and was founded by a group of lecturers based at Leeds Metropolitan University who subscribe to the journal Soundings. Its monthly meetings are addressed by a speaker who may be associated with that journal, but doesn't have to be. It aims to stimulate radical leftist debate on contemporary political and cultural issues, and they pull in a varied audience from Leeds and beyond. Taking Soundings is not aligned with any party and discussions are courteous and non-sectarian. Meetings are usually at the Old (BBC) Broadcasting House, Woodhouse Lane opposite Leeds Met. To join the mailing list e-mail maximfarrar@googlemail.com
Café Economique
Unable to find anywhere in Leeds that discussed economics aimed at the general public, David Adshead, Lorna Arblaster and Claire Bastin set up Café Economique in 2007. The Café is organised by Economic Justice for All, a discussion forum which aims to broaden and deepen the debate on economic justice for all within the context of environmental sustainability, and to encourage participation in economic debate on a local, national and international level. They hold monthly meetings at a Chapel Allerton venue. Café Economique's website is temporarily unavailable, for more information and to join the mailing list e-mail lorna.arblaster@phonecoop.coop
Leeds Salon was founded by Michele Ledda and I in early 2009, and was inspired by similar initiatives in Huddersfield and Manchester and our participation in the sixth-form Debating Matters competition. We hold public debates around contemporary political, cultural and scientific issues, aiming to challenge some orthodoxies along the way. As with the Café Scientifiques, the Salon is autonomous but also part of a loose network of Salons that have sprung up nationally and internationally in recent years. Discussions take place at various venues in and around Leeds City Centre. Visit the website to join the mailing list visit or e-mail contact@leedssalon.org.uk
All these fora attract good sized and diverse audiences, and are not the only opportunities for public discussion in Leeds. In fact, they seem to be popping up all the time. There's the innovative Bettakultcha initiative, the recently established Union 105/Chapel Town Salon art gallery and conversation space, and a new Café Philosophique based in Weetwood should be up and running before the end of the year. While at Leeds University there's the Inter-Disciplinary Ethics Applied, the Roundhouse journal group, and Liberty @ Leeds, all of whom hold regular public debates attracting some big names speakers. Although not principally a discussion group, the Leeds-based charity Together for Peace held its Leeds Summat weekend of culture and debate last November at Leeds University Union, which it's planning to repeat in August 2011. And of course there's Culture Vulture's very own Cultural Conversations initiative, aimed at helping to promote and unite all that's happening culturally in Leeds.
A City of Debate
For me it seems obvious that all this activity is tapping into a desire for more stimulating debate than is provided by mainstream contemporary political and intellectual culture. But surely you'd think that would apply everywhere. However, while Leeds seems rife with opportunities for debate this doesn't seem to be replicated in other northern UK cities (but please tell me if I'm wrong about this). For example, if we compare Leeds to Manchester (to which it seems most often compared) the only equivalent forum to those in Leeds that I know of is Manchester Salon. And while Leeds has two Café Scientifiques pulling in regular audiences of 40-60 per talk, Cafe Scientifique in Manchester wound-down in 2006 due to lack of interest. But why is this? After all, Leeds is both a smaller city and, as has been argued recently on Culture Vulture, is apparently lagging behind other cities in terms of 'stuff happening' and cultural spaces to do it in.
Perhaps, initially at least, Leeds has been fortunate in having individuals or groups willing to have a go. But in turn this has become a mutually reinforcing dynamic. For example, not only does Leeds have two Café Scientifiques but, as mentioned, the initiative was actually founded in Leeds by Duncan Dallas. In turn, the Café Scientifique inspired a number of other themed cafés, most of which seemed to have disappeared but from which Café Economique is a notable survivor. Likewise, as far as I know Taking Soundings is the only public debating forum of the Soundings journal in the UK. And for Leeds Salon, the nearby Huddersfield and Manchester Salons were major inspirations in us deciding to turn a small book group into a public debating forum. In other words, the existence of a few successful debating groups in and around Leeds has encouraged others to have a go. In turn, this has contributed to the steady build up over time a certain 'culture of debate', which has been important to the subsequent success of groups such ours.
If you think about it, the idea of going out for an evening to sit amongst possible strangers discussing politics, science or culture might seem an odd or daunting prospect, especially in today's more de-politicised culture. But the growth of initiatives both encourages, and normalises them for, the potential newcomer, helping build a broader public intellectual audience within Leeds and beyond used to the concept and format. This in turn has been aided by the development of links and relations amongst many of the above groups which have promoted wider awareness of the opportunities to engage in, or simply sit and listen, to open public debate: whether that's about some of the most important issues of our time, or just anything we think is interesting or worth discussing.
The growth of debating groups isn't unique to Leeds, but Leeds certainly seems uniquely blessed in terms of number and variety. This is an important cultural dynamic that should be made more aware of and that could, in time, see Leeds become a leading city of debate.
Thanks to Duncan Dallas (Café Scientifique – Chapel Allerton), Ann Clark (Café Scientifique – Headingley), Max Farrar (Taking Soundings), and Ann Arblaster (Café Economique) for biographical information.
Is Paul right that Leeds is uniquely blessed amongst cities in terms of a 'culture of debate'? And if this is the case, do you agree with Paul's reasons why or do you have your own explanation as to why this is?